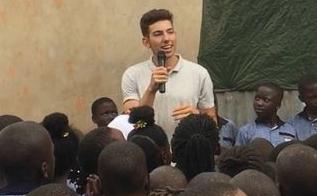 A Creighton University student and a group of friends are asking for the public's help in completing the fundraising needed to build a school in Laos.
Mike Galeski, a 21-year-old sustainability major, is working to raise $50,000 on behalf of Pencils of Promise, a nonprofit that builds schools and increases access to education in Ghana, Guatemala, Laos and Nicaragua. He founded Omaha's chapter of the nonprofit in 2018 and began raising funds in partnership with a Pencils of Promise chapter at Saint Louis University.
Galeski and friends were $2,500 from their $35,000 goal. Another $15,000 raised by Saint Louis University students will supply the school with equipment for water, sanitation and hygiene.
"Sanitation is so important because disease can spread so quickly," Galeski said. "If kids are too sick to go to school, having a school building won't matter."
Sign up for The World-Herald's afternoon updates
Receive a summary of the day's popular and trending stories from Omaha.com.
The project is being dedicated to the city of Omaha because most of the donations have come from Galeski's hometown.
"We see this as an investment in the potential of humanity," Galeski said. "Education is the key for unlocking the door to opportunity for everyone."
The Omaha Central graduate said he became aware of the need for education in developing countries while studying abroad in South Africa in 2017. As part of a service learning program, he helped revitalize an urban garden at a school where the students had poor access to fresh fruits and vegetables.
After starting a Pencils of Promise chapter in Omaha, Galeski traveled to Laos in November 2018 to see the group's work firsthand. Children in rural areas of Laos, he said, often hold class in small bamboo huts or outside under a tree, so building a school with shelter and access to clean water would be a huge step forward.
Galeski even appeared on "American Ninja Warrior" in June to raise awareness for the project. He made it to the coconut climb before falling and being eliminated.
"I began to dream of this project when I first got back from South Africa," he said. "What I've come to realize is $50,000 is a lot of money and not easy to raise. It's been a long haul, but because of the generosity of so many people, we're thrilled to see this dream come so close to reality."
Photos: Our best shots of 2019 (so far)
Take a spin through the best of our staff photos from 2019. The gallery will be updated throughout our journey through the next year.