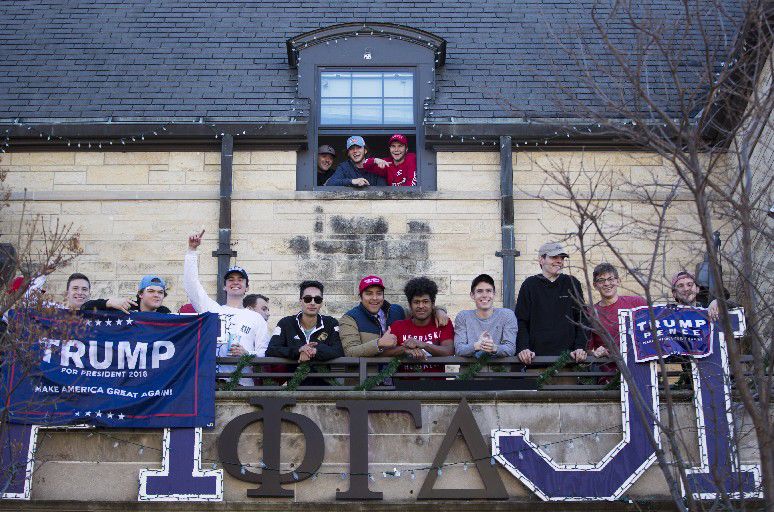 An Omaha dentist speaking for Phi Gamma Delta in Lincoln says that the fraternity's actions have been mischaracterized and that its members now live in fear.
Dr. Joe Skradski said he and others have talked with the 21 young men who were at the fraternity Saturday when the Women's March on Lincoln went past.
All have denied saying or hearing other Phi Gamma Delta members say "Your p-----s are blue" or "No means yes" as marchers went by, Skradski said. Some marchers, however, say they heard those comments coming from the fraternity, which is commonly called Fiji.
The University of Nebraska-Lincoln is investigating complaints that some at the fraternity made vulgar comments to marchers.
Skradski said the fraternity members now fear what might happen at a rally Saturday that is directed at Phi Gamma Delta.
Skradski, who is on the Phi Delta Gamma house corporation board, said he believes the young men when they say they didn't utter such things. He said that he has talked to them and that the house mother and three fraternity officers who live there interviewed the young men who were at Fiji during the march. Skradski and the chapter president, John Pupkes, say they don't believe vulgar comments were made.
But Leslie Galloway, a 40-year-old Lincolnite, said she was certain she heard one or more men who were at Phi Gamma Delta say, "Are all of your p-----s blue, too?" and "Their p-----s are blue," references to women's genitalia and the Democratic Party.
Another Lincoln woman, 57-year-old Nicole Church, said she heard someone on the Fiji property say, "No means yes," a reference to sex without consent.
"And of course they're going to deny this," Church said.
A third said she heard the P-word directed toward them and also "No means yes" chanted at them.
"I don't see how they could deny it at all," said Michaella Deladia, a UNL freshman from Grand Island.
Skradski said a double standard exists in which certain groups, such as the women's march participants, can say or do obscene things while others are excoriated. He and Pupkes said that if any of the fraternity members did use the P-word, it was because they were reading aloud P-word signs that some women carried, such as "P---y is power" and "This p---y has claws."
The march that is planned for Saturday is billed on Facebook as Smash Patriarchy at Phi Gamma Delta UNL.
"Some of these people are after white males," Skradski said. "Should 18-, 19-, 20-year-old college kids be worrying about the safety of walking into their house, walking to class?" He said the parents of some of the fraternity members are worried, too.
One night since the women's march the Fiji residents found a sign on their lawn. It read: "Dear Fiji — We hear you think NO means YES. Do you all enjoy f------ your moms? Reply YES or NO."
A member of La Alianza, the Chicano organization that took credit for making the Facebook page for the second march, generally gave assurances that the protest against the fraternity wouldn't lead to physical conflict.
"I'm pretty sure it's going to be nonviolent," said Dale Gutierrez, an Omahan and co-founder of La Alianza. "They have nothing to be afraid of except their own conscience."
The Facebook page said the fraternity's "misogyny and patriarchy (are) on full display in the new enabled era of Trump; the time and place of battle is of our choice and we have chosen to bring the battle to their front door. ... We will fight back."
UNL is looking into whether individuals made vulgar comments and isn't investigating the entire fraternity at this time, university spokesman Steve Smith said. He said UNL's student affairs office is interviewing witnesses and collecting information and reports.
"We're going to take the time to do it right, not just fast," Smith said.
He said the university also will strive to protect everyone Saturday afternoon.
"We're working with the tools we have to make sure it goes safely and peaceably if it comes to pass," Smith said of that march.
The P-word has become prevalent in women's marches, in part because Donald Trump was overheard using the word in a video from 2005 that was leaked to media during the presidential campaign.
Trump banners were dangled over the balcony of the fraternity house Saturday.
Skradski, who said he was Fiji president about 35 years ago, said the young men briefly chanted "Build that wall," a Trump campaign slogan, but an upperclassman told them to stop it immediately.
Marchers flipped off Fiji members because of the Trump signs, Skradski said he was told. One woman punched a Fiji member, he said, and he presented video evidence of it.
Skradski, who wasn't at the march, said Fiji members told him one woman looked up at them and said, "Your mom's a c--t."
One man in the march tried to kiss one of the Fiji members who was in front of the house, Skradski said he was told by multiple members.
Skradski said the Fiji members assured them there was "absolutely no drinking" on the property.
He said it's a shame that Fiji, which has had members such as Johnny Carson and former Nebraska Gov. Bob Kerrey, is being stained this way.
Just as Skradski said his men were flipped off, so too did Deladia say marchers were flipped off by men at Fiji.
Church said that when the march passed Fiji, the atmosphere changed. "It was fun and nobody was attacking anybody until we got to that frat house, and it did kind of upset the mood," she said. Church, who was there with her 13-year-old granddaughter, said a little boy in front of her asked his mother "why those boys are yelling mean things" at the marchers.
She said she would consider going to the rally Saturday.
Galloway said she wouldn't go to the second rally because she doesn't want to antagonize anyone. She said she doesn't feel victimized or marginalized, but she participated in the Women's March on Lincoln because she has friends who are minorities, Muslims, gays and lesbians.
Nobody in this society, she said, should face discrimination.
World-Herald researcher Sheritha Jones contributed to this report.