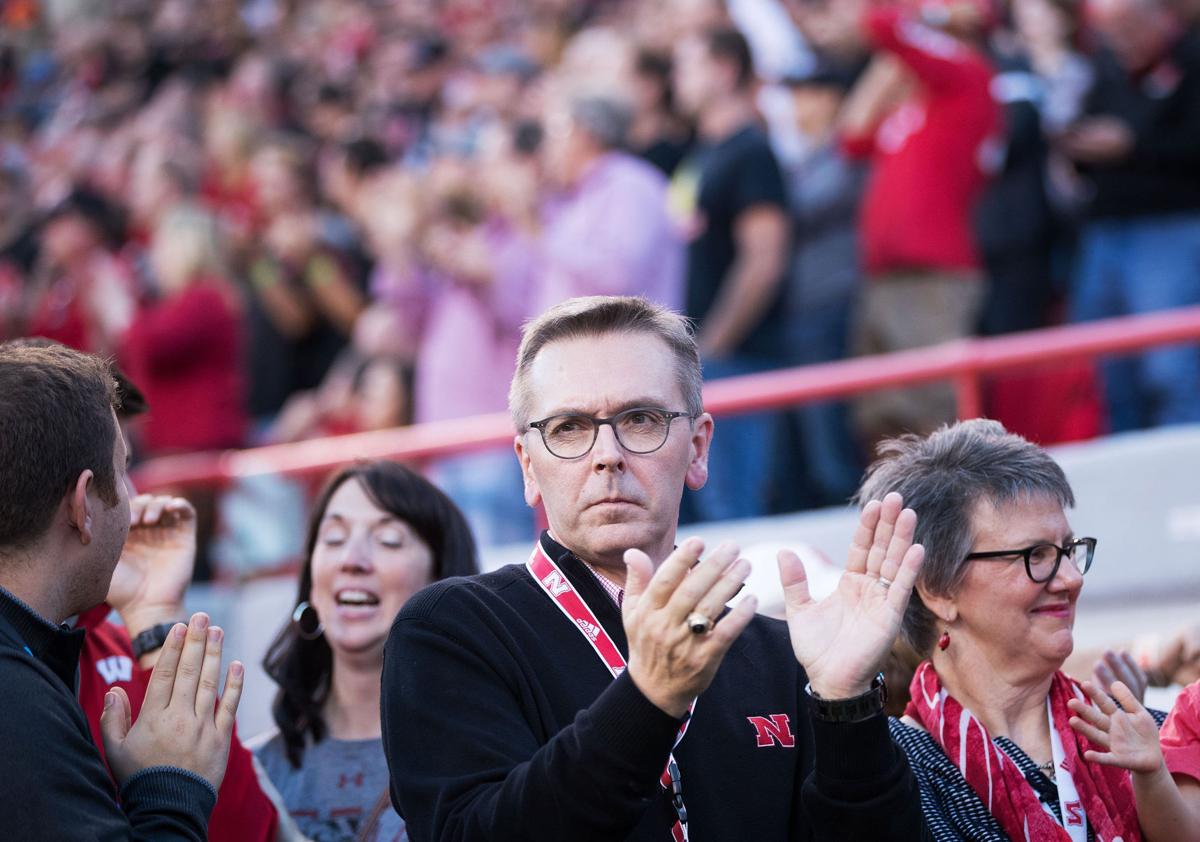 LINCOLN — The Nebraska Cornhuskers' first six years in the Big Ten haven't produced the kind of football success many anticipated.
The once powerhouse Huskers have played in the Big Ten championship game only once, getting drilled. The shaky start this season has already cost the athletic director his job.
But there's one place Nebraska's move to the Big Ten has now proven a huge winner: at the bank.
The University of Nebraska-Lincoln is projected to receive nearly $51 million in payouts from its new conference this year, according to figures obtained by The World-Herald. That's almost double the $26 million partial Big Ten share it received last year and almost six times its peak haul from its old conference, the Big 12.
Those big dollars pack some major punch for NU athletics and the entire university.
That funding is the reason the university was able to recently create a $5 million scholarship program for non-athletes that's completely funded by athletic dollars. With the program, NU will be putting $10 million of athletics-generated revenue directly into academics, the most in the Big Ten and ranking with the very highest in the country.
The full Big Ten check provides ample money for upcoming facility upgrades, including a massive overhaul of the north and south stands at Memorial Stadium that's projected to cost more than $50 million.
The Big Ten bucks also leave the school plenty of money for those other big-ticket items that sometimes come up in athletics. Like, for example, buying out the contracts of fired football coaches and athletic directors.
UNL Chancellor Ronnie Green, who cited "lack of competitiveness" last month when he fired Athletic Director Shawn Eichorst, said there's no doubt the school's full Big Ten allotment plus other dollars generated from the school's passionate fan base give NU the resources to compete at a high level in all sports, including football.
"It's obviously a big deal," Green said of the Big Ten funding. "We have benefited in big ways from being in the Big Ten."
Green said the athletic department's solid financial footing should also be attractive to prospective candidates in the school's current search for a new athletic director. One of the biggest headaches for A.D.s nationally is balancing budgets while at the same time keeping up in the ever-escalating athletic facilities arms race.
"You bet that's attractive," Green said. "There aren't that many places as fortunate in that regard as we are."
Indeed, it's arguable no university athletic program in the country can boast a more favorable financial position than Nebraska.
It's the only school in the five major conferences reporting zero dollars of debt, which schools typically run up in bonding facilities.
Its facilities in most sports already rank among the best in the nation, and its overall $112 million budget is also top tier.
Nebraska is one of only several dozen athletic departments nationally that receives no university, taxpayer or student fee subsidies.
It's one of few that has three sports generating net revenue: football, men's basketball and volleyball.
And even before it got its full Big Ten share, it was generally operating year to year well in the black.
Given all that, how do you even begin to spend an additional $25 million a year, the one-year jump in Big Ten funding NU has seen in this 2017-18 budget year?
Green and NU athletic officials say it's something the university has been planning on for several years:
» The chancellor said it was a priority to put more dollars into the academic side of the institution. The new $5 million Husker Scholars academic scholarship program will help the university pursue its aggressive student recruitment goals even as it faces major state funding cuts.
» Knowing the Big Ten money would eventually be coming in, the school has moved aggressively in recent years to take advantage of NCAA rule changes allowing additional benefits for athletes. Added perks include an allowance for personal expenses, laptop computers, beefed-up food offerings and postgraduate fellowships.
» Changes are in the works in the North and South Stadiums of Memorial Stadium to enhance the comfort of fans, including widening of seats, more concession stands and restrooms, and more ramps and entry points to help fans get in and out. Green declined to put a figure on the projects, but said "it's well north of $50 million."
» The school, in effect, has also reduced football ticket prices. Without fanfare, NU beginning four years ago significantly ratcheted down the annual donations to the athletic department that were required to buy season football tickets. That change, along with reducing capacity by 1,500 seats in the stadium due to seat-widening that has already occurred, has cut by millions the revenue generated by football ticket sales.
Green and athletic officials deny that those latter changes were made to preserve the school's coveted football sellout streak during a frustrating stretch in which the once-vaunted Huskers have gone 17 years without even a conference championship.
Regardless, with the firing of Eichorst, Green made a statement that the school expects to see better results in the future. It remains unclear whether third-year coach Mike Riley is the man who can restore Husker football to greatness.
But whoever is coaching the Huskers, it's clear Nebraska now more than ever has all the financial resources to compete. In general, Green said he hopes the full share of Big Ten dollars will help make all Husker sports more competitive.
"I would think the next athletic director will be using the resources wisely to be competitive," Green said. "It's partly (coaching) talent, it's partly support of athletes, it's partly facilities and making sure the fan experience sustains the level of revenue. You've got all that to consider. It's managing a business in that respect."
June 11, 2010, will always be known as a historic day in Lincoln: the day then-Chancellor Harvey Perlman, Athletic Director Tom Osborne and Big Ten Commissioner Jim Delany announced Nebraska as the Big Ten's 12th member.
With the move, the Big Ten gained a recognized football power with five national championship trophies and a strong local and national following, making the league more attractive to the TV networks that pump billions annually into college athletics through broadcast rights deals. The Cornhuskers also figured to bring increased viewership to BTN, the conference TV network that televises conference athletic contests that aren't picked up by the major networks.
For Nebraska, the move most importantly represented rock-solid stability at a time the Big 12 appeared on the verge of collapse. The Big Ten also figured to be more financially lucrative, the conference at the time paying more than double the $9 million Nebraska was getting from the Big 12.
Revenue paid out by conferences represents an important funding source for major athletic programs like Nebraska's. It's through the conference that schools receive their share from TV and bowl games, as well as their cut from the NCAA's March Madness basketball tournament.
It was understood from the beginning, however, that Nebraska would have to wait for its full Big Ten windfall.
Perlman agreed in negotiations that it was only fair to the Big Ten's other schools that Nebraska wait six years before it started receiving a full league share. The main reason: NU would ultimately gain a full ownership stake in BTN without having shared in its startup costs. The network, owned in nearly equal parts by Big Ten schools and Fox, appears today to have a value of about $48 million per school.
At the time, the parties refused to disclose what Nebraska's reduced financial shares would be, saying they were subject to a confidentiality agreement. But over the years, The World-Herald has cobbled them together through tax documents and university public records requests. In general, the school during the transition annually received about $10 million less than a full Big Ten share.
In response to another records request, the university recently for the first time disclosed its projected $50.6 million conference funding for the current school year. That will roughly equal what's paid to other Big Ten schools other than Rutgers and Maryland, which are four years into their own Big Ten transition.
Big Ten's payout to NU vs. charter conference schools
| Year | NU | Big Ten |
| --- | --- | --- |
| 2011-12 | $14.3 | $24.70 |
| 2012-13 | $15.4 | $25.9 |
| 2013-14 | $16.5 | $27.6 |
| 2014-15 | $18.7 | $32 |
| 2015-16 | $23.1 | $34.8 |
| 2016-17 | $26.0 | $36.3 |
| 2017-18 | $50.6 | $50.6 |
That $51 million figure also proves something else: The Big Ten is once again the financial king of major athletic conferences.
This year marks the start of lucrative six-year TV deals the Big Ten inked with ESPN, Fox and CBS, a package reportedly worth an average of $440 million annually.
With the value of a full Big Ten share jumping from $36 million last year to $51 million now, it appears the Big Ten has regained the distinction of paying out more to its schools than any other league. The Southeastern Conference as of its last tax filing in 2015-16 was paying its schools about $40 million annually.
The $51 million is also far above the most recent figures for the other major conferences, including the $28 million paid by the Big 12 in 2015-16.
Since the TV deals typically include an annual escalator, Nebraska's Big Ten money figures to increase in each of the next five years as well.
The Big Ten does not publicly discuss what it pays schools or the value of its TV contracts. But Brad Traviolia, a conference deputy commissioner, said the league was pleased with the latest TV negotiations.
"We're happy where we're at," he said. "We knew going in that we needed to be successful given our schools' commitment to providing broad-based opportunities. They sponsor a lot of sports, and that's expensive."
Traviolia said the Big Ten is also "ecstatic" about the value Nebraska has added to the league, even if it hasn't been as strong in football as it has been historically.
"People understand that success is cyclical," he said. "The culture of the university fits with what the Big Ten has been about. It's been a very good partnership."
While the financial benefits of Big Ten membership are great, Green said, Nebraskans shouldn't overlook the many other ways it's helped the school move forward.
The Big Ten is an academic brand in itself. Nebraska's company with some of the nation's most prestigious public universities has helped it raise its academic and research aspirations and made NU more attractive to faculty members as well as students.
"People are coming here that wouldn't have come here before," Green said. "It's been a big move forward for us, no doubt."