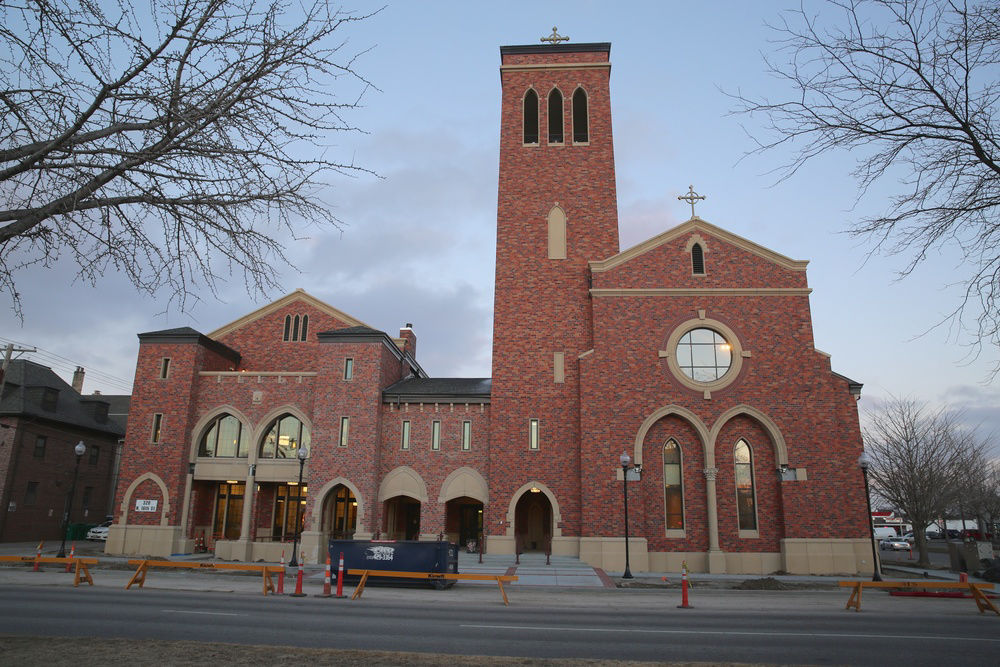 Catholic students at the University of Nebraska-Lincoln are getting a new place to worship.
The new St. Thomas Aquinas Catholic Church on the UNL campus will be dedicated Sunday.
Construction started in 2013 on the 650-seat church at 16th and Q Streets, replacing a 300-seat chapel that was razed.
The project includes an attached Newman Center with a combined 60,000 square feet — double the size of the old chapel and Newman Center.
Along with more worship space, there is more room for ministry, including a social hall, classrooms, meeting rooms and offices. A ceremony to bless the Newman Center is scheduled for Thursday.
UNL has more than 6,000 Catholic students, and the campus' Catholic ministry has experienced strong growth in the past 15 years, said Jude Werner, director of development for the Newman Center.
The old chapel typically was filled to standing room only for each of the four Sunday Masses, he said. More students also have been participating in Bible study and other activities.
Werner said the new church and other projects will give the campus ministry an even bigger boost.
Construction of the church and Newman Center is the second phase of a comprehensive expansion plan. The first phase included construction of a 20,000-square-foot, 68-bed Catholic fraternity house that opened in 2013.
The final phase involves building a Catholic sorority house. That work is planned to start in 2016.
A $25 million fundraising campaign was launched five years ago to cover the cost of the church and Newman Center and a portion of the cost of the fraternity and sorority houses.
Donors from across Nebraska and the United States have so far committed more than $19 million, and the fundraising drive continues.
Students have pledged $290,000.
Newman Centers provide Catholic ministry and are common near non-Catholic campuses across the country. They are named in honor of Cardinal John Henry Newman and were inspired by his writings.
The Archdiocese of Omaha plans to build a Newman Center adjacent to the University of Nebraska at Omaha's South Campus that will include student housing and a chapel. Construction is scheduled to start this spring, with an opening in the fall of 2016.