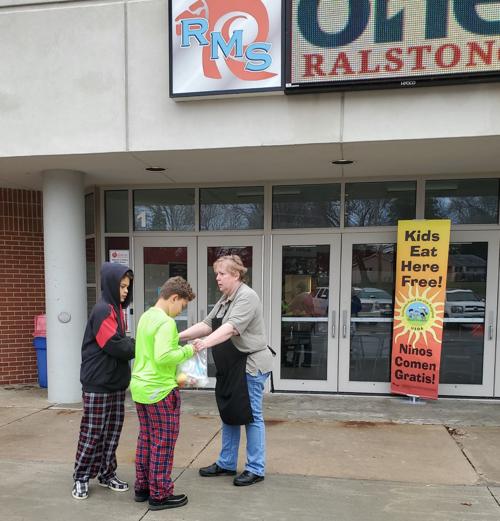 New efforts have been launched to get food to children who depend on school meals.
The Omaha Public Schools will provide a grab-and-go food distribution for students on Monday.
The distribution will be in addition to its partnership with the Food Bank for the Heartland.
The food bank and other partners announced Thursday that they have teamed up to provide weekly meal deliveries to 13 Omaha-area sites starting Friday.
About 43% of children in Nebraska receive free or reduced-price school lunches; some schools see twice that rate.
The OPS program will provide a limited number of grab-and-go packages with several meals inside for students, officials said.
Four locations will participate: Skinner Magnet Center, Gateway Elementary, Omaha South High and Benson High.
For health and safety reasons, families will be asked to drive through to pick up food.
Each package will contain several breakfasts and lunches.
The student will need to be in the vehicle to receive a package, OPS spokesman Jeremy Maskel said.
Maskel said that given the rapidly changing guidance on health and safety, officials will reassess each week whether the following week's distribution is possible.
If additional distributions can be made, district officials will communicate that information to parents.
Meanwhile, the Food Bank for the Heartland's mobile backpack program aims to provide 26,000 meals a week.
The food bank is partnering with Westside Nutrition Services, the Omaha-Council Bluffs Salvation Army, Saving Grace Perishable Food Rescue, local school districts and nonprofits to launch the program.
The initiative will deliver free meal bags to 13 sites across the Omaha metro area from food trucks. Each meal bag will contain five breakfasts and five lunches, including milk and fresh produce.
The food trucks will deliver meals to each site once a week in the afternoon or evening through a drive-up distribution for safety reasons.
The sites will include parking lots of metro area schools and nonprofit organizations. A complete list of distribution sites and times will be available on FoodBankHeartland.org.