Kassia Ulffers wants her four kids back in school five days a week and thinks parents should be able to decide if they want their kids to wear masks.
"Freedom of voice and choice needs to be given to every parent," she said.
Brandi O'Malley wants to know if she can have her children continue with remote learning.
"I live paycheck to paycheck like everybody else," she told the Omaha Public Schools board at a recent meeting. "I'm going to have to figure out a way, but I feel like keeping my kids healthy is more important than just sending them to school for two days out of the week."
Parents and guardians have differing opinions, feelings and plenty of questions about OPS's back-to-school plans.
Last month, OPS officials announced that the district's 54,000 students would be divided into two groups, each of which would attend school in person part of the week.
Students whose names start with A through K would attend every Monday and Tuesday. Those whose names start with L through Z would attend every Thursday and Friday. The groups would attend on alternate Wednesdays.
On off days, students would be learning at home. District officials are calling it the Family 3/2 Model.
"Our planned return using the Family 3/2 Model is for the health and safety of our students and staff, to allow for the recommended distancing and limited groups," said Jeremy Maskel, spokesman for the district.
Maskel said the model will allow OPS to "best respond to health conditions as they continue to evolve."
Starting at 6 p.m. Thursday, OPS will host a town hall on its Facebook page to discuss the back-to-school plans. District officials said there should be time for questions and answers.
Hispanics make up a large majority of the student body at some OPS schools, including nearly 83% at South High and about 68% at Bryan High.
While Hispanics make up about 11.2% of Nebraska's population, they account for nearly 60% of the coronavirus cases in the state for which ethnicity data was collected. Of the 233 Nebraskans whose deaths have been attributed to the virus and whose ethnicity is known, 26.6% — more than one in four — were Hispanic.
Since the plan was announced, some parents have questioned how effective the at-home learning component will be. And working parents are scrambling to figure out the logistics of keeping kids at home several days a week.
Some parents have said they are so unhappy with the plan that they're trying to enroll their children in neighboring school districts or will home-school their kids.
School districts such as Millard, Elkhorn, Westside and Bellevue all are planning to have all their students attend school every day. Many of those districts have backup plans that are similar to how OPS students will start the school year.
Other urban school districts are starting the school year in ways that are similar to OPS. They include the Des Moines Public Schools, Columbus City Schools in Ohio, Fairfax County Public Schools in Virginia and the nation's largest school district in New York City.
Wednesday, President Donald Trump threatened to withhold federal funding if schools don't reopen in the fall. He did not immediately say what funding he would cut off or under what authority.
U.S. Education Secretary Betsy DeVos on Tuesday slammed the Fairfax plan and has said families should be able to count on having their children in school five days a week.
OPS parent Jen Knight said she was pleased with the education the district provided her older children. They got good grades and high ACT scores. After they graduated from Burke High School, they got college scholarships.
But she's not happy with the plan her daughter, who will be a sophomore at Burke, will deal with in the fall.
"I feel the quality of education is going to drop incredibly," Knight said.
She doesn't blame teachers, who she said try their best.
Sign up for World-Herald news alerts
Be the first to know when news happens. Get the latest breaking headlines sent straight to your inbox.
"I think my child is going to get 50% of their education in school, face to face, and 50% is independent learning, on their own. And we know from spring semester, that did not work."
"Through our one-to-one technology initiative, curriculum planning and professional development focused on maximizing technology," Maskel said, "at-home learning for students will evolve significantly this fall when compared to the spring."
Another critic of the plan is Aleh Bobr, an assistant professor at the University of Nebraska Medical Center.
Bobr's specialty is clinical pathology, making sure the labs run properly and providing quality control.
"The intention of the plan is good," said Bobr, who will have two students in OPS elementary schools this fall. "It tries to achieve the education with decreasing the exposure to the virus. But unfortunately, it does not achieve either, either preventing the virus transmission or getting the education."
Studying at home for two or three days a week may work for older kids, Bobr said, if they are assigned a specific project such as a paper. But elementary students, he said, do not operate that way.
"It doesn't matter how many (computer) tablets you give them. It's not the education I expect from the school. This two days in school and three days at home, obviously education will be compromised."
Ulffers, the mom of four, said students in the district should be able to return to school like their peers in other metro area districts.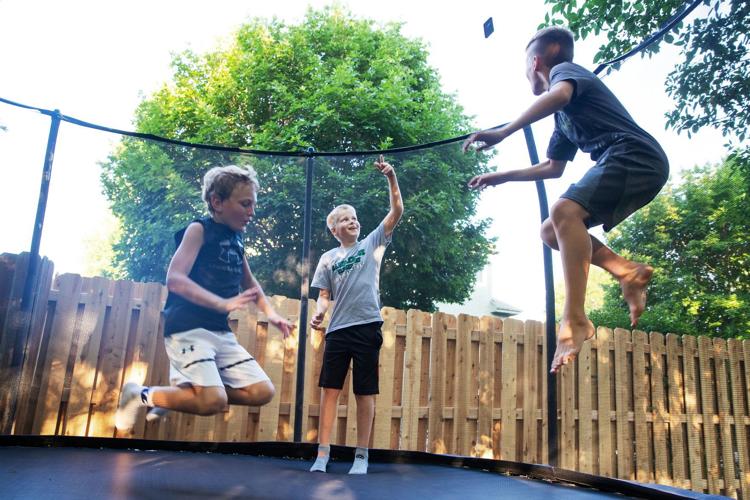 Ulffers, who works in health care, said her kids are young and are learning such fundamentals as reading. If OPS goes through with the plan, she said, she'll have to consider working nights and weekends so she can teach her kids during the day so they don't fall behind.
Ulffers said she felt blindsided by the district's announcement. She had filled out a survey for the district earlier in the summer, and it didn't mention the current plan as an option.
Kim Anderson is the mother of two OPS students. Her son, who will be a junior this year, will be taking calculus and chemistry. Anderson said she worries about him trying to learn those difficult subjects with limited time in the classroom.
Anderson watched district officials' presentation on the plan at last month's school board meeting. She said she still doesn't understand how the district intends to serve kids during at-home learning days.
"This has been going on since March," Anderson said. "I feel like they still don't really have a plan for distance learning."
The Trump administration and many Omaha parents have pointed to a recommendation from the American Academy of Pediatrics that American children should attend school in person in the fall.
The academy's doctors, in their guidance, said "the importance of in-person learning is well-documented, and there is already evidence of the negative impacts on children because of school closures in the spring of 2020."
The academy said lengthy time away from school and the supportive services that schools provide to children often results in social isolation. That would make it difficult for schools to identify and address important learning deficits as well as child and adolescent physical or sexual abuse, substance use, depression and suicidal thoughts, they said.
This report includes material from the Associated Press.
---
Our best staff images from July 2020
Concerned about COVID-19?
Sign up now to get the most recent coronavirus headlines and other important local and national news sent to your email inbox daily.