Haley Lubek, 24 weeks into her pregnancy, lay on a wooden folding cot inside the student center at Skutt Catholic High School in Omaha.
A dozen students sat in the room with her and watched as ultrasound technician Angela Himmelberg passed the machine's probe over Lubek's gently bulging tummy.
Himmelberg narrated as a live video image projected on a wall.
"Can you see the eyes?" Himmelberg asked the students.
"Here's an arm right here … there's a foot digging into the placenta."
Instead of showing gory pictures of aborted fetuses to dissuade women from abortions, the volunteers at Heart of a Child Ministries are trying to win over hearts by literally showing a tiny beating heart.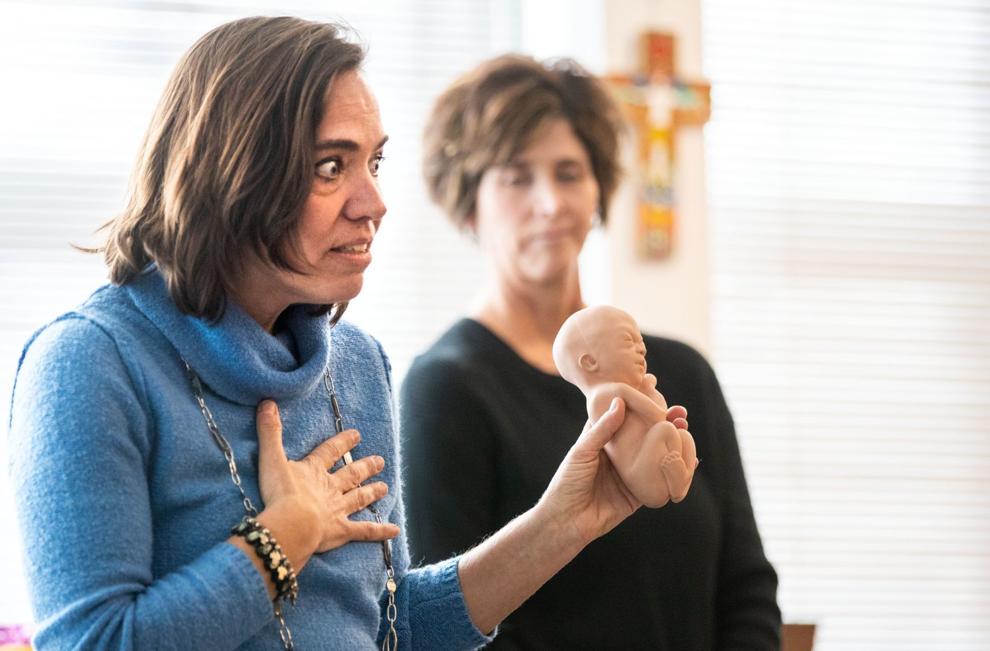 The volunteers have been giving their presentations at metro-area Catholic and private schools. But they say they've also taken it on the road, to several surrounding states as well as California.
Ultrasound technology entered into the national abortion debate in a big way last year.
In May 2019, Focus on the Family arranged for the broadcast of a live ultrasound on giant TV screens in Times Square. An estimated 20,000 people gathered to watch the event dubbed "Alive from New York."
The woman who underwent the televised ultrasound was former Planned Parenthood clinic director Abby Johnson, now an abortion opponent, who was 36 weeks pregnant. Johnson has said she parted ways with Planned Parenthood after witnessing an ultrasound-assisted abortion in 2009.
The Times Square event was a response to New York's passage of the Reproductive Health Act, which protects reproductive rights. The law states that a woman may abort after 24 weeks of pregnancy if her life or health is at risk, or if the fetus is not viable.
Ultrasounds are "a tremendous game-changer," said Paul Batura, vice president of communications for Focus on the Family.
"It's a window on the womb," Batura said.
He said that not only has it changed the debate, but women who are shown an ultrasound of their baby are less likely to have an abortion.
Nikki Schaefer, director of Heart of a Child Ministries, said the presentations have been well-received.
However, a presentation scheduled last month at St. Margaret Mary School in Omaha was canceled after some parents expressed concerns.
The reasons for the cancellation aren't clear, but the sensitive nature of the topic, concerns that the presentation could be political and the age-appropriateness appear to be factors with some parents.
Schaefer said her group intends to give a preview presentation to St. Margaret Mary parents so they can decide for themselves whether it would be appropriate for their kids.
Tim McNeil, chancellor of the Archdiocese of Omaha, said the archbishop does not object to the presentations.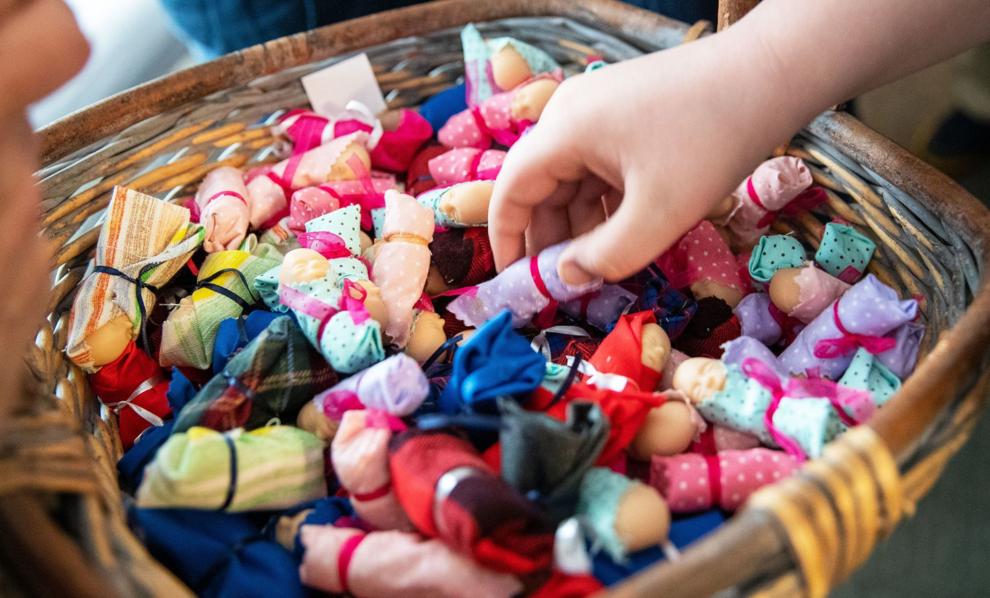 "He knows Nikki and likes, as we all do, what she's trying to do," McNeil said.
Andi Curry Grubb, Nebraska state executive director of Planned Parenthood, said this week she only recently started hearing about the ultrasound presentations and hadn't attended one.
She said Planned Parenthood focuses its efforts on reducing unintended pregnancies and sexually transmitted diseases.
"We tend to focus on what research shows us, that the most effective ways of doing that from an education standpoint is providing comprehensive sexual health education that is age-appropriate and medically accurate," Curry Grubb said.
The comprehensive approach, for instance, would include giving young people the information they need to understand their bodies, what a healthy relationship looks like and how to avoid unintended pregnancies and STDs by various means, whether abstinence, birth control options or condoms.
"It tends to work best when you're approaching it from multiple perspectives and not just focusing in on one, like an ultrasound or something really specific like that," she said.
Curry Grubb said a majority of Americans support safe and legal access to abortion, and that hasn't changed much over the years.
A Pew Research Center survey last year found that 61% of Americans favored keeping abortion legal in all or most cases.
Seven in 10 people surveyed said they did not want to see Roe v. Wade completely overturned, the center reported.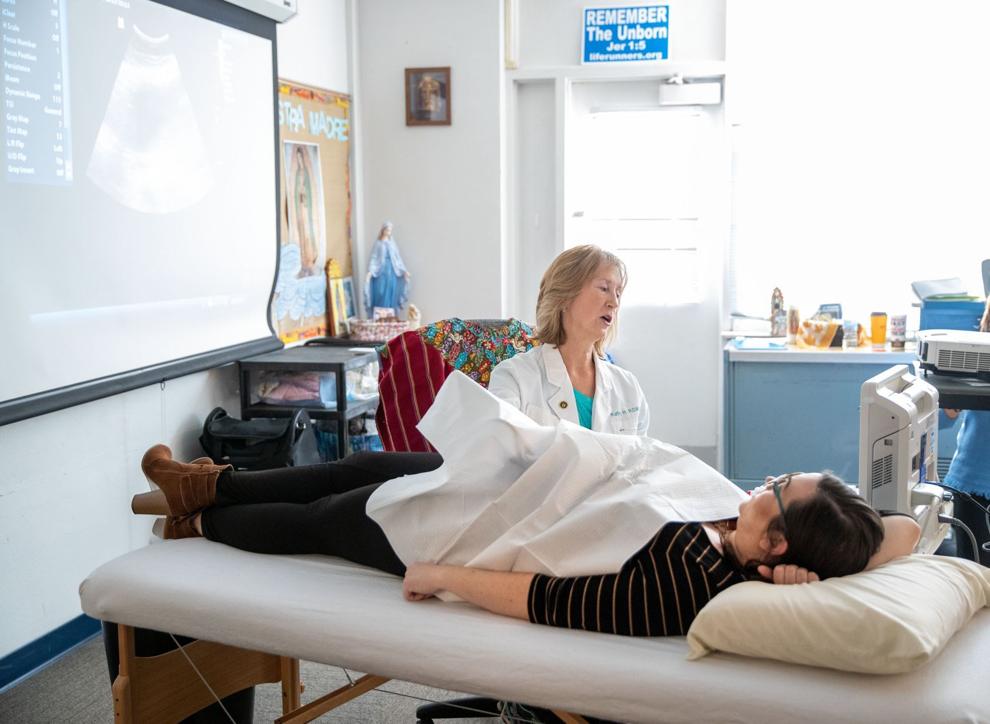 Abortion rates have been dropping in the United States, according to the Centers for Disease Control and Prevention.
The total number of reported abortions in the United States decreased 24% from 825,240 in 2007 to 623,471 in 2016, the CDC says.
The abortion rate decreased from 15.6 to 11.6 abortions per 1,000 women age 15 to 44.
The CDC says multiple factors influence the incidence of abortion, including access to health care services and contraception, availability of abortion providers, state regulations such as mandatory waiting periods, parental involvement laws, increased acceptance of childbearing outside marriage and even the economy.
Under current law, Nebraska bans almost all abortions once a fetus reaches 20 weeks after fertilization. The only exceptions are to protect a woman's life or to prevent major physical problems.
Schaefer's family started the nonprofit anti-abortion organization in 2012. They have done presentations for several years.
She has home-schooled her six kids.
Her husband, Bernie, is vice president of development at Spirit Catholic Radio in Omaha.
Sign up for the Live Well Nebraska newsletter
Get the latest health headlines and inspiring stories straight to your inbox.
The students who gathered for the evening presentation at Skutt High were members of Skyhawks for Life, a school club.
The volunteer mom and subject of the procedure was Haley Lubek, who has 9-month-old twin boys. She put them to bed before heading to the school.
She is expecting a baby girl, who has a name already, but the parents are keeping that a secret for now.
The ultrasound in the presentation is not done for any medical purpose — doctors don't review the images. Lubek gets those medical scans separately.
Lubek said she participates to send a message.
"It's a very profound message," she said, "to be able to see a live baby inside of you."
The Skutt presentation was tailored to high school-age kids.
Himmelberg started the presentation with a brief video on human reproduction, including how the sperm and egg meet in the fallopian tube and the egg lodges in the uterus.
Quickly, it was time for the main event.
Lubek lay down, covered by a sheet for privacy. Himmelberg used the ultrasound paddle, known as a transducer, to scan Lubek's belly.
Himmelberg became a tour guide on the developing fetus. At one point, she searched and located the beating heart, the beating of which students could hear on a speaker.
There's no better sound for an expectant mom, Himmelberg told the students.
"Isn't that amazing?" she asked.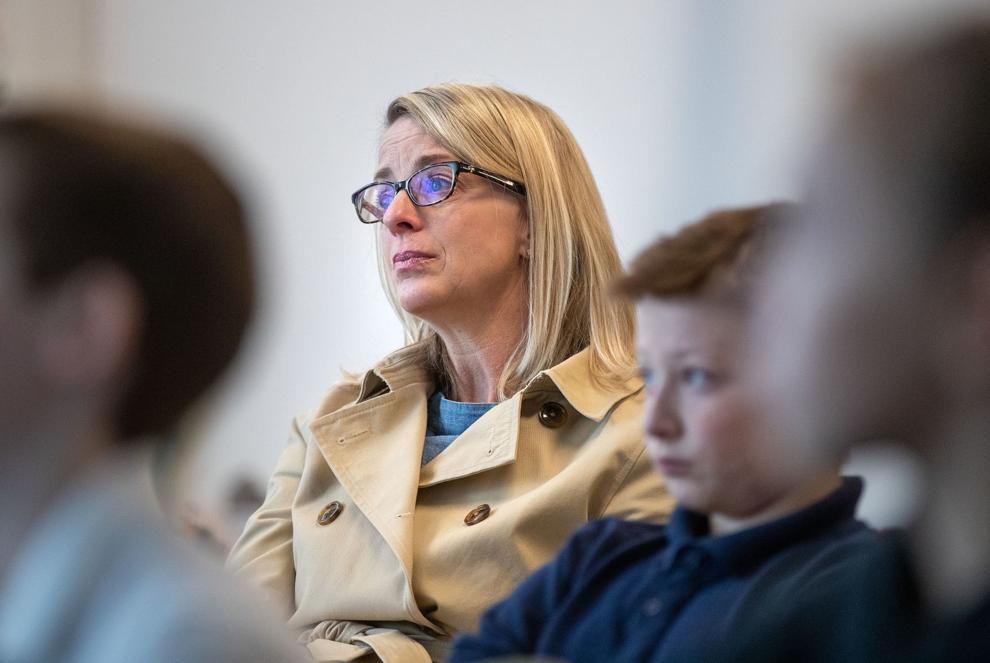 Jake Newman, the Skutt club secretary, had never seen a live ultrasound.
He's seen pictures and images on TV, he said, but never anything like this.
He said he normally squirms at the sight of a medical procedure.
"The part that really got me was the heartbeat," Newman said. "Not even hearing it but seeing it. You can literally see the baby's heart pounding out of its chest.
"My jaw dropped. I couldn't even look away. It was awesome."
After the procedure, presenter Kristen New described for students her transition from abortion rights clinic worker to anti-abortion advocate. She described how abusive comments hurled at her by a clinic protester had initially solidified her commitment to the abortion rights cause. But she eventually had a change of heart, she said, after seeing the remains of an aborted fetus and after suffering a health scare that caused her to reexamine her life.
She told the students that the abortion issue will touch them all. It's not enough, she said, that they have compassion for the unborn. They must have compassion for the woman considering abortion and everyone involved, she said.
The women need to know you care about more than just their baby, she said.
The graphic signs that clinic protesters use only drive the women inside the clinic, she said.
According to Schaefer, the group presents about once a week. On Friday, the volunteers presented to classes at St. Mary's School in Bellevue.
At those presentations, the abortion content and human reproduction material were toned down, but the anti-abortion message was still clear. The presentations were tailored to the younger students.
The St. Mary's fifth through eighth grade students watched a live ultrasound, followed by a speaker who described how she and her husband adopted a baby boy. She talked about how the number of couples wanting to adopt far exceeds the babies available.
During the ultrasound portion, a different woman volunteered for the procedure, Kelly Miller, who was 21 weeks pregnant and carrying a boy.
Miller said the she believes the presentations will be more effective in persuading women than "meeting them at the door with a sign."
"I don't think today that that's going to change minds," she said.
---
Separate staircases by gender and a fire escape slide: Check out six interesting features that once existed or still exist at local high schools