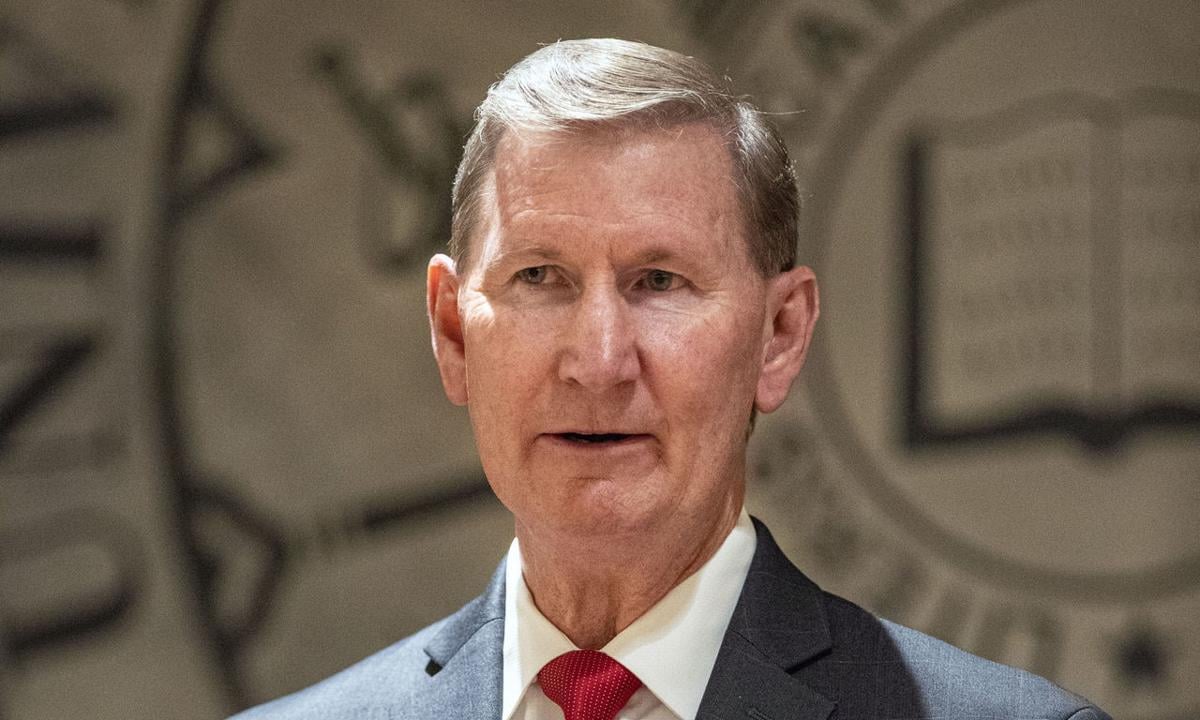 Walter "Ted" Carter will become the highest-paid president in the University of Nebraska system's history if he and the NU Board of Regents agree on a contract revealed Wednesday.
The regents have offered Carter a five-year contract with a yearly salary of $934,600.
In a text Wednesday, Carter said, "I am humbled to be considered for this position and if confirmed by the Board of Regents I will be honored to accept" the job. He said he didn't want to talk about the contract because the regents haven't confirmed him yet.
The official business at the regents' next regularly scheduled meeting Dec. 5 starts at 9 a.m. at Varner Hall, 3835 Holdrege St. in Lincoln.
Sign up for World-Herald news alerts
Be the first to know when news happens. Get the latest breaking headlines sent straight to your inbox.
Carter, 60, still wouldn't be the highest-paid administrator in the NU system, which includes institutions in Omaha, Lincoln, Kearney and Curtis.
That distinction would belong to Dr. Jeffrey Gold, who in 2019-20 will earn a salary of $972,405. Gold, a heart surgeon, is chancellor of both the NU Medical Center and the University of Nebraska at Omaha.
The eight-page contract for base salary includes a clause that forbids "actions or comments that bring disparagement" to the university. Further, if terminated, Carter would continue to agree not to disparage the university. In a third clause, the contract says that after he leaves NU, the former president "shall not make any written or oral statements" viewed as "attacking or painting in a negative light the university or any of its campuses, colleges, schools, departments, divisions, regents, faculty, staff, students, stakeholders, services, programs, sports or degrees."
The base-pay offer to Carter falls short of that given to Husker football coach Scott Frost ($5 million a year), Husker basketball coach Fred Hoiberg ($2.5 million) and Husker athletic director Bill Moos ($1.05 million). None of those base salaries include bonuses and other elements that are offered.
The regents offer Carter "performance-based merit pay" of up to 15% of his base salary at the end of each year of employment. By July 1, 2020, the board and Carter "will develop performance-based metrics," the contract says.
The draft contract says Carter, the former superintendent of the U.S. Naval Academy, will receive full pay to serve in a transition period for "coordination and planning" from Dec. 16 to Dec. 31. He would be considered president-elect and Susan Fritz would continue during that time as interim president.
Besides health insurance and other standard benefits for NU administrators, Carter would receive:
Membership at a country club or clubs of his choosing, with the NU Foundation's approval. The foundation would fund this.
Residence in the existing NU president's house.
Deferred compensation of 11.5% per year. He will become vested and earn distribution of money after three years.
Moving expenses, transition costs, dues to belong to higher education or business organizations and fees for educational conferences and seminars.