Cliff Levitan jabs a finger at a map of Nebraska.
Stars signify recent public and private investment in new high school career centers or wings at a number of school districts, including Lincoln, Grand Island, Kearney and Columbus.
Conspicuously absent: the Omaha area.
"My thing is: What the hell is wrong with Omaha?" said Levitan, an Omahan who works in construction management. "You go to almost any place in town and you'll see a help wanted sign."
"Everybody is hungry for people. And the college, college, college thing was wonderful in its time. But college isn't the end-all, be-all for everybody."
Sign up for World-Herald news alerts
Be the first to know when news happens. Get the latest breaking headlines sent straight to your inbox.
He and others in a small group of people from Omaha's business, labor and education worlds have been meeting quietly for several years to advance an ambitious idea: a regional career center where high schoolers from across the Omaha metro area could come to learn skills such as how to weld, frame a house or draw blood.
Businesses are clamoring for more workers. Some students are looking for classes that will give them a head-start on college, a certification in a specific skill or a steady job right out of high school.
Schools already offer such programs to varying degrees, but the goal would be giving all metro-area students access to more classes and more advanced classes. Pooling resources could help school districts afford expensive equipment and avoid duplication — say, one centralized, multilevel welding program instead of offering introductory welding classes at multiple high schools.
The idea is still largely conceptual, and Levitan and his group, called Career Consortium USA, so far are still trying to persuade local superintendents, the Greater Omaha Chamber of Commerce, Metropolitan Community College and other potential partners to get on board.
He says local foundation and potential donors have told him that the money will be there — if local school districts and businesses sign on. "Everybody is supportive, but only educators start schools," Levitan said.
Martha Bruckner is the former Council Bluffs superintendent and the executive director of the Metropolitan Omaha Educational Consortium, a partnership between the University of Nebraska at Omaha, the metro area's 11 Learning Community school districts, Council Bluffs schools and two educational service units.
She said she doesn't know enough about the career center proposal to weigh in.
But she acknowledged that local schools do need to come together more to share their approaches to career and technical education, and to provide more focused internship and apprenticeship opportunities for students. Having businesses show up to give a talk on Career Day isn't enough.
Several foundations and initiatives are making statewide workforce development a bigger priority, including the Aksarben Foundation.
But Bruckner said the role of public education isn't just to turn out workers for local companies.
"Businesses, bless their heart, there's nothing wrong with the fact that they're looking for high-quality employees," she said. "In education, we can't just be about what are you going to do when you grow up. ... I don't think public education can just say, 'How many plumbers do you need? We'll find 12 of them.' "
How would it work?
There are regional models to borrow from in other parts of the country — the Francis Tuttle Technology Center in Oklahoma City and the East Valley Institute of Technology in Mesa, Arizona, both of which draw students from several school districts.
In Lincoln and Grand Island, the public school districts have partnered with community colleges to build and run stand-alone career centers. That might be easier in Grand Island than in the Omaha area, home to 12 public school districts, including Council Bluffs, plus private and parochial schools.
Now in its fourth year, The Career Academy is a $25 million joint venture between the Lincoln Public Schools and Southeast Community College. More than 500 high school juniors and seniors attend from all six Lincoln high schools, parochial schools and nearby districts like Norris and Waverly.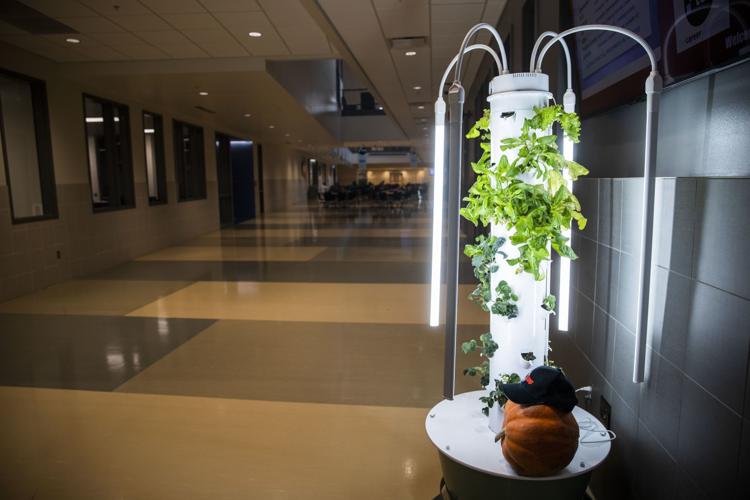 "That's literally the million-dollar room," Career Academy director Dan Hohensee said, pointing to a precision machining lab filled with expensive equipment. "A single school district couldn't do this — the cost, equipment and space."
Students can earn college credit — most of the classes are taught by Southeast Community College instructors — and pay discounted tuition rates. Popular pathways include health sciences, IT, culinary arts and criminal justice. The traditional labor trades have been a little slower to catch on.
"Getting a jump-start on college is really big," said Dustin Clough, a senior at Lincoln Pius X High School. He's enrolled in the construction-electrical pathway at The Career Academy, and has toured several businesses where the shortage of younger workers stood out.
He plans to study to become an electrician after high school, and possibly concentrate later in the field of avionics, electrical systems on aircraft.
In Omaha, the Career Consortium group imagines a half-day program open to juniors and seniors that would still allow kids to mingle with their friends and get the traditional high school experience at their home school.
At the Omaha Public Schools Career Center, housed at OPS headquarters, most classes are 75 minutes and students are bused from the district's seven high schools. Students choose from 10 career pathways. The building used to be Tech High, the career-centered school that opened in 1923 and closed in 1984.
The group envisions having students enroll from school districts across the area, and a board of superintendents to govern the center.
The idea is that a single district — likely OPS, due to its size — would run it, but OPS has ongoing budget troubles and a new superintendent, Cheryl Logan.
Asked whether OPS would support a similar concept, OPS spokeswoman Monique Farmer said the district will most likely look at its course offerings next year during a strategic plan update.
"We are committed to ensuring students can take advantage of coursework and hands-on experiences that best prepare and position them to take on the careers of the future," she said.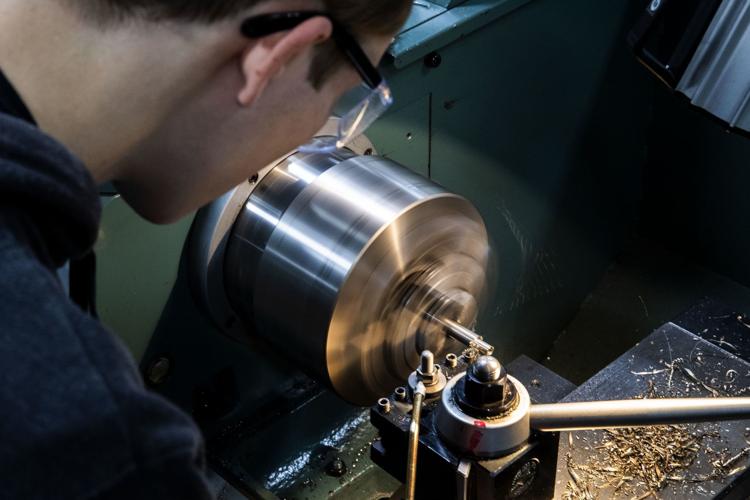 A similar pitch to the Omaha Public Schools board in 2016 — including a proposal to include a regional center in a bond issue to replace the aging Career Center — got a chilly reception. Board members wondered why OPS should pay for the bulk of a new facility and whether students would want to leave their school for a half-day program.
Under the Career Consortium model, students could choose from 24 career pathways, a mix of professional and practical fields, including health sciences and nursing, engineering, transportation, culinary, construction and HVAC. Local businesses could provide equipment, internships or job-shadowing opportunities.
But there are still big questions — who would pay for it? Is a brand-new center that could cost upward of $30 million to build the right idea, or could an older building be retrofitted, like what Grand Island did with a vacant warehouse that it transformed into its $8 million Career Pathways Institute? And would a center geared toward high schoolers compete with Metro Community College, which has been aggressively expanding its automotive and construction programs?
Metro enrolls 298 high schoolers from 24 school districts in one- and two-year career academies spread across several campuses, said Chuck Chevalier, Metro's associate vice president for secondary partnerships. And there's room to grow.
"We're doing everything Cliff's group wants us to do, we're just not doing it in one building," he said. "Everybody in the community, and I would include Cliff and his group in this, recognize that workforce development is crucial to our community right now. ... The key is, how do we get there?"
Levitan said a regional career center could supplement and be a pipeline to Metro's programs.
Marsha Babcock, a Career Consortium member and executive vice president of the Mechanical Contractors Association of Omaha, said all those details can be worked out.
"Everybody starts getting down into the weeds right away instead of considering, is it a ... good idea?" Babcock said.
Schools already offer a variety of career classes
One strike against the regional career center concept? Local high schools already offer some career and technical programs and classes.
Bryan High has urban agriculture and transportation, distribution and logistics programs. Westside is expanding its welding program and has partnered with Nebraska Furniture Mart on an entrepreneurial program. Papillion-La Vista students can take classes at the zoo or the University of Nebraska Medical Center.
Council Bluffs recently announced the creation of a TradeWorks Academy at its two high schools.
"We're doing some of it already," said Mark Weichel, Westside's assistant superintendent of teaching and learning.
If there is talk of a regional career center, he said, "I'd love a seat at the table to talk about what that would look like."
Babcock said the patchwork approach isn't as effective as it could be.
She said that for years, the average age of a first-year apprentice in a field like steamfitting was 26 or 27 years old. Apprentices start out making $17 an hour, plus benefits, and wages steadily climb from there.
"These were people who obviously graduated high school, went out, maybe tried college, didn't like it, went from job to job," she said. "Let's not let these young people flounder out there for 10 years before they learn about something or get exposed to something they have a real aptitude for."
Be the first to know
Get local news delivered to your inbox!