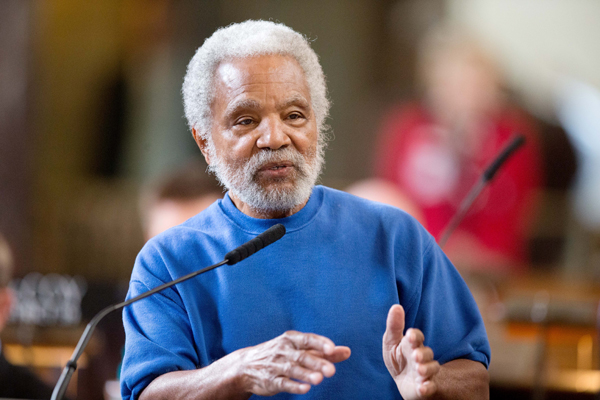 LINCOLN — A proposal to double the amount of "good time" that can be taken away from a prison inmate for misconduct drew only one testifier at a public hearing Thursday.
But the issue is still expected to prompt plenty of discussion when the Nebraska Legislature convenes in January.
State Sen. Ernie Chambers of Omaha said Thursday that the rule change was "very unwise" and "knee jerk" and that he would introduce legislation in January to reverse it, if it ultimately is approved by Gov. Dave Heineman.
"It's a one-size, fits-all approach, and it stems from the Nikko Jenkins incident," Chambers said. "That had nothing to do with good time."
Heineman and others have said that Jenkins' case points to the need for changes in the state's good time laws, and that Jenkins should have lost more good time, and spent more time behind bars, for misbehavior while in prison.
The governor has called for hardened criminals to "earn" good time reductions, instead of getting the reductions automatically.
Meanwhile, the Nebraska Department of Corrections has proposed a rule change to alter the amount of good time that can be taken away for misconduct.
The department's proposal, which was the subject of a 10-minute public hearing Thursday, would double the amount of good time that could removed for assaults and other misbehavior while behind bars.
In the case of a serious assault, that would mean forfeiting up to two years' worth of good time, rather than the current one-year penalty. The rule change would also increase how long an inmate could be kept in disciplinary segregation from a maximum of three months to six months.
Dawn-Renee Smith of the State Corrections Department said Thursday it's possible that the change could be approved by the governor by January. State lawmakers could, however, alter or nullify any rule changes.
Jenkins could have spent nine months more in prison if officials had taken away the maximum amount of good time for assaults and other offenses under current rules.
But Chambers, whose legislative career has often focused on issues of inmate rights and prison policies, said Jenkins' case was an example of poor mental health care for an inmate, not of poor good time policies.
Jenkins, while in prison, voiced homicidal thoughts and made several pleas for treatment, which Chambers said were ignored. However, prison officials have said Jenkins was diagnosed with an anti-social personality disorder that is not a treatable mental illness.
During Thursday's hearing on the proposed rule change, the mother of two state prison inmates said that while she opposed the good time rule change, there were bigger problems facing the prison system.
Sue Jacob of Lincoln, reading from a letter written by one of the sons, Steven, said current policies keep inmates in prison longer than they should be, until they're within a year or two of serving their maximum sentences. Jacob said that nonviolent inmates could be paroled much earlier, when they first become eligible for release.
Steven Jacob, now 57, was convicted of two counts of first-degree murder in the deaths of a former girlfriend and her boyfriend in Lincoln in 1989. His brother, David, 53, pleaded guilty to three counts of second-degree murder in Beatrice in 1986. The two brothers are both serving life sentences.
Correction: Sue Jacob's name was misspelled in a previous version of this story.
---
More Legislature coverage, resources