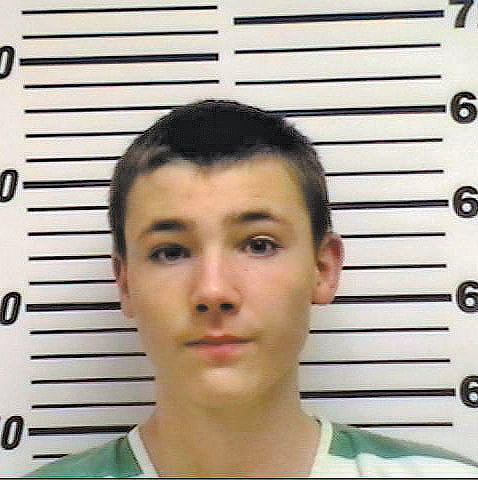 The family of a 5-year-old boy who died in foster care is questioning the decision to place the child in a home where a troubled teenager already lived.
Cody Metzker-Madsen, 17, is charged with first-degree murder in the death of Dominic Elkins, 5, over Labor Day weekend. Dominic's body was found in a ravine a short distance from the rural Logan, Iowa, home where he was staying.
Metzker-Madsen has been described by a relative of the foster family as having "anger issues," but he seemed to respond well to the guidance of his foster parents.
"I don't know if they dropped the ball. It makes me wonder more about the system," said Stacy Hansen, 45, of Manilla, Dominic's grandmother.
The Iowa Department of Human Services has opened an investigation. A department official said among the things the probe will review will be the decision to place Dominic in the home and who was supervising him at the time of his death.
Dominic entered the Iowa foster care system a year ago after being diagnosed with attention deficit hyperactivity disorder and oppositional defiant disorder, becoming too much of a handful for his mother, Hansen said.
The two boys were living in the home of Don and Julie Coolman, north of Logan.
Dominic was reported missing and possibly injured shortly before he was found Saturday evening. Metzker-Madsen led his foster family to Dominic's body in the ravine before sheriff's deputies arrived.
The teen told authorities that the two boys had been "playing with bricks" when Dominic began hitting himself in the head with a brick.
He later changed his story.
Metzker-Madsen had lived with the Coolmans for three years, while Dominic had been there only a few weeks.
Officials with the Iowa Department of Human Services say it's common to pair similarly behaved foster children in the same household.
However, it is "extremely rare" for the grouping to escalate to a physical altercation, said Vern Armstrong, administrator for the department's division of field operations
Dominic Elkins
On average, 2,165 children are in foster care daily in Iowa.
Hansen is not Dominic's biological grandmother. She took his mother, Barbara Kunch, now 24, into her home when Kunch was a high school senior pregnant with Dominic. Kunch and Dominic lived with Hansen and her husband for more than two years after Dominic was born.
Hansen described Dominic as an outgoing boy who would approach children he did not know, introduce himself and play with them.
Riding in the cart while shopping at Walmart, he would say "hi" to strangers and ask how they were doing.
"He was your typical 5-year-old. He was outgoing. He loved to play. He loved to ride his bike. … He had no fear of strangers. He thought someone walking down the street was someone to meet," Hansen said.
But Dominic was troubled. What at first seemed to be routine childhood temper tantrums turned into hitting walls and hitting his mother.
She struggled to work with him. He would bang his head against the walls, a door or the floor.
"Anything that he didn't like triggered him off," Kunch said. "Instead of expressing through words, he would express it through anger, hitting me."
She was afraid Dominic would never be able to lead a normal life.
Kunch placed her son in the foster care system a year ago. He proved too much for the first foster family to handle.
He was in Children's Square U.S.A. in Council Bluffs from October until February, and then was placed in a second foster home. He was back in Children's Square in July, then in August he went to the Coolmans in rural Logan.
But he was making progress. Staff at Children's Square told Kunch that Dominic's behavior was improving and that he was reacting well to medication. When she visited him, the changes were noticeable. If he was mad about something he would say so, instead of acting out.
"He was doing amazing. I never thought my kid would be able to tell me what was wrong. I thought he would always throw fits," she said.
She was beginning to imagine the life he might lead as an adult.
"He would actually be able to do the everyday necessities he needed to do to get a job, finish school," she said. "He had problems, yes, but he was able to deal with them and get the things done he needed to get done, to live his life to the fullest."
The Iowa Attorney General's Office is prosecuting the case against Metzker-Madsen. A preliminary hearing is scheduled for next Monday.
Services for Dominic have not been set. The Iowa State Medical Examiner still has his body, his family said. The child will be buried in Harlan.
Kirby Kaufman of the World-Herald News Service contributed to this report.