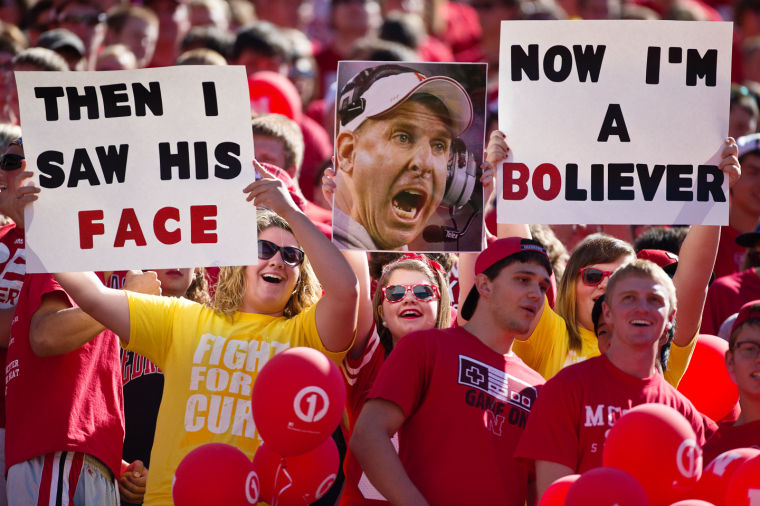 LINCOLN — Nebraska football fans were as fair as the weather Saturday after a week in which they learned their football coach had cussed them out.
They rained cheers on Bo Pelini and the Huskers as the coach and team entered and left Memorial Stadium. A discouraging word seldom was heard in the glowing red confines of the stadium, or in the bratwurst and cigar-smokey air of tailgates before the game with South Dakota State.
"We love Bo," UNL sophomore Dennis Stille of Ashland said up in his nosebleed seat. "I don't know why people take it so personally. People booed Bo, and he responded. He takes more criticism than anyone else ever does."
What some Nebraska faithful took personally was what they heard on a 2011 audio recording that was leaked last week. Pelini said fair weather fans should bleep off, and could kiss his bleep — only he didn't say bleep.
He apologized in a statement, and then in an open letter to fans. University officials decided not to discipline him.
Pelini's heated 2011 remarks touched off a heated debate for several days, with some Husker backers defending Pelini and others calling for him to be fired. The furor abated somewhat after former Husker coach Tom Osborne and such former players as fan favorite Rex Burkhead emerged to defend Pelini.
By Saturday, fans, at least those in and around the stadium, were feeling, if not the love, at least the like for Pelini.
A pair of nuns at the game agreed that an f-word applied to the situation.
"We all make mistakes," said Sister Janelle, who attended the game with a group of nuns from Waverly, Neb., members of the Marian Sisters of the Lincoln Diocese. "We don't want to condone what he said. But he's done a better job since then.''
"He's got a hard job, and he's doing a great job," said Sister Ann Marie. "We're behind him 100 percent."
"Agreed," Sister Janelle said. "We want forgiveness. We like Nebraska football. Move on and enjoy the game."
Longtime fan Louise Stopak said she lit a $3, seven-day votive candle Wednesday for Pelini and the team at St. Bonaventure Catholic Church in her hometown of Columbus, Neb. She prayed, "Please help Bo and the team, and please help the people stop picking on Bo."
Then she mentally composed her sign for the game, something like, "Bleep the f.w.f." (That stands for "fair weather fans," to be clear.) She ended up painting a different banner to hang on railings by her front-row seats. It read, "We support our team and coaches."
"I was here in the 1960s when they tried to run out Bob Devaney, and in the 1980s when they tried to run out Tom Osborne," Stopak said.
Jenna Uher, a UNL junior, carried a sign urging people to "#BOlieve."
"I love him," she said. "We've got to support him. He's a great guy, and he's bringing us back to where we want to be."
In 50-yard-line seats in the East Stadium, Nebraska alumnus Jack Thornton of Des Moines said he felt "pretty positive" Saturday after the rough week.
"It bothered me; the things he said were really disturbing to me," Thornton said. "But it was two years ago, and he's done a lot of improvement since then. And I've got a feeling the players are behind him."
Chris Denicola, 64, of Lincoln, said she "initially was disappointed. But I do believe that Bo was very apologetic. I think the student athletes love him, and I think they support him."
Campus views of Pelini's rant were more diverse outside the game-day atmosphere.
In an interview via email, UNL Faculty Senate President Rigoberto Guevara said fellow professors hadn't talked about the Pelini audio much.
But he said he had heard a handful of concerns, such as "Pelini represents the university and his behavior tarnishes the institution, this is no surprise and not the first time he expressed himself in such a way that it attracts negative attention," and Pelini's remarks were offensive to fans.
"As for myself in my position as faculty representative, it is clear to me that coach Pelini was very specific about who could kiss his rump," Guevara said. "It was not faculty."
No boos could be heard on the field during the game. Although there were some familiar-sounding grumbles about Pelini when South Dakota State put 17 points on the board in the first quarter.
"He's supposed to be a defensive coach," one fan groaned.
After the game, fans showered Pelini with applause as he exited the field with the team and his family. He raised his face to the crowd and acknowledged the adulation with a nod and a wave.
Meanwhile, fans rejected the notion that they're in a "Bo-dependent" relationship with their coach, in which they booed him, he cussed them out, he apologized, and they took him back.
But while they're Bo-lievers today, there's a long season ahead.
"He needs to win," said Adam Nasim, 39, of Omaha. "I don't know if his job is secure or not. ... (The recording) happened two years ago. He apologized. It's over. Much ado about nothing. But if we lose, everything he said is going to come back."