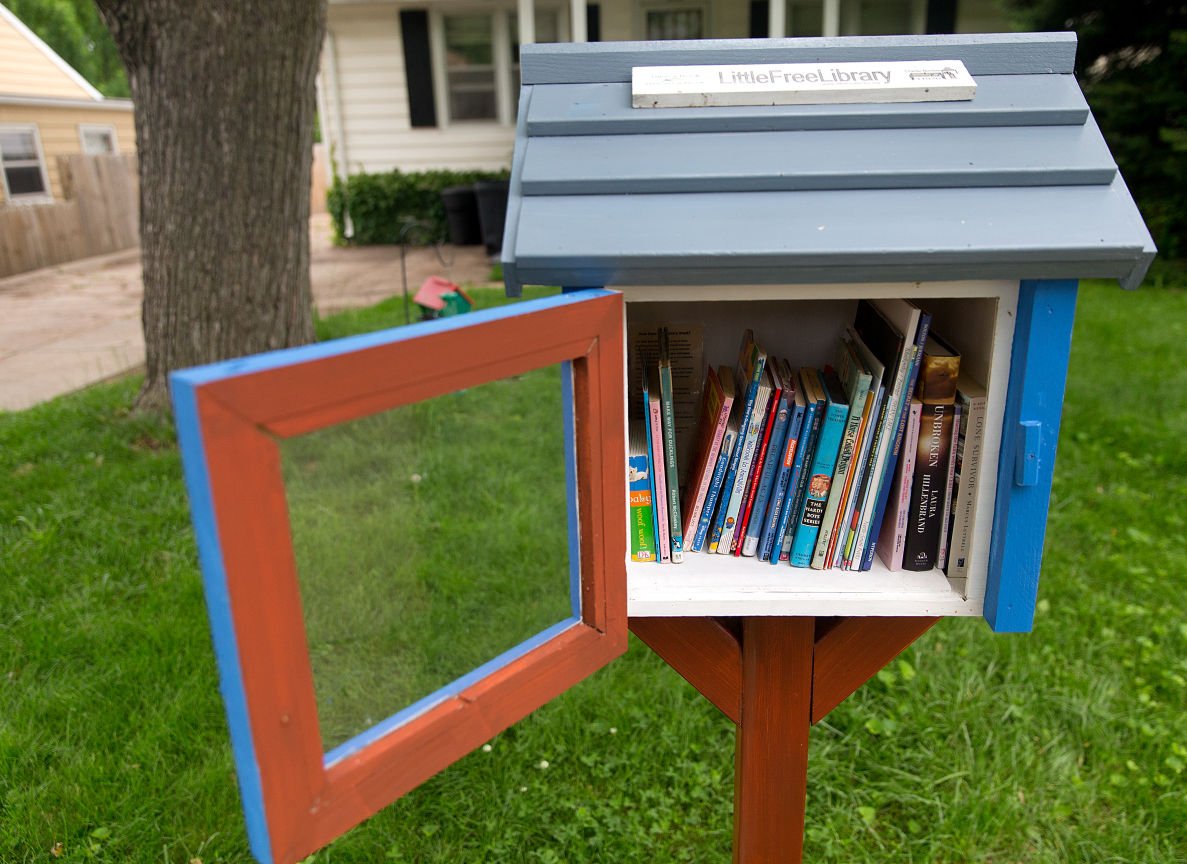 Eric Forrest is taking a little step to improve literacy in his neighborhood.
He put $200 into buying a can of red paint, some wood and several books. Now, his front yard on Ellison Avenue in northwest Omaha is donned with a mailbox-like structure known as a little free library.
He loads the books into the library and offers an open invitation for people to borrow one.
"I can only hope that someone who wouldn't be reading otherwise sees it and picks up a book," said Forrest, an English teacher at Metropolitan Community College.
Forrest is part of a literacy trend that is spreading across the globe. Little free libraries are growing more popular as places for people to grab a book they might not have read before or connect with a fellow reader.
In the metro area, at least 29 little libraries have popped up.
The movement, which began in Hudson, Wisconsin, is providing an entryway to literature and a gathering spot for neighbors, said Kris Huson, marketing and communications director of Little Free Library Ltd.
"People literally do not know the people nearest them — their neighbors," Huson said. "Everyone has the same experience that they put a little library out, and they meet new people."
These libraries mostly run on the honor system.
Huson said these "unassuming painted boxes" might invigorate someone's love of reading. It also might just put a book in someone's hand for the first time.
Each little library has its own personality. In the Omaha area, they range from mailboxes to large bookshelves to even a telephone booth with a "Doctor Who" theme.
The local little libraries in Omaha include one at the University of Nebraska Medical Center, two on Fontenelle Boulevard at the Nebraska Children's Home Society, three in Council Bluffs, one at First Covenant Church of Omaha, some in more rural areas and others in such suburbs as Ralston and La Vista.
Forrest said that every day during the school year, neighborhood kids meet outside his little library. If kids don't find the book they want, Forrest offers a chance to put their recommendation on a wish list. Both "To Kill a Mockingbird" and "Huckleberry Finn" have made appearances on the list.
Forrest will stock the library with 
wish list items after weekly trips to the Half Price Book Store or public library sales. He contributes about $5 a week to books.
One neighborhood girl knocks on Forrest's door every once in a while, just to check when her book will be in stock.
"When you share stories," Huson said, "you're sharing part of who you are as a person by the books you read."
Stuart Shell, a 35-year-old midtown resident, said his little free library is a community meeting place, where readers and neighbors are welcome, and gardeners, too. (There's a seed exchange drawer in the library box.)
Shell and his wife, Dana Freeman, used recycled materials to build their yellow library with a red door in the front yard a year and a half ago. They built a bench to the right.
If people don't have materials to build their own little libraries, they can visit littlefreelibrary.org to purchase materials and register their library on the national map, which has more than 27,000 listed worldwide.
"We love community, neighbors and books," said Shell, who lives near Gifford Park. "The three of them combine well in the front yard."
Shell said his library was built for the young at heart, a lower shelf for the kids and a slightly higher shelf for anyone.
The neighborhood kids tend to make a game out of the library, he said.
"They try to go through every book in there," Shell said. "Sometimes we see the kids three times a day."
Shell and Freeman stamp each of their books with: "Give a book, take a book." Neighbors contribute by reading and returning books or picking a book from their personal bookshelf and giving it to the little library.
Shell said the little libraries aren't a replacement for public libraries, though.
"It's just a sign that we care about and are invested in the street," he said.
Emily Getzschman, marketing manager for the Omaha Public Library, said the little libraries are a good way for people to get their hands on books.
"Any time people are reading, it's good," she said.
One year ago, Kim Reiner began her little free library in Metcalfe Park near the intersection of Country Club Avenue and Decatur Street. Because it's in a park, Reiner's library serves a larger community than many other little libraries.
Reiner said that when she first began her little library, she restocked the shelves frequently because the borrowers didn't return the books. But now, she's just glad people are reading them.
"It's meant to be enjoyed," she said. "If you love (the book) so much, you don't want to bring it back, that's fine."
Reiner said many people in her area are refugees, some of whom she said grabbed their first English book from the little library.
"I get a kick out of seeing somebody stopped there reading the books," she said. "I love that it's working."
Erin Human, a little free library owner on 61st and Pinkney Streets, said her library is part of her neighborhood and the Omaha community.
"I'd love for more people around Omaha to know that they can come by and take a book, you don't have to live nearby," Human said. "It's just a fun movement for everyone to be a part of."
Daniel Boster started a little free library in Ponca Hills. After he moved to midtown, though, the kindergartner next door took over maintenance for him. He said the library helps people keep an interest in literature.
"People are always talking about the death of the book and how people won't read anymore, and I don't think that's going to happen," he said.
Shell said physical books are this generation's inheritance from the last generation, and little libraries help keep that alive.
"To see the stamp, to feel the page, to open the door, and see the chipping paint and real books, it's all about the experience," Shell said, "and it's all about the community."