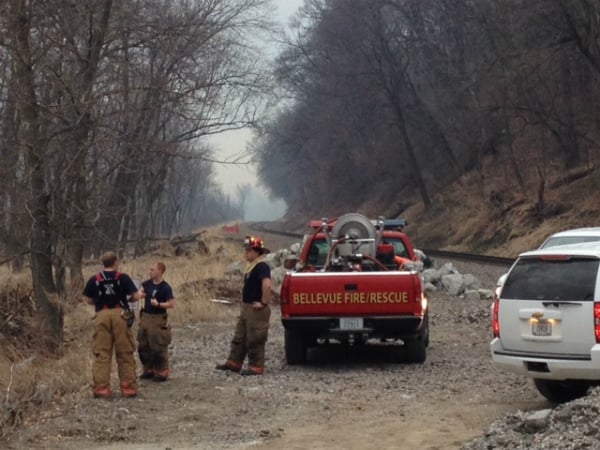 Update 10 a.m. Sunday: Bellevue Fire Capt. Kirk Schuster said about 10 firefighters remain at the scene of the fire to put out smoldering hot spots. Schuster said the fire was under control and contained by 9 p.m. Saturday.
Bellevue firefighters were still battling a smoky brush fire Sunday morning that they feared could threaten Fontenelle Forest.
Firefighters were working to knock down the blaze before it spread north toward the forest, said Jack Syphers, spokesman for the Bellevue Fire Department.
Syphers said the fire was believed to have started in the late afternoon along Burlington Northern railroad tracks north of Haworth Park and the College Heights area, though its origin has not been confirmed.
He said his concerns were based on the dry conditions, wind gusts in the area and the difficulty containing the blaze. The fire extended up to 1.5 miles with flames as high as 20 to 25 feet.
Brad Watkins, a spokesman for the forest, said that based on his conversations with forest rangers, he believed the fire would go east toward Gifford Point and avoid the forest.
He said that if the fire heads in that direction, it will move toward the river and that there are no homes or other buildings in its path.
"It's not threatening anything of ours," he said.
Watkins described the fire area as a wetlands on the edge of the forest.
Authorities evacuated all of the animals from nearby Gifford Farm.
Curtis and Julie Bryant were hiking the trails near the farm around 6:30 p.m. when they smelled smoke.
"When we first started hiking, I said, 'I don't think this is from Kansas,' " Julie said, referencing the smoky haze that sometimes has reached Nebraska from states to the south.
The Bryants live in west Bellevue and hike in the park frequently.
The steep terrain — which includes downed trees and undergrowth — were making it difficult to fight the fire by conventional means, Syphers said.
Firefighters rode all-terrain vehicles to dump water on the blaze. Riders were equipped with 5-gallon pumps resembling backpacks with hand pumps, he said.
Firefighters also used bulldozers, rakes and shovels, among other tools, in an attempt to knock down the fire.
No homes in the College Heights area were believed to be in immediate danger.