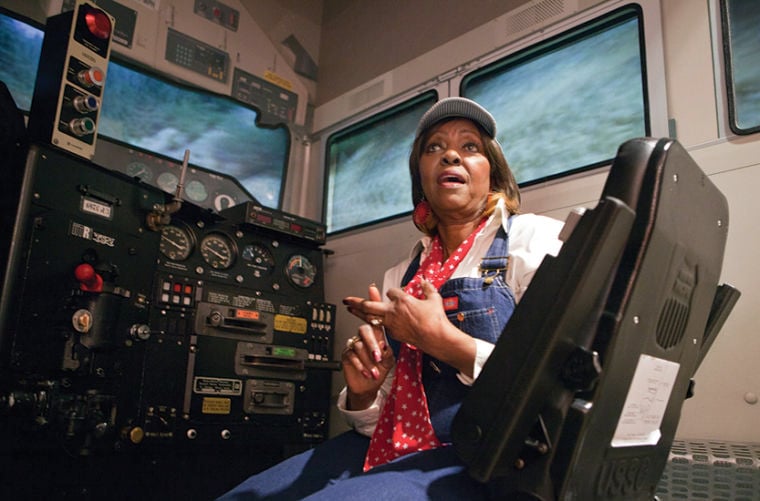 COUNCIL BLUFFS — Edwina Justus is a daydreamer.
A teacher once told her that staring through a window wasn't the route for success, but she did it anyway.
The 70-year-old Omaha native eventually proved she could succeed, becoming the first female African-American engineer to work for Union Pacific Railroad.
Justus shared her stories with visitors last weekend as part of a Black History Month celebration at the Union Pacific Railroad Museum in Council Bluffs. The event was sponsored by Union Pacific's Black Employee Network.
The celebration was "really a good opportunity to highlight the things African-Americans have contributed to the health of the railroad," said Nicole Perry, a member of the employee network who works in the railroad's information management area.
The museum held its first Black History Month celebration in February 2013.
"Last year was a pilot project, and we had a good response," said Abby Cape, communications and volunteer relations manager at the museum.
The history of African-Americans with Union Pacific Railroad was taken into numerous schools after the inaugural event at the museum last year, Cape said.
"They managed to touch over 800 kids," she said.
Justus began her career at U.P. in 1973 as a clerk at one of its Omaha facilities. In 1976 she applied for an engineer opening in North Platte, Neb. She didn't expect to be hired, but was offered the position.
She and her late husband, Arthur, were trained in Cheyenne, Wyo., and worked together as engineers. Justus worked for 22 years before retiring in 1998 and moving back to Omaha.
Many of Justus' railroad memories came from the people she has met, including the vagabonds she described as "smart" and "adventurous."
"It was one of the most interesting things I'd encountered," Justus said of homeless people riding on trains.
There was also fear, because often the homeless were more surprised to see a black woman as engineer. Others just wanted a cigarette.
"You're out in the dark, and you don't expect someone to ask for a cigarette," she said.
Justus said the homeless were referred to as "unauthorized passengers." They were people who loved to travel. They packed light. Most were equipped with a can opener, can of tuna and bottle of water. Sometimes they'd stay in North Platte to shower or sleep for the night.
But working on the railroad was more than good money and memorable people. Justus reminded museum visitors that everybody should strive for success.