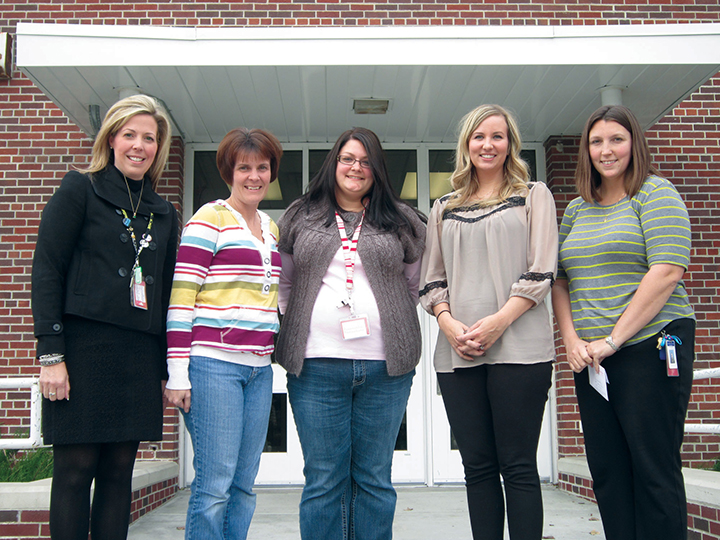 Thanks to U.S. Cellular, 120 Iowa teachers had their classroom projects funded through the company's Calling All Teachers campaign.
And five of those teachers were from Council Bluffs.
U.S. Cellular, a wireless carrier, worked with philanthropic website DonorsChoose.org to fund $500,000 in creative and impacting classroom projects submitted by public school teachers. Iowa donations worth $70,820 will benefit 8,950 students throughout the state.
Teachers across the country posted classroom projects that covered a variety of topics that included language and literacy, math and science, music and the arts, health and sports and special needs. Some educators asked for novels, bookshelves and calculators, while others requested LCD projectors and digital cameras.
The five Council Bluffs teachers included Libby Foster at Abraham Lincoln High School; and Janine Crain, Jen Perkins, Jennifer Plummer and Susan Steckis, all from Rue Elementary School.
Crain, who teaches fifth grade at Rue Elementary, received $854.26 to purchase 72 books for her "Help Our Library Grow Up" project. After Crain moved from third to fifth grade this year and filtered out the books that were too young, she wasn't left with many books her new students would enjoy.
"I asked for books that were a better fit for fifth grade so that my classroom library could 'grow up,'" she said.
Rue Elementary second-grade teacher Jen Perkins received $388.53 for her "Same Teacher, Same Classroom, Same Books" project.
"As a new looping teacher going from teaching first grade to second grade, I needed some higher level books to add to my classroom library," Perkins said. "With the help of Donor's Choose and a large donation from U.S. Cellular, my students have new, higher level books to enjoy."
Jennifer Plummer, a fourth-grade teacher at Rue, received $559.28 to purchase iPads for her "iPad Differentiates Instruction" project. Plummer said throughout the day students use technology in the classroom in reading, writing and math workshops. iPads are used specifically for additional math fact practice, to share students' thinking for math work, create iBooks in writing, and to support struggling readers.
"Having another iPad in my classroom has enabled me to meet the needs of the students in my classroom by giving them access to the technology that will help them become 21st-century learners," she said.
Rue Elementary third-grade teacher Susan Steckis' project, "Help Us Build Our Third-Grade Library" received $858.54. Steckis said she plans to use the money to purchase 150 books and seven MP3 players – portable media or digital audio players – for literacy activities for her classroom.
Finally, Libby Foster, a special education teacher at Abraham Lincoln, received $728.33 for her classroom project, "Stay Calm, Read On." This is the fifth time Foster has received a grant funded through Donor's Choice and the second time she's had a project fulfilled thanks to funding by U.S. Cellular.
The grant she received this year was used to increase the amount of books in her classroom library. According to Foster, keeping the reading materials new and up-to-date is key for keeping students interested in books. This year, books were chosen based on the author's popularity in her classroom, as well those on the Young Adult Library Services Association list of books for reluctant readers.
"The excitement surrounding the grant and it's funding, as well as of the books when they arrive, could rival the anticipation for Christmas morning," Foster said. "It's an exciting time and I'm very grateful to our donors, they're amazing."
Iowa Gov. Terry Branstad thanked U.S. Cellular for its commitment to supporting education and contributing to classroom projects in Iowa.
"Our teachers should be proud of their efforts and the impact this funding will have on their students' learning experience," Branstad said in a recent press release.
U.S. Cellular is dedicated to supporting education and the pressing needs of schools. Calling All Teachers is just one way the company gives back to local communities.
"Teachers work very hard to make every student's learning experience meaningful and fun, and U.S. Cellular is proud to support teachers' efforts," said Don Cochran, director of sales for U.S. Cellular in Iowa and Nebraska. "We are dedicated to Nebraska and excited to contribute to the education of local students through this program."
"U.S. Cellular's continued support of education is helping to make an impact in schools across the nation," said Charles Best, founder and CEO of DonorsChoose.org. "The company's donations allow teachers to do more in the classroom, and our children reap the benefits."
Starting Nov. 4, U.S. Cellular will bring back its Calling All Communities campaign for the fifth year. Schools can rally community support for the chance to win a share of $500,000 to fund what their students need the most. The top 20 schools that garner the most community votes will each win $25,000 to use as they wish to improve their educational experience. Additional information is available at uscellular.com.