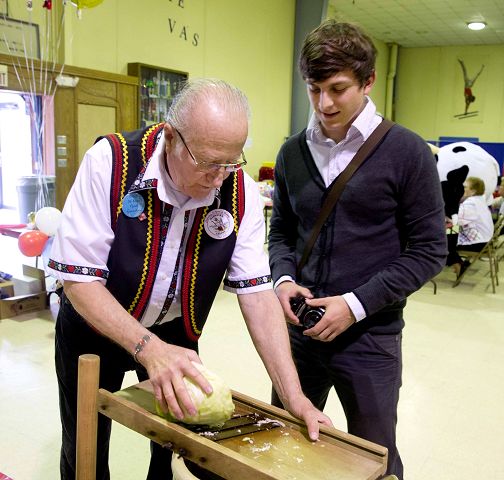 Polka bands, roast pork, pilsner beers and colorful costumes combined Sunday to let anyone within shouting distance of South Omaha's Sokol Hall know the annual Czech-Slovak Folklore Festival was in full swing.
"It's all about our music, about our food and about our culture," said Emma Trouba of the Omaha Czech Cultural Club. "We sing and dance and eat. ... It's just a wonderful time."
A delicious mix of aromas wafted through the hall and out its doors. About 300 dinners of roast duck and dumplings were served downstairs. Sausages, kolaches, Czech beer and pop were available upstairs.
Marie Sedlacek of Omaha, the Czech club's 2012 kolache bake-off winner, tapped her feet to the music as she sold her homemade pastries. Sedlacek said her mother taught her how to bake kolaches.
"The secret is a nice rich, light dough," she said. "You can't leave here without trying our kolaches."
Three students from the Czech Republic studying at the University of Nebraska-Lincoln said the festival made them feel downright homesick. The students, who have Robitschek Scholarships, said they were impressed by the strong feelings that Czech-Americans show for their heritage.
"I haven't ate such great food since I left my home country," said Jan Palecek, who arrived at UNL in January.
He also attended the Czech festival in Wilber, Neb.
"It makes me feel special to see all of these people celebrating their heritage," said Adam Zahradnik, who has been in Lincoln since August. "To hear our anthem played and see all the Czech-Americans, people back home would be amazed."
Accordion player Brad Husak, 35, of Lincoln plays with his own polka band or fills in as a substitute in other bands almost every weekend. People who have visited the Czech Republic tell him that its citizens are shocked to learn of Nebraskans' depth of feelings for the old country, Husak said.
"This time of year, Czech festivals really start taking off all around Nebraska," Husak said. "I play twice a weekend, and I know there are others who play up to three times a weekend."
Husak's wife, Stefanie Vocasek Husak, was named National Czech Queen for 2010-11 at Wilber's pageant. As part of her prize, she traveled to the Czech Republic.
"There are no people like the Czech people," she said. "They were so welcoming and so fun. When I told people there about all the (Czech) festivals here in Nebraska, they were, like, 'You are better Czechs than we are!' "
Stefanie Husak has spent the past two years organizing a children's choir, and the kids sang in Czech and English at Sunday's event.
Preserving the heritage of a hearty people is a way to thank her ancestors, Husak said.
"I feel like they sacrificed a whole lot for us to be here," she said. "We're all stubborn, and that's why our culture has survived so well. Any time you see toes tapping, people smiling and clapping, then you know you're at a Czech festival."