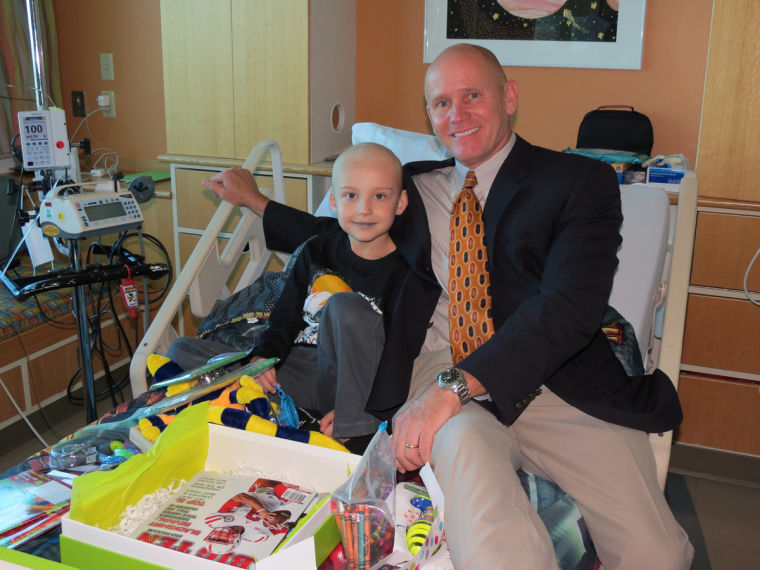 The following are fundraisers, donations and charitable events happening in the Midlands. Email your information about good deeds to connect@owh.com or call 402-444-1040.
A day and more of cheer: Northwestern Mutual's Nebraska office and Cheeriodicals brought cheer Monday to children fighting childhood cancer and other diseases at Children's Hospital & Medical Center. The cheer came in the form of 170 "big green boxes of cheer" made up of age-appropriate magazines, toys, puzzles, crafts and more for the children to enjoy. The boxes are tailored to boys or girls and specific age groups. They also included a few surprises for the parents. Omaha Two Men and a Truck donated time and services to transport the 170 Cheeriodicals.
Cars and food: The Meadowlark Model A Ford Club will host its second annual food drive to benefit the Gretna Neighbor's food pantry. The event will run from 11 a.m. to 3 p.m. today in the parking lot of McKinney's Food Center in Gretna. Several Model A Fords will be displayed.
Working for tips: Join Team Nebraska for Tip Night from 5 to 9 p.m. Monday at Pizza Ranch, 3014 S. 84th St. The group will be working for tips and a percentage of sales to help fund a trip to the 2014 transplant games in Houston. Team Nebraska is a small group of individuals who are organ, eye and tissue transplant recipients, donor families and living donors. The Donate Life Transplant Games of America are a celebration of life for everyone connected to organ donation and transplantation.
Fall feast: A broasted chicken dinner and silent auction await those who attend Thursday's eighth annual Douglas County Health Center's fall feast. Hours will be 4 to 7 p.m. at 4102 Woolworth Ave. Dine in, take out or have the meal delivered curbside to your car. Tickets are $8 in advance and $10 at the door. To buy tickets in advance, call 402-444-7313 from 8 a.m. to 4 p.m. weekdays. Proceeds benefit the residents who call the health center home.
Cemetery tour: The Adams County (Neb.) Historical Society and Hastings Community Theatre will present their third annual Adams County Cemetery Walk on Friday, Saturday and Oct. 20 at Hastings' Parkview Cemetery. Guests will follow guides to six gravesites, where interpreters will portray Hastings citizens. Tours will start at 5:30 p.m. and 6 p.m. Friday; 3:30 p.m., 4, p.m., 4:30 p.m., 5 p.m. and 5:30 p.m. Saturday; and 4 p.m., 4:30 p.m. and 5 p.m. Oct. 20. Guests are asked to check in at the front gate of Parkview Cemetery, 13th and Elm Streets, 15 minutes before their scheduled tour. Tickets are $12. All proceeds will go to support the historical society and the theater. Reservations are limited to 20 people per tour. Reserve a spot by calling 402-463-5838 or emailing achs@inebraska.com.
Wine, beer, art, food and dogs: Thirteen Nebraska wineries, five breweries and nine musicians and musical groups will be at the all-Nebraska Brew/Vine and Art Festival from 9 a.m. to 7 p.m. Saturday. Nebraska at the Market will host the festival on Leavenworth Street from 12th to 13th Streets. Tickets for the wine tasting are five for $15. Beer-tasting tickets are five for $5. A portion of the proceeds will be donated to the Nebraska Humane Society, which will be at the festival with its Paws van from noon to 2 p.m.
Fashions, luncheon, crafts: The Tangier Shriners Women's Auxiliary will host a Fall Fashion Show and luncheon with a craft boutique Saturday at the Tangier Shrine, 84th Street and Tangier Way. The boutique will open at 11 a.m. and lunch will be served at noon with the fashion show following. Tickets are $10. All proceeds go to the Shriners Hospital for Children -- Twin Cities. Tickets will be available at the door.
It's in the bag: Tickets are available for Art in the Bag, a fundraiser from 2 p.m. to 4 p.m. Oct. 20 at Hot Shops Art Center, 13th and Nicholas Streets. A silent auction will feature handcrafted handbags. Also expect tea with hors d'oeuvres, sweets and live music. Tickets are $20 in advance or $25 at the door for adults and $10 for students, ages 18 and younger. All proceeds will benefit the Beads of Courage program at Children's Hospital & Medical Center. The national program provides arts in medicine for children with serious illnesses. In Omaha, Midwest Lampworkers Guild handcrafts beads used in Beads of Courage. For more information or to buy tickets online through Wednesday, visit ArtInTheBag.com.
Medical expenses: A benefit to help Matt O'Brien with medical expenses will run from noon to 5 p.m. Oct. 20 at St. Joan of Arc Catholic Church, 7430 Hascall St. Expect an all-you-can-eat spaghetti dinner, raffles and a silent auction. He has a rare disease called fibrosing mediastinitis. Learn more about O'Brien and the disease at MATTFM.org.
Husker Greats: The Husker Greats Foundation was formed to assist former Cornhusker athletes — men and women from any Nebraska college or university — with special needs, specifically medical and emergency services. There will be a fashion show from 6:30 to 8:30 p.m. Oct. 20. Husker Women Athletes will be honored at Regency Court. Tickets, $50, are available by calling 402-932-5299 and at HuskerGreatsFoundation.org.
Fun for the people, too: The Midlands Humane Society will stage its fourth annual Canines in Costumes from 2 to 4 p.m. Oct. 20 at Bayliss Park in downtown Council Bluffs. The afternoon will include music, a $25 micro-chipping special, 20-plus vendors offering goods and services, raffles, games and prizes and a costume parade around the park. The humane society will sell items to support its building fund. Don't have a dog? Enjoy a day in the park. Donations are welcome. Rescue groups will have dogs and cats available for adoption.
At the camp: The fourth annual Wilderness 5K Run and 1K Walk will begin at 4 p.m. Oct. 26 at Camp Fontanelle in Fontanelle, Neb. Participants are encouraged to dress in costume. The race, a fundraiser for Camp Fontanelle, will end with a spaghetti dinner. Registration, $20, includes a shirt and a meal after the race. Those watching the race may also have a meal for $5 a plate with a reservation. Registrations will be taken up to the day of the race, but to receive a T-shirt, registrations are needed by Tuesday. Check-in for the race will begin at 2:45 p.m. To register, visit CampFontanelle.com and register online or download a registration form and mail it to Camp Fontanelle, 9677 County Road 3, Fontanelle, NE 68044. The race is open to all ages.
Monster Mash: Families are invited to the Oct. 27 Halloween Monster Mash, a one-mile walk and 5K run at Rockbrook Village. On-site registration will begin at 9:30 a.m. with the walk and run starting at 11 a.m. Costumes are encouraged. Snacks and beverages will be provided at the finish line. To register or learn more, visit metrorotarywalk.org. Entry fees are $25 for adults, $12 for children whether you choose to walk or run. Register before Thursday to get a T-shirt. Proceeds will benefit childhood obesity prevention programs at Children's Hospital & Medical Center and Rotary International's Polio Plus.
Great Pumpkin Run: Omaha's Great Pumpkin Run offers three distances, making this Oct. 27 event one for families. The 400- meter Boo Dash starts first, the Monster Mile will go second and the Spooktacular 5K will finish out the festivities. Runners registered for the 5K also may run the mile or 400M, so if you have kids running you are welcome to join them. The cost is $25 a person for the 400M and the mile. The 5K is $30. Races will begin at 10 a.m. at Werner Park in Papillion. Details and registration are at omahasgreatpumpkinrun.com. Use code IHAVEGAME for 40 percent off registration. Pick up your racing pack from 2 to 6 p.m. Oct. 25 or 10:30 a.m. to 4 p.m. Oct. 26 at Red Dirt Running Co., 17660 Wright St. A portion of the proceeds will benefit Girls on the Run of Nebraska.
Shine a light: Throughout October, all the Omaha Interstate All Battery Center locations are supporting breast cancer awareness. For each flashlight purchased at the stores during October, $1 will donated to the National Breast Cancer Foundation. Omaha locations are 920 S. 72nd St. and 3301 Oak View Drive.
Betting on a cure: Harrah's and Horseshoe Council Bluffs plus 30 other Caesars Entertainment properties nationwide will raise money in October to fight breast cancer and raise awareness of women's health issues. In the Bluffs, Harrah's and Horseshoe will create a "pink table zone" by changing select table games' felts from green to pink. Teams of employees will be participating in the "Battle of the Bras" decorating contest, with funds being donated to the American Cancer Society. The food and beverage outlets will offer special desserts and meals, incorporating October's pink theme.
Raise the Roof: Habitat for Humanity of Omaha will celebrate the fifth annual Raise the Roof Gala beginning at 6 p.m. Nov. 1 at the Harper Ballroom on the Creighton University Campus. More than 400 guests, corporate partners, donors, volunteers and Habitat Omaha partner families are expected to attend. Habitat Omaha will present three Spirit of Humanity awards at the event. Recipients are First National Bank Corporate Partner, Faithful Builders Coalition Faith Partner and Leadership Team & Donors of "Build The Future" Campaign Collaborative Partners. Tickets start at $50 and are available at habitatomaha.org. Business attire is appropriate. All proceeds from the gala will benefit Habitat Omaha's mission to build community through homeownership.
Two groups: Omaha's Ted E. Bear Hollow and Lincoln's Mourning Hope Grief Center will receive a portion of a $750,000 grant the New York Life Foundation has made to support organizations serving grieving children nationwide. Ted E. Bear Hollow will receive $10,000 and Mourning Hope Grief Center will receive $15,000.
Christmas help: HELP Adult Services work together with many groups, including the Presbytery Women, to provide between 2,400 and 3,000 Christmas stockings to the incarcerated in 11 facilities in Fremont, Page and Pottawattamie Counties in Iowa and Douglas, Cass and Sarpy Counties in Nebraska. If you wish to volunteer, sew stockings, or donate funds, contact Jessica at 402-341-6559 x100.
Shop for a good cause: A Touch of Crafts and Your Country Connection have combined to bring you a holiday shopping experience. A $1 admission fee and proceeds from the raffle will be donated to breast cancer research and Go Red For Women. The event will be from 10 a.m. to 8 p.m. Thursday and Friday and 10 a.m. to 4 p.m. Saturday at Shadow Ridge Country Club, 188th and Pacific Streets. Lunch will be available.
Brick by brick: Ornaments 4 Charity, started by an Omaha family, sells Christmas ornaments made of Legos to help others. Thirty ornaments and six build-it kits are available this year. All of the proceeds from this year's sale will be used to purchase infant/toddler supplies (diapers, wipes, formula, OTC medicine, clothing, mittens and hats) for children supported by the Stephen Center Emergency Shelter and Safe Haven Transitional Shelter. Ornaments 4 Charity has raised $12,750 over the past four years to support children who are living in homeless and domestic shelters or participate in the weekend backpack program. Order ornaments online at www.ornaments4charity.com.
Way to give! The Bon-Ton Stores, which include Younker's, raised $263,711 through customer donations this summer for the American Red Cross. Also, through their Mother's Day and Father's Day promotions they raised more than $730,000 for the March of Dimes.
Be the first to know
Get local news delivered to your inbox!