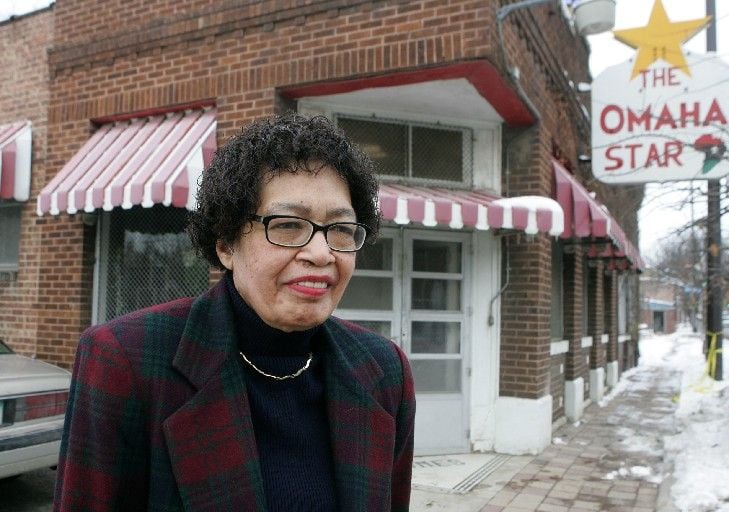 The City of Omaha on Tuesday honored Marguerita Washington, the longtime editor and publisher of the historic black-owned newspaper the Omaha Star.
City Councilman Ben Gray on Tuesday presented Washington with a proclamation from Mayor Jean Stothert declaring Dec. 1, 2015, as Dr. Marguerita Washington Day.
The board of directors of the Mildred D. Brown Memorial Study Center, which Washington created, had requested the mayoral proclamation.
They had hoped to have a reception tonight in downtown Omaha, but Washington's health took a turn for the worse.
So Gray read the proclamation to Washington at Josie Harper Hospice House, where she is receiving care. More than 20 people, including study center board members, former State Sen. Brenda Council, Empowerment Network President Willie Barney, Johnny Rodgers and Omaha Star leader Phyllis Hicks, gathered in a hospice house living room space as Gray took a knee beside Washington and read the proclamation.
"You deserve everything that was said about you," Gray, a former television journalist, told Washington. "And more."
Council, straightening a yellow blanket that Washington wore over a colorful print dress, said Washington made many sacrifices to keep alive a vital, independent voice for north Omaha.
"You're a treasure, and we are so grateful for you," Council said.
Washington took over the Star in 1989 after the death of her aunt Mildred Brown, who had founded the newspaper in 1938.
Gray said Washington has been aggressive about publishing stories that would not otherwise have been covered.
"A lot of times, especially with people of color, news doesn't get out that well," Gray said. "She has filled that void."
He said Washington has done a lot of stories that had an impact in the community.
"She covered the electoral process, and used the paper to get out the vote. She was just out there making people's voices heard."
Stothert's proclamation said that "under the leadership of Mildred Brown and Dr. Marguerita Washington, the Omaha Star remains 'the people's paper,' a 'relevant voice,' a 'sounding board.' "
It notes that the YWCA honored Washington in 2005 as one of Omaha's Women of Vision. In 2007, Washington founded the Mildred D. Brown Memorial Study Center to provide scholarships for journalism students and encourage careers in communications.
Said John Pierce, chairman of the study center's board, "We all know what a treasure she has been and the wonderful things she has done in keeping the Omaha Star going."
Be the first to know
Get local news delivered to your inbox!