For some kids, a small gift can have a big impact.
Miranda Haun, a Bryan College of Health Sciences nursing student in Lincoln, created a Pillow Pets project called "Little Hearts of Love" almost four years ago.
The title refers to the cut-out heart tag that each Pillow Pet "sponsor" can use to attach a message. A $20 donation can purchase a Pillow Pet which, in turn, can be donated to pediatric patients at Children's Hospital and Medical Center in Omaha. Silver Lake School in Roseland, Nebraska, decided to set a goal of obtaining 250 pillow pet sponsorships during the month of February.
They have already exceeded their goal and Feb. 15 delivered pillow pets to Children's. To sponsor a Pillow Pet or donate to the project, call Haun at 402-340-3211; or email miranda.haun@bryanhealthcollege.edu or on Facebook "Little Hearts of Love."
Other fundraisers, donations and other charitable events in the Midlands
All about blankets: Project Linus' Make a Blanket Day 2016 will be held Saturday from 9 a.m. to 1 p.m. at Omaha Bryan High School, 4700 Giles Road in Bellevue. The handmade blankets or afghans go to children who are seriously ill or traumatized. All blankets donated to the local chapter stay in the Omaha-Council Bluffs area. Bring new, handmade, washable blankets and afghans or bring your knitting, crocheting or your sewing machine, or just bring yourself and a friend to make a blanket. A limited number of fleece pieces will be available to make no-sew blankets. Those who can't attend but want to contribute, Project Linus takes donations of cotton fabric, batting, fleece, yarn or cash. For more information, call Omaha Project Linus at 402-212-3975, email omahaprojectlinus@hotmail.com or visit omahaprojectlinus.org.
Polar plunge: (Click on photo for caption) Temperatures in the low 20s did not stop Marian High School students from taking a dive into Lake Cunningham for Special Olympics Nebraska's Polar Plunge on Feb. 13. The students raised more than $4,600 to support the organization's athletes this year. Thirty-seven students and one teacher participated in the plunge. Minimum donations per plunger started at $50. Friends and family members of the plungers were on site for moral support.
"Rev It Up 4 Joe" fundraiser: Friends and family of the late Joe Bryant will host a spaghetti dinner to raise funds to help pay off medical bills on Saturday from 5 to 8 p.m. at the St. John's school gymnasium in Plattsmouth. Bryant was diagnosed with cancer in January 2014 and died Sept. 11, 2015. The cost is $10 for adults; $5 for children under age 10. The event will include children's activities, raffles and more. For more information, contact Deb Walton at waltonajdeb@yahoo.com.
Mercy High mission project: Mercy High School will conduct a Mission Week, Sunday through Friday, to raise funds to build a school in Zambia and to promote educational opportunities for young girls in that part of the world. Entitled "Love Grows Where Mercy Goes," the week is part of a national effort with Mercy schools throughout the country. The fundraising goal for Mercy is $10,000; nationally $50,000. Last year, Mercy raised more than $9,000 to support a school in the Sudan.
Heart to Heart campaign: (Click on photos for captions) As part of its annual Heart to Heart campaign, Omaha-area Baker's stores spread a little cheer this Valentine's Day by delivering single-stem red roses and balloons to area children's hospitals, hospices, family centers and community homes, thanks to the generosity of its Baker's customers. For every paper rose purchased at Omaha-area Baker's stores earlier in the month, a single-stem red rose or balloon was delivered to local organizations.
College grants: Metropolitan Community College has received a $4,454 grant from the Nebraska Arts Council for the 2016 International Fair as well as a $3,000 grant from the City of Omaha for "In Pictures: South Omaha History, Bridging the Past to the Present" as well as for support of the International Fair. The fair will take place on April 14 at the South Omaha Campus, 27th and Q Streets. The historical photo display also is at MCC's South Omaha Campus.
Funds for Salvation Army: The employees of Strategic Health Solutions, LLC, showed their giving spirit during the 2015 holiday season by raising more than $20,000 for the Salvation Army. This is the seventh year the company has contributed to the organization.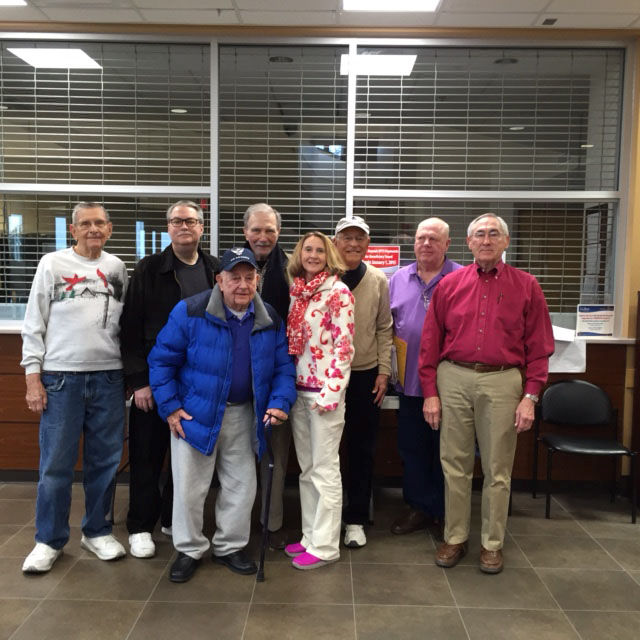 Valentines to veterans: (Click on photo for caption) Omaha Golden K Kiwanis Club members distributed Valentines to veterans earlier this month at the Omaha Veterans Affairs Medical Center.
Send your good deeds information to goodnews@owh.com.