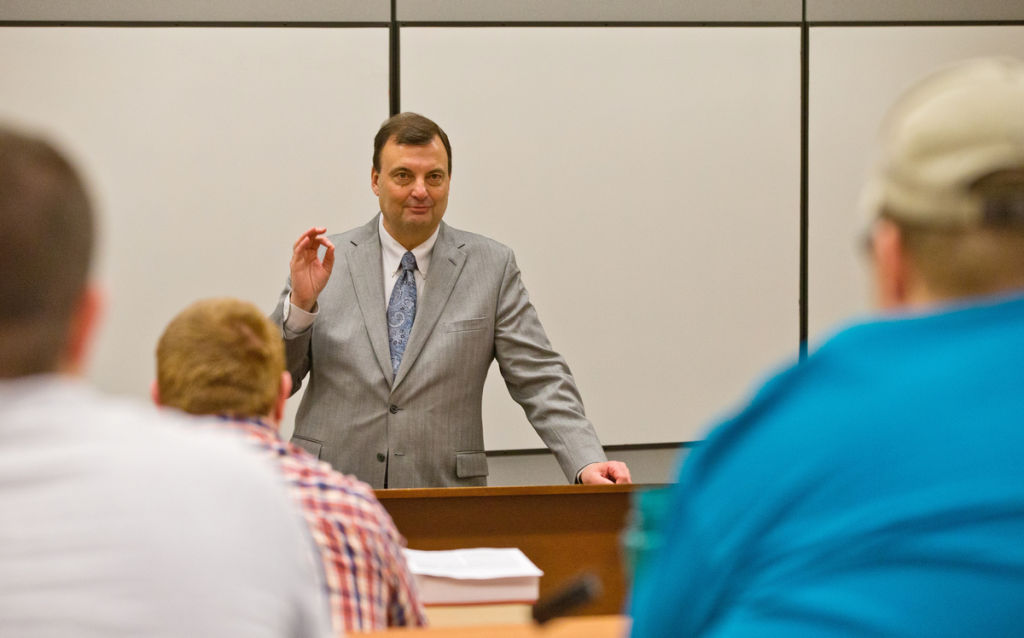 When Bryan Slone closes his eyes, he sees Nebraska's tax code flattening out like prairie grass under high wind.
He sees a modernized network of roads and fiber-optic lines connecting small towns in the Nebraska Panhandle to eastern population centers.
He sees educational opportunities expanding statewide. Government agencies being held to account. A business-friendly climate in which companies are drawn to Nebraska on the strength of its natural assets — not its tax breaks. Central to this vision is a tax plan that would drop income tax rates sharply and cut exemptions.
But when he opens his eyes, the 56-year-old gubernatorial candidate is at a GOP forum, mulling a question voters have asked at campaign stops across the state: Dave Heineman couldn't get tax reform done. What makes you think you can?
Is it political naivete? Campaign bluster? Or the justified ambition of a man who knows how to Get. Things. Done.
Supporters say it's the latter.
"He's still got a little bit of that dreamer in him," said Rob Mitchell, a managing partner at Deloitte, where Slone worked until retiring last fall to run for governor. "He's not afraid to stretch for the extra results that maybe seem out of reach."
The Omaha tax attorney and accountant is not the most widely known candidate to replace the term-limited Heineman. But Slone believes the strength of his vision for Nebraska will overcome his lack of name recognition.
And he's confident that his wonkish grasp of tax policy — and his record of leadership in the business world — will overcome the messy political realities that stymied Heineman's efforts.
"I have a very clear understanding of the leadership required," he said. "My success as governor would be measured by whether I get tax reform done. ... I've got a track record of doing big things."
Bryan Slone
Occupation: Former tax attorney (managing partner at Deloitte)
Public offices held: None
Education: Bachelor's degree, University of Nebraska-Lincoln;
Family: Married; two children
Working a room of potential voters, Slone is low-key and soft-spoken, chatting easily about constitutional principles with Creighton law students or fundraising strategy with organizers at a South Omaha boxing club.
Though this is Slone's first run for public office, he's no stranger to politics. After earning a law degree from the University of Nebraska, the Gering native went to work in 1985 for then-U.S. Rep. Hal Daub, who had just become a member of the powerful House Ways and Means Committee.
Slone's task? To help then-President Ronald Reagan and Congress overhaul the nation's tax laws, a project that required mastering the gargantuan federal tax code and beating back pressure from industry lobbyists trying to protect their tax breaks.
Slone was recommended for the job by Heineman, then Daub's chief of staff, and was hired after an interview in which he argued with Daub about fine points of tax policy.
"It was over the 20 common-law principles that affect the determination of whether you're an employee or an independent contractor," recalled Daub.
Slone impressed the former congressman with his studiousness.
"He really works hard," said Daub, an NU regent and a former Omaha mayor who has endorsed Slone. "He studies the issue or the assignment very thoroughly, a very complete person in that regard. He's always well-prepared."
Slone also remained close to Heineman. He was treasurer for Heineman's first bid for governor, and the two still play golf occasionally.
Heineman has declined to endorse a candidate in the six-man Republican primary, and he turned down an interview request. But in an emailed statement, he said Slone is "a good friend, a respected business leader and very knowledgeable about tax and economic policies."
The son of a school superintendent, Slone grew up in the Nebraska Panhandle and eventually made his way to Lincoln for school, where he married Leslie, his wife of 30 years. They have two children: Steve, 27, a Navy technician stationed in Guam, and Lauryn, 25, an auditor at Price Waterhouse in Atlanta.
Slone's politically formative years fell during the Reagan administration. After two years in Daub's office, he was tapped by Internal Revenue Service Commissioner Larry Gibbs to help implement the tax changes and sell agency initiatives to Congress.
At the time, Gibbs said in a recent interview, the IRS was in disarray. Computer problems had delayed the processing of millions of tax returns. Morale was low among tax collectors, who faced harassment and occasionally assault. Lawmakers were clamoring for a taxpayer bill of rights.
Every day this week, we will profile one of the Republican candidates for Nebraska governor.
Slone jumped right in, brokering a deal on taxpayer rights between IRS civil servants and Congress, and ironing out the kinks in the new tax reform bill — exactly the kind of consensus-building approach that a governor needs to have, Gibbs said.
"Bryan has a backbone of steel when he needs to have a backbone of steel," he said. "He can make decisions. But he has a soft side as well — he has an outstanding ability to work with people who have diverging interests."
After the Berlin Wall fell, Slone opened an office in formerly communist East Berlin for the law firm Wilmer Cutler & Pickering, sorting through property claims during the transition to capitalism. He worked in a building formerly occupied by the Stasi, the East German secret police.
From there, Slone joined Deloitte, one of the nation's largest professional services firms, rising to become managing partner of the Nebraska office.
It was a role change for Slone.
During the Reagan-era tax reforms, Slone had helped remove tax breaks from the tax code. But in the years that followed, lawmakers re-inserted many such provisions. Now Slone was helping companies comply with the increasingly complex law — and minimize their tax obligations.
For five of his 16 years at Deloitte, Slone led the firm's "federal tax controversies" division, which shepherds companies through IRS audits and tax disputes, among other things.
He also represented multinational companies in tax negotiations with foreign countries — experience that he said would serve him well as governor on trade missions to open up new markets for Nebraska industries.
Slone said his philosophy has been consistent across public and private roles: make tax compliance simple and fair.
"I'm trying to get everyone to the lowest rate possible," he said.
Slone said his consultancy work mostly involved business-process and risk-management issues, not seeking specific exemptions for clients. And he said he advised clients to avoid business decisions based solely on capturing a tax advantage.
Former colleagues speak highly of Slone's integrity.
"There's lots of ambiguity in tax law — we call it operating in the gray," said Mitchell, the former Deloitte colleague. "You know, court case A says one thing, court case B says another, and you have to sort that out as best you can. Sometimes people get overly aggressive and try push the envelope; that always comes back to bite you. But Bryan was always conservative in his approach."
Slone's role in helping write the Reagan tax reform bill — dropping tax rates and eliminating loopholes — is a model he hopes to replicate in Nebraska. His tax plan calls for gradually reducing the state's top marginal income tax rate from 6.8 percent to 4 percent.
"It's going to take 4 percent to even make us competitive with some of these no-tax states," Slone said.
At the same time, Slone also would eliminate many of the tax breaks that Nebraska currently uses to lure new businesses. This includes the Nebraska Advantage Act, which provides millions of dollars in tax and wage credits to qualifying industries.
Nebraska has abundant water, cheap public power and a labor force that works hard, Slone said. "I want companies who come here for the other things, not for tax holidays."
He said he'd work with the Legislature to review most tax breaks for possible elimination, but he won't consider repealing sales tax exemptions for agriculture and manufacturing, noting that both proposals were soundly rejected last year.
Roads, fiber-optic lines and other infrastructure projects should be expanded, he said — but only if they contribute to the state's economy. He said the educational system needs to place more emphasis on vocational training to prepare students for careers here in Nebraska.
Slone's initiatives would be paid for initially with reserves and savings wrung from spending cuts; later, he hopes, with additional tax revenue produced by a growing economy.
He doesn't have a list of targeted spending cuts, saying he would need to work out priorities with the Legislature each year. But he suggested the state's K-12 and higher-education systems could operate more efficiently with better use of technology — classes taught remotely, for example — and road and bridge projects could be better prioritized to maximize taxpayer dollars.
To restore public confidence in the troubled Department of Health and Human Services, Slone suggests breaking it into pieces and ordering a top-to-bottom audit.
If he becomes governor, Slone said, he would be driven by a sense of urgency.
"I didn't leave a business career to not get things done," he said.