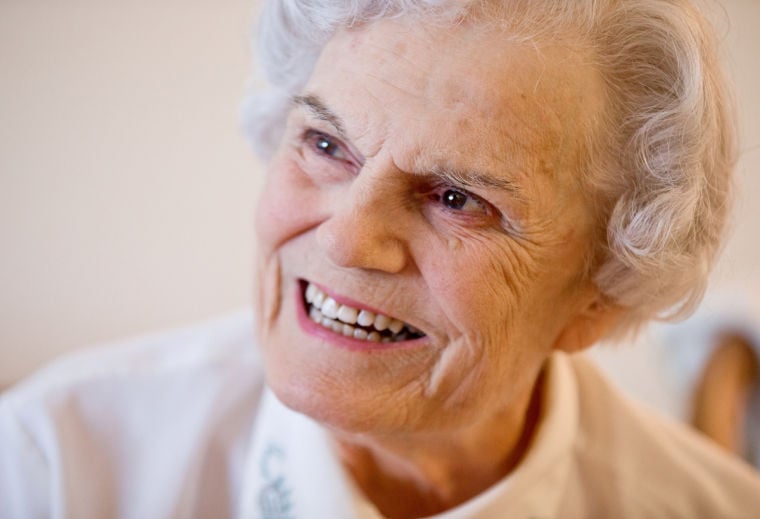 Dorothy Steele has prepared tea. Naturally.
An Omahan for years, but always an Englishwoman, the British-born Dorothy pours it into a white teacup and brings it to me in steady, 92-year-old hands, hands that have been in service to others her whole life.
These hands nurtured a 52-year marriage, raised three boys and folded clothes at the church thrift store where she volunteered for more than 50 years. Before that these hands cooked for soldiers, plotted where German bombs fell and held pages of code she would decipher.
Today these hands have another task: to dig up old photos and give us a black-and-white window into history, and Dorothy's role.
She was 17 in 1938, and like everyone else in Britain, glued to news reports about how Germany had swallowed up part of Czechoslovakia — just eaten its coal-rich western regions for breakfast.
She watched her prime minister, Neville Chamberlain, join the other major European leaders to meet with Adolf Hitler, whose hunger was just warming up. Chamberlain and the others appeased Hitler; said, "Take Czechoslovakia and leave us alone." Chamberlain came back triumphant, waving their agreement in the air and declaring he had achieved "peace for our time."
"Oh, you poor man," she had said. "That's not going to do any good."
So on the first day she could, Dorothy signed up to serve her country. It was Nov. 29, 1938, and her 18th birthday. A fledgling women's branch of the British Army, called Auxiliary Territorial Service, was launched. She would be among the first British women to serve in World War II.
It was daring and a bit heady and, at the beginning, somewhat disorganized.
There weren't enough uniforms. Nor shoes, nor caps nor nylons.
Dorothy grabbed what she could, what reasonably fit. She stuffed straw into a gunny sack for her bed. She told friends and family she was "toddling off" to camp, although that wasn't remotely what she was doing at all.
She was getting to work defending her country as war with Germany loomed.
"We thought we were the bees' knees, I guess," Dorothy said.
Then Germany invaded Poland. On Sept. 1, 1939, that "peace for our time" had ended. Britain was at war.
The photos tell some of the story.
Dorothy was assigned to the Searchlight Battery about 30 miles outside London. She served in a variety of roles: as an orderly, a cook and a telephonist, or switchboard operator.
German bombs were raining down on England so regularly, Dorothy said, "you could set your clock."
She worried like crazy about her folks in London and her six sisters.
Hitler's blitz went on for 267 days, hitting 16 British cities, including London 71 times. A million buildings were hit, and some 40,000 British civilians, half of them in London, died.
Dorothy's job was to help map where the bombs had fallen.
"It was worrisome," she said, "because you knew your folks were there and there was nothing you could do about it."
Dorothy was then assigned to Whitehall, the brains of the British war machine.
She was trained as a cryptographer and went to work translating codes.
What kind of codes? Allied codes or Axis codes? Was she deciphering German messages?
No, Dorothy says, and then coyly adds: "I wouldn't say so if I did!"
She had been in the war effort for five years when they sent her overseas on a steamship called the Britannia.
When she pulled into New York Harbor and saw the Statue of Liberty, it was "quite the thrill."
She had one overnight in New York, where she got a souvenir picture taken on Broadway.
The next day she took a train to Washington, D.C., and about died of the heat in her serge uniform. Thank goodness for the Canadians who lent her a spare uniform in more breathable twill.
It was a rush to be in Washington, although she felt guilty about being somewhere safe and sent care packages home because the rations were so tough — tougher in Britain than they were in America.
Dorothy boxed up tea and sugar and powdered milk and, if she could get it, canned fruit.
Then every payday she and the other women in the auxiliary service would find their way to a pub and belt out songs like "There'll Always Be an England" and "Take Me Back to Dear Old Blighty."
She met Roy in Washington. Elery was his given name, but he went by Elroy. She called him Roy.
The war would take Roy to North Africa, then Italy. It would take Dorothy back to London.
In 1945 the war ended and Roy and Dorothy got married in London.
The couple posed for a wedding photo on a cobblestone street with brick buildings behind them.
Roy Steele wore his U.S. Army uniform. Dorothy had on a long-sleeve white dress and held carnations because she couldn't get roses.
They came to America so Roy could finish his education. (He wound up with a doctorate.)
The Steeles eventually landed in Omaha, where Roy became an economics professor and later department head at the University of Nebraska at Omaha. He retired in 1985 and died in 1998.
Dorothy was a homemaker. She had four babies and buried one, their only daughter, who died a week after being born.
Dorothy took a year of classes at UNO and studied English literature. She wondered then, as she does now, how on earth Americans called the language they spoke "English," since it is certainly not her mother tongue.
The theater department tapped her to help the actors in the Oscar Wilde classic "The Importance of Being Earnest." She threw herself into her work at St. Andrew Episcopal Church and its Nearly New Shop, both of which sit at 84th and Pacific Streets.
On Friday she will turn 93, and has decided this will mark the end of her volunteer work. Her eyes are failing, and Dorothy feels that if she can't do her job properly, she had best not do it at all.
Her hair is white. A poem hanging in her living room is written to "Nana." She now lives in an assisted-living facility.
Her birthday will mark 75 years since she signed up for war.
These old photographs, the ones she dutifully unearthed when I asked, are a mirror to her courageous self.