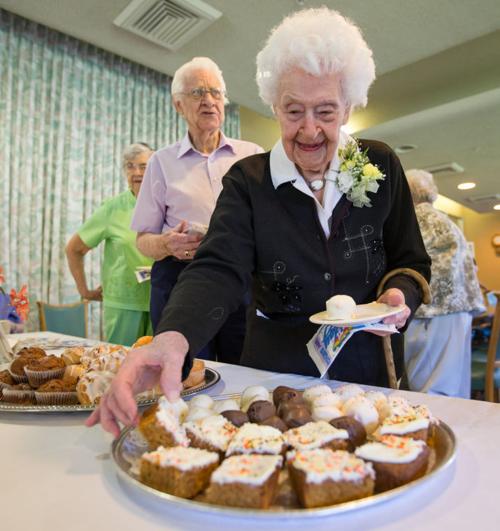 When you reach your 107th birthday, it might be tempting to dwell on the past.
But Thelma Sutcliffe tries to live in the moment.
In the daily newspaper crossword puzzle. In Saturday afternoons playing bridge. In the yearly visits of her nephew and his wife, who come to Omaha, as they have this week, to celebrate another of her many, many birthdays.
Thelma lives on the 21st floor of Elmwood Tower at 52nd and Leavenworth Streets. The building was called Masonic Manor when Thelma moved here nearly 40 years ago. She now has an apartment on the building's top floor, with a west-facing window offering one of the most impressive views of Omaha. That little white arch to the north is Memorial Park. That light-green building in the distance is TDAmeritrade headquarters in Old Mill.
Thelma's life is not unlike this perch. I want her to be my window to the monuments of the past 100 years.
And so I ask about inventions and technological innovations, about trends, about the dramatic chapters of the past century.
"I never think of history," Thelma says.
Instead, she does what she has always done: Lives in the present. Doesn't worry about what she can't control. Keeps moving forward.
This got her through the untimely loss of her mother, who died when Thelma was 5.
It helped her grieve the loss of her husband William, who died after 47 years of marriage, leaving her a widow for about four decades.
It helped as she began to outlive friends and family, including a sister, who died two years ago. At age 106.
"Just live happily, I guess," she says. "Don't overdo on anything. And DON'T do a lot of worrying."
For one thing, Thelma doesn't worry about her health.
She has survived two bouts of breast cancer but is otherwise healthy.
Oh, her hearing is slipping, her vision isn't what it used to be, and she wears a compression sleeve, which she hates "with a passion."
"I'm slower, of course," Thelma says, fiddling with an owl necklace. "And I have different things I wish I didn't have, like a little arthritis."
But she looks remarkable.
"I don't get out like I used to," she goes on.
She means that she no longer drives, something she gave up at age 97 when she could no longer see green lights clearly. She has stopped taking trips.
But she still lives independently. She still goes weekly to Hy-Vee for groceries and can't believe the price of bread. She still cooks a little and makes coffee, still preferring it black. She still treats herself to the occasional prime rib.
Thelma still gets around Omaha: "There's always cabs."
And she still plays cards. Bridge is her game, and don't think for a moment that she is "an old lady you can take advantage of," warns one of her competitors, Bob Hastert.
"She cuts you off at the knees!"
Thelma says she has played bridge with her late husband, with the late mother of Warren Buffett and now with three fellow residents of Elmwood Tower every Saturday.
"It's a good pastime," she says. "A person can't just sit without doing something."
An active mind no doubt has contributed to Thelma's longevity.
"I can't answer that," she says. "Nothing special. Just good genes, apparently."
And good choices, like not smoking. And good luck, like no trips or falls.
OWH Columnists
Columnists Michael Kelly, Erin Grace and Matthew Hansen write about people, places and events around Omaha. Read more of their work here.
In the 2010 Census, there were 460 Nebraskans who were 100 to 104 years old, another 39 who were 105 to 109 years old, and just two who were 110 or older.
Thelma isn't the oldest living Nebraskan, but she's getting closer to the top of the list.
The Nebraska Health Care Association, a Lincoln-based group representing long-term care facilities, keeps track of the state's oldest residents because they generally wind up in a nursing home. They start tracking people once they turn 107.
On the association's list, which is voluntary and not likely to include everyone, are just two Nebraskans who are older than Thelma. A woman in Saunders County is 109. A woman in Douglas County is 108.
During my interview with Thelma, her nephew and his wife, Warren and Irene Sorenson of Sun City, Ariz., show up.
Warren is 86 and recently retired as a pastor. Irene is 89.
The three of them look like the best advertisement I ever saw for long, healthy, happy living.
So what can I start doing to have this future?
Eat fruits and vegetables, Irene says. Be active, Thelma says. Think of others before yourself, Warren says.
Expect good things, they all say. Don't dwell on the bad.
This last piece of advice sounds a lot like living in the present.