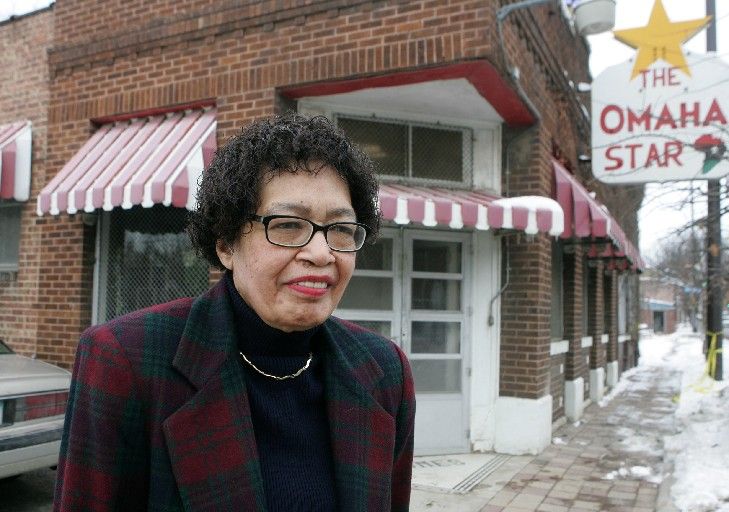 Marguerita Washington, longtime publisher of the Omaha Star, has died.
She passed away Saturday at the Josie Harper Hospice House at age 80. A memorial service tentatively has been scheduled for Feb. 27 at Church of the Resurrection.
Washington was, perhaps, a reluctant newspaperwoman — a doctorate-holding school teacher who had built an education career. And wanted to stay in it.
Friends described how she long put off her Aunt Mildred, the tour-de-force publisher of the Star, the state's only independent black-owned newspaper, which Mildred Brown founded in 1938. Aunt Mildred kept wanting to hand the paper, based on North 24th Street, to her niece. And Washington kept politely declining. And kept teaching.
When Brown died in 1989, however, Washington retired from education and dutifully took over the Star. She never drew a salary. Sometimes she floated the newspaper money of her own. She served as publisher for most of the last 27 years, and she started a nonprofit in her aunt's name and helped create a Mildred Brown journalism scholarship at Creighton University.
Civic leaders recognized Washington's service recently with a proclamation from Mayor Jean Stothert, who declared Dec. 1, 2015, as Dr. Marguerita Washington Day.
On Saturday, City Councilman Ben Gray praised Washington's commitment to Omaha's black community and to journalism. "To even take on the task of keeping a newspaper going — that's more than a notion to do — and to stick with it as long as she did is a further indication of what kind of extraordinary woman she is," Gray said. "It's a loss — but it's also a challenge to keep that legacy alive."
Longtime friend and co-worker Phyllis Hicks said the Omaha Star is hoping to find a publisher or owner.
Washington was born and raised in Kansas City, Kansas, and wound up in Omaha to finish college. She got bachelor's and master's degrees from the University of Nebraska at Omaha and a doctorate in education from the University of Nebraska-Lincoln.
During her undergraduate years, she lived with Aunt Mildred and worked at the Star. She then became a teacher and took jobs around the world, winding up at Omaha Central High School, where she taught special education. In 1989, she retired early from the Omaha Public Schools and took over running the Star.
Neighbor and longtime friend Tom Gerber said Washington may have given up her first career, but she still had her passions. She read voraciously. She nurtured pets, including dogs and cats, and she even cared for some of the wildlife in their northwest Omaha neighborhood, setting out cat food for the possums, raccoons, skunks and strays. She also loved fashion and stocked her closets. And she enjoyed a glass of wine at night.
Washington was diagnosed with lung cancer a year ago — she took the news in stride and without complaint, Hicks said.
Doctors told Hicks that Washington would get a month without treatment and maybe six months to a year with chemotherapy and radiation.
"She said, 'We'll do what we can,' " Hicks said. "She never complained, she never said she hurt. I was with her yesterday — 'Well, how you doing, Marguerita?' Marguerita says, 'I'm fine!' "
Hicks and other friends described Washington as a lovely, gentle woman who hated conflict. But loved a good laugh.
"She was good with a quip," said Walter Brooks, a retired communications specialist who wrote for the Star and knew both Washington and her aunt. "As we like to say, 'Don't let Dr. Washington get to talking about you. It's going to be funny.' "
They also were wowed by her dedication.
"Would you give up your livelihood for something? Yet that's what she did," Hicks said. "She thought the paper was an arm of education."
Washington not only continued publishing the paper. She also embraced her aunt's belief that the Star should serve as a conduit for good news about the black community.
She continued the Star's secondary role as a launching pad for aspiring writers like Brooks, who later got on the communications staffs at Mutual of Omaha, ConAgra and the University of Nebraska Medical Center.
Brooks said Washington played a vital role in maintaining a historical record of African-American life in Omaha.
"When you really wanted to know what was going on, who was doing what, how are we evolving and what are our accomplishments, the Omaha Star, everybody," he said. "If somebody black did it, it was in the Star. The Star captured the life of the community."
And that record might have ended had Washington not been the kind of person to take over the newspaper.
"Dr. Washington didn't drop the ball," Brooks said. "She could have passed on it. She could have sold it. ... She stepped up. That kind of commitment is something that's very important."