The night George Wallace was scheduled to speak in Omaha, Raymond Parks, a black teenager, and Paul Landow, a white college student, settled into seats on the upper level of Omaha's old Civic Auditorium, each eager to see something — and neither exactly sure just what.
In a perch above the stage was Rudy Smith, a black World-Herald photographer who readied his camera and steeled himself against rhetoric to come. Miles from downtown, Omaha Police Officer David Heese, a white cop patrolling west Omaha, was about to be told he'd be working through the night in north Omaha.
The face of racism had come to town that day in 1968, and Omaha was on edge.
Deadly, destructive race riots were then roiling the nation — 163 had occurred in 1967, so many that President Lyndon Johnson created a commission to study the issue. The commission's damning report, leaked in early March 1968, blamed white racism. But that answer was controversial and not everyone agreed.
Omaha in the 1960s was not immune from racial problems that sparked rioting across the nation. From 1966 through the end of the decade, clashes with police, including deadly police shootings of black people, would bring anger into the streets.
Buildings were burned, leaving scars that remain today in what was then the heart of the city's black community, North 24th Street. White Omahans might not have understood these self-inflicted wounds.
Omaha was not the Jim Crow South. Segregated lunch counters and movie theaters had mostly faded into the past by 1968. Two of the city's high schools — Central and Tech — were more racially integrated than anywhere else, and black and white students dated. The city's police and fire departments and public housing projects were integrated. North 24th Street was a thriving place of business with grocery stores, nightclubs and cafes. Things from the outside looked OK. What was the fuss?
Black Omahans, however, experienced a completely different Omaha.
Jim Crow was embedded in the city's institutions. White people held virtually all elected positions. While students might sit side by side in some high schools, most Omaha public schools were racially segregated. There were few black teachers or principals. Black firefighters had separate eating and sleeping arrangements at the city's firehouses, and black police officers had to sue for better hiring practices and promotions.
No housing or employment laws stood between a black Omahan and the capriciousness of a landlord or boss. Not even fame or fortune seemed to matter for Bob Boozer when a housing developer in 1967 pulled the plug on the plans of the Olympic gold medalist and professional basketball player to build a house in a then-white neighborhood in north Omaha. White neighbors complained. Deal over. That was that.
Why talk about all of this now? Fifty years is a lifetime ago. Laws and civil rights protections have changed. By many measures, things have improved.
But the riot's 50th anniversary bears marking while those who remember the events firsthand can give voice to a history they find relevant to the still-existing racial conflicts of today.
It was March 4, 1968, and Raymond Parks, a Central High junior, jumped when his cousin called about the Wallace protest downtown.
"I said, 'Sure. Why not.' "
He was coming of age in a time of prejudice but also possibility. The air was electric with tension and promise. People were standing up for what they believed in, and Parks didn't want to sit out any moment of action.
At the Civic Auditorium, 1804 Capitol Ave., he was told to go upstairs. The floor was reserved for Wallace supporters and would-be signers of a petition Wallace was circulating. He was trying to get his name on the Nebraska presidential ballot as a third-party candidate for the American Independent Party and needed 750 Nebraska signatures. An estimated 5,400 people had come.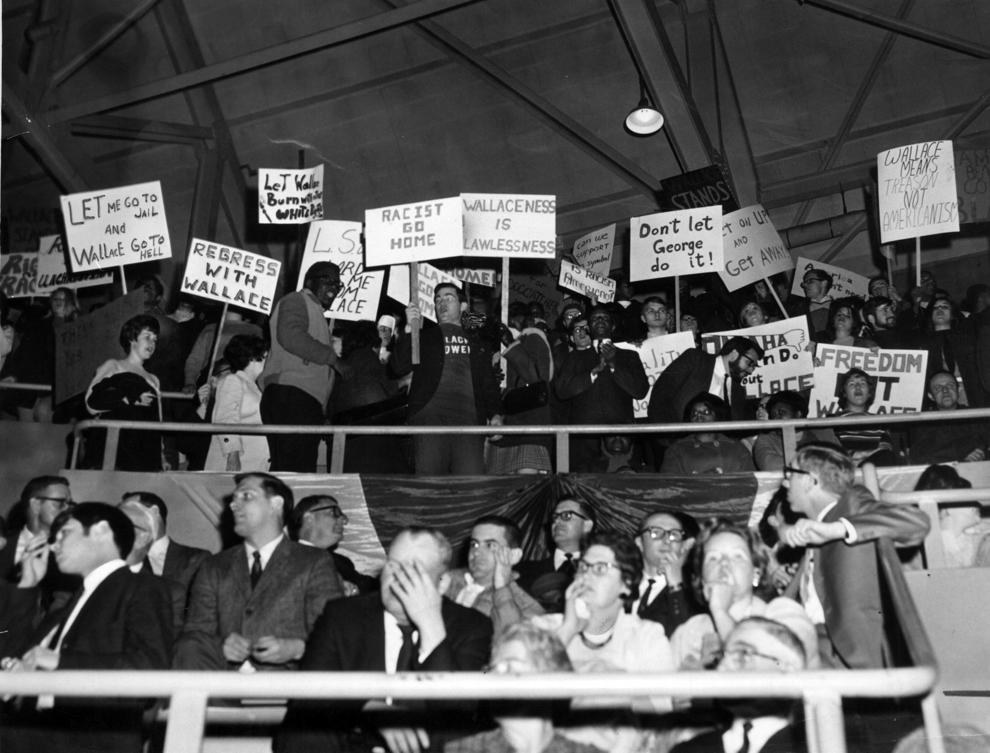 To some Omahans, Wallace was a curiosity, a Southern figurehead who famously stood in a doorway, trying to block black students for registering at the newly integrated University of Alabama in 1963. To some, Wallace channeled their discontent.
To others, including then-Nebraska Gov. Norbert Tiemann, Wallace represented an abhorrent provocateur. Tiemann, a Republican who would be seen as progressive by today's standard, referred to the former Democrat Wallace as "that nut from Alabama" and said Wallace's Omaha stop was like pouring gasoline on a fire.
But controversy was not unhelpful to Wallace, something the night's emcee made clear to the audience.
"Every catcall," said the Rev. Henry Bucklew of Mississippi, "is worth 10 signatures for Governor Wallace," The World-Herald reported.
Up in the balcony, Parks could see black people on the floor. He wanted to be closer and saw protesters scaling the balcony wall, so the teenager climbed Spider-Man style over the edge, sliding and jumping to the floor. He ran toward about 30 to 40 protesters up front, ignoring Wallace supporters "calling us all kinds of names."
Wallace took the stage at 9 p.m., and Parks stood about 14 feet away taking it all in. News reports would say protesters tore up their signs and threw them on stage. Parks doesn't recall that. News reports would say that Wallace scoffed at the dissent, saying: "These are the free speech folks you know. And these are the kind of folks the people of this country are sick and tired of."
Parks doesn't remember that. He does remember someone telling them all to sit down, which they did. Parks, now 66, does remember a policeman walking down the main aisle, telling protesters to get out. Protesters ignored him or said get lost and worse.
The officer kept tapping people on the leg with his hand and suddenly one young man jumped up.
"They grabbed him," Parks recalled.
Then, mayhem. An officer stepped on Parks. An officer grabbed Parks but let him go. Billy clubs swung. People ran. Chairs flew.
Parks headed out to the lobby but was spun around and sprayed with some chemical that burned his eyes and made it hard to see.
Outside, more chaos as some people ran and others began hurling anything they could find at cars and windows.
Parks followed the action down North 24th Street, watching people throw rocks and bottles at police cars and windows. Then he went home, knowing his dad would kill him if he got sent to jail.
Paul Landow got out of the auditorium as fast as he could.
"It was a trauma," recalled the 69-year-old political science professor at the University of Nebraska at Omaha.
Then 19, Landow was no fan of Wallace but no protester. He had come to witness and, indeed, he did.
He heard Wallace bait the audience. He saw the audience turn on protesters. The scene was violent, shocking, scary, astonishing.
"It was hard to believe something like that could happen in a place like this," Landow said. "Clearly, people in the arena believed in Wallace and supported what he was saying and doing and were obviously more than willing to take part in what could only be described as a disgusting display of racism."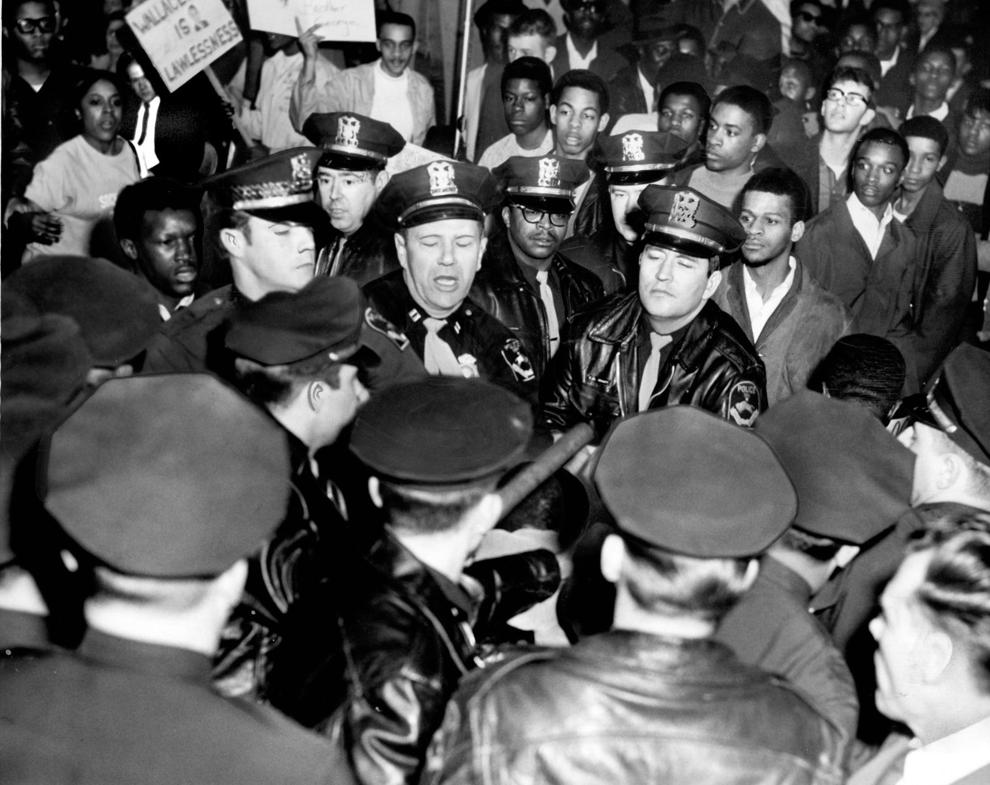 World-Herald reports described the night as "wild" and "blood-splattered" and include this detail: A police officer contingent swept a 19-year-old black man out of the arena "like a Notre Dame football rush." "Folding chairs flew, nightsticks cracked down on heads and some police used a chemical spray designed for crowd control." One black teenage girl sobbed "Why?" Another shouted in anger: "You're going to get it, baby. Just you wait. You're going to get it this summer."
Up above the stage, 23-year-old World-Herald photographer Rudy Smith stood a row behind the Alabama governor, prepared to document the visit.
Smith had participated in civil rights marches and demonstrations in Omaha but saw his role this day clearly: as journalist, not activist. He observed Wallace taking the stage, Wallace being interrupted, an audience going mad with flying chairs and boos and jeers, Wallace finishing his speech to cheers.
The former Alabama governor had come seeking 750 signatures. He got about 1,400 official signatures in the end.
"You wouldn't expect racism to be so prevalent in Middle America," said Smith. "But it was."
On that March 4, Omaha Police Officer David Heese was told at shift change that he was staying on the clock and had to go to north Omaha where stores were being looted and fires had been started.
This was familiar territory to the 25-year-old who had grown up in Bemis Park, lived in the old Logan Fontenelle housing project as a first-year cop and normally patrolled north Omaha. He'd been on the force two years, longer than his friends thought he would be after that first day in 1966 when, one hour into the shift and heading to a call, bricks, rocks and bottles pelted his squad car, shattering every window.
That was the time, he said recently. Them and us. Policemen and black Omahans eyed each other suspiciously. So much happened during those summers of the late 1960s that they all kind of bleed together in his memory.
Heese remembers shooting out streetlights to make it harder for rioters to hurl things at firetrucks. He remembers being told to hang back, since police were told to be present but keep a low profile "so nobody was getting hurt." He remembers how ill-equipped police were — relying on white helmets from a meatpacking plant because there was no riot gear.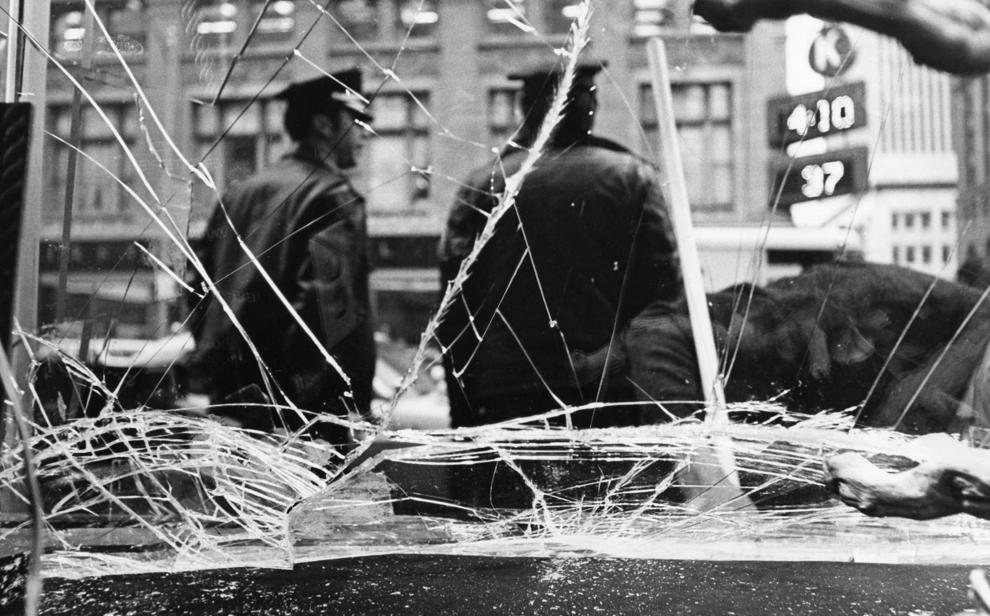 He remembers watching a shop where he'd rented his Cathedral High prom tux burn.
"Him and my dad were close friends," Heese said of the tailor and shop owner. "There was no reason for it."
He remembers fire, "a lot of fire." He remembers how you couldn't tell who was doing what because rock-throwers hid in the dark. He remembers chaos.
The chaos of 1968 had casualties. Three days of unrest following the Wallace visit left:
One 16-year-old shot dead by a 23-year-old off-duty Omaha police officer using a shotgun.
17 people injured.
55 people arrested.
32 buildings and 44 cars damaged.
Nine buildings burglarized or looted.
Damage was extensive at schools, especially Horace Mann Junior High (now called King Science and Technology Magnet) at 3720 Florence Blvd., where 55 windows were broken. Buses and firetrucks had been hit by bricks. Eight windows were broken at the Civic Auditorium. Police overtime added up.
There was a social toll: Distrust deepened between Omaha police and black Omahans. White flight took hold. Businesses fled North 24th Street.
All too soon, the Wallace visit got eclipsed by the assassinations of Martin Luther King Jr. in April and Robert F. Kennedy in June, the bloody Democratic National Convention, the increasingly unpopular Vietnam War, the election of Richard Nixon. The worst civil unrest was yet to come when, in the summer of 1969, the police shooting death of a 14-year-old black girl set off nights of burning in Omaha.
Out of all this came change. Fair housing and employment laws were passed. The Omaha school district was forced to better racially integrate its classrooms. Government job training and education programs got a boost. The housing projects eventually came down and new schools, churches, homes and other buildings began to sprout on the scarred north Omaha landscape.
In 1970, a certain bearded, sweatshirt-wearing north Omahan with a law degree and a barbershop job got elected to the Nebraska Legislature and secured district elections for the OPS board, Douglas County Board and the Omaha City Council, guaranteeing black representation in local government.
State Sen. Ernie Chambers, now 80, had not gone to the Wallace event but spent part of the following day at Horace Mann. At least 500 students had left the building, shrubs had been set on fire and dozens of windows were breaking. Chambers was credited with calming a volatile situation as windows shattered and TV cameras rolled.
"How in the world are people like me going to help you if you do something like this," he told students in a World-Herald account. "You are putting on a show for the crackers. They are going to make it look like you are a bunch of thugs. Don't let them make a show out of you."
In a recent interview, Chambers said the passage of time has not brought meaningful progress. Parks, Smith, Landow and Heese disagree.
Where they all agree is that the time was a defining one, an important one.
Wallace was not elected president in 1968. Nor in 1972, when he made a second bid for the office and, during a campaign stop in Maryland, was shot and paralyzed. He disavowed his segregationist beliefs.
Since that March night in 1968, Parks graduated from Central, joined the Army, went to the University of Nebraska-Lincoln and most recently worked as an executive assistant at Stanford University Hospital in California. He is retired now and lives in the San Diego area.
Landow played an active role in Nebraska Democratic Party politics and served as Mayor Mike Fahey's chief of staff. He still teaches political science at his alma mater, UNO.
Smith worked for The World-Herald for 45 years, retiring in 2008. One aim he had during his long career was capturing everyday life for black people in Omaha. Kids playing. Families having picnics. Black life in Omaha, he wanted to show, was not all strife.
Heese's career was marked by commendation and controversy. He was recognized multiple times for his service but once, in 1984, was accused of distributing a racist flyer at a second job he had and this is something that pains him to this day. He denied any connection to that. He retired from the Omaha Police Department in 1992.
Wallace died in 1998, a decade before the election of the first black president. In the zig-zag of history, the election of Barack Obama did not wipe out the racial problems of the past. They remain with us today, evidenced in kneeling NFL players, in a Black Lives Matter movement, in a resurgence of white supremacy activism.
Fifty years later, America's struggle with race continues.
World-Herald chief librarian Sheritha Jones contributed to this report.