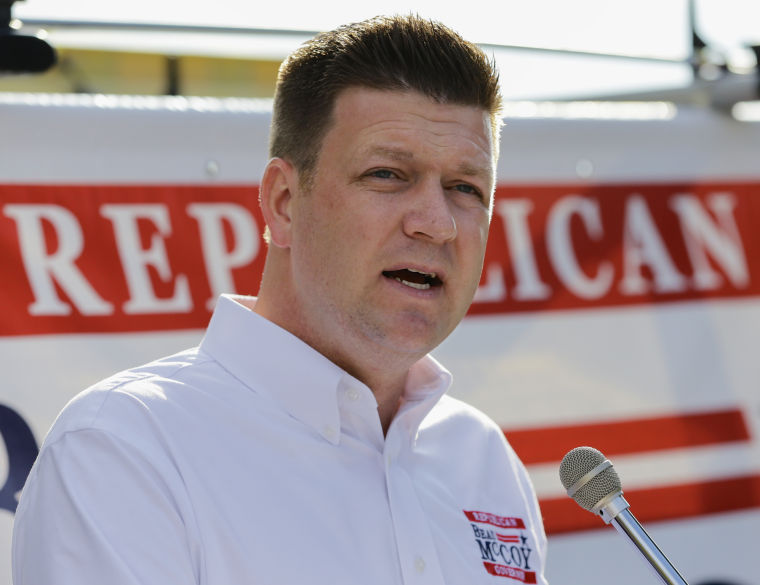 State Sen. Beau McCoy promised Tuesday to cut taxes and reduce state spending, as he embarked upon a four-day tour of Nebraska in his quest for the Republican nomination for governor.
The Omaha lawmaker is one of seven running to replace Nebraska Gov. Dave Heineman.
McCoy, 32, entered the race last month, but held a "formal" announcement Tuesday in which he outlined his conservative credentials. In addition to lowering taxes and reducing spending, McCoy also promised to create jobs and "protect" the quality of the state's schools.
"As governor I will be a tough watchdog over state spending. The taxpayers demand and deserve efficiency and effectiveness from their hard-earned tax dollars and I won't rest until they get it," he said.
McCoy, who runs a roofing company, was elected to the Nebraska Legislature in 2008. He was re-elected last year, representing areas of west Omaha, including the Elkhorn community.
Currently, McCoy serves on the Revenue Committee and the Transportation and Telecommunitions Committee in the Nebraska Legislature.
McCoy is one of five Republicans seeking the nomination. Of those, three are state senators. The other four include State Sens. Charlie Janssen of Fremont and Tom Carlson of Holdrege, State Auditor Mike Foley and Omaha businessman Pete Ricketts.
In addition, two Democrats are seeking the seat: State Sen. Annette Dubas of Fullerton and former University of Nebraska Regent Chuck Hassebrook of Lyons.
McCoy, who graduated from Bellevue University with a bachelor of arts in leadership, plans to visit 20 cities and attend 15 events in four days.
In his written remarks, McCoy gave a shout out to Heineman, saying it was "too bad" the governor's tenure was coming to an end. Heineman is prohibited from running for governor again due to term limits.
"I can honestly say I wouldn't be here today were it not for his inspiration and shining example of conservative leadership over the years," McCoy said.