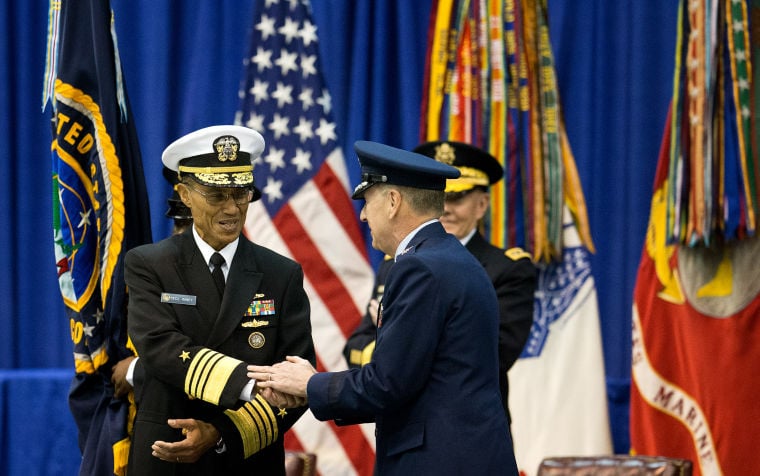 Defense Secretary Chuck Hagel called on the U.S. Strategic Command on Friday to address "troubling lapses" in the operations of its nuclear forces and ensure the trust of the American people.
Hagel, a Nebraska native, used a change of command ceremony at Offutt Air Force Base to both scold and encourage StratCom personnel and others who maintain the nation's nuclear arsenal.
"You have chosen a profession where there's no room for error," Hagel said. "That's what the American people expect from you, and from all of us, and you must deliver."
Hagel delivered his remarks to an audience of nearly 1,000 military and civilian workers and high-level guests, including Gov. Dave Heineman and Gen. Martin Dempsey, chairman of the Joint Chiefs of Staff.
Hagel said Americans count on the nation's nuclear forces to help protect them.
"And we will continue to assure them that StratCom's professionals maintain the discipline, the leadership and the capability America expects of them," Hagel said.
His comments appeared to refer to a series of troubles that have plagued the nuclear force, including a poor score on a critical test by missile launch crews in North Dakota last spring and a failed safety and security inspection at Malmstrom Air Force Base in Montana in August.
In September, StratCom's deputy commander — a Navy vice admiral — and the senior Air Force general supervising America's land-based missiles both were dismissed from their duties amid investigations alleging personal misconduct.
Despite Hagel's scolding, the tone of Friday's ceremony was one of celebration — marking the end of a successful 39-year military career for the outgoing commander, Gen. C. Robert Kehler, and welcoming his successor, Adm. Cecil Haney. Kehler's retirement ceremony immediately followed the change of command.
Dempsey praised Kehler, 61, as "an iconic leader ... executing precision and proficiency in every command, in every mission he touches," and as a role model for his peers.
He noted that Kehler's "innovative reforms" had made it possible to use strategic bombers in new ways, supporting military operations during the revolution in Libya as well as in Iraq and Afghanistan. He said Kehler also helped to restructure the United States' cyberwarfare activities, oversaw the negotiation of space situational-awareness agreements with space-faring nations and private companies, and used StratCom's assets to aid recovery efforts after the 2011 Japanese earthquake and tsunami.
"Gen. Bob Kehler combined deep respect for our heritage with a keen understanding of present-day challenges," Hagel said.
Haney, 57, is the fourth Naval officer to lead StratCom since its creation in 1992, and the first since Adm. James O. Ellis Jr. retired in 2004.
He was StratCom's deputy commander from late 2010 to late 2011 — most of that time under Kehler — before leaving to take the helm of the Navy's Hawaii-based Pacific Fleet. He served 21 months in that position.
"I am awestruck at the opportunity to return and serve the vast pool of talent that makes up Strategic Command," Haney said. "It's fantastic to be back with you."
Haney grew up in Washington, D.C., the son of an Army veteran. As a teen working at the Washington Navy Yard, he met a Navy captain who persuaded him to apply to the Naval Academy, Haney told the Honolulu Star Advertiser in a September interview.
Following his graduation from Annapolis in 1978, he served aboard the ballistic-missile submarine USS John C. Calhoun, the sub tender USS Frank Cable, and the fast-attack subs USS Hyman G. Rickover and USS Asheville.
Haney served his first command aboard the USS Honolulu. He later led Submarine Squadron 1 in Hawaii and Submarine Group 2 in Connecticut.
He will face some daunting tasks as he takes over the command charged with oversight of America's nuclear arsenal, its military efforts in space, cyberwarfare, missile defense, and intelligence-surveillance-reconnaissance.
Some of his biggest challenges will involve money. He takes over StratCom in an era of flat or shrinking defense budgets.
Nuclear weapons and their delivery systems — B-2 and B-52 bombers, Trident submarines and Minuteman missiles — all need to be replaced. Kehler has spoken frequently about the need to keep funding the upgrades and replacements for these systems. Hagel noted the difficulties, too.
"DOD continues to grapple with more budgetary constraints and sharply reduced resources," he said. "From pilots not flying to civilians being furloughed — with civilians making up 60 percent of the StratCom work force, it has been hit particularly hard."
Kehler said he believes Haney, with 35 years of military service behind him, is well suited to handle the task.
"(He will) navigate what I know will be choppy waters ahead," Kehler said, "but I know we've got the right sailor for the job."
Kehler and his wife, Marjorie, both received service medals. Marjorie Kehler has been active with local charities including Durham Museum, the Henry Doorly Zoo and the Wounded Warrior Project.
Kehler thanked his wife for standing beside him and keeping him grounded.
"Her favorite expression is 'Don't pull that "general" crap on me!' " he joked.
Although they've enjoyed three tours in Nebraska, the couple plan to retire in the Washington, D.C., area to be near family, Kehler said.
He deflected credit for the plaudits lavished upon him on his last day in the Air Force.
"This is one of the few jobs where you receive praise and medals for the accomplishments of others," he said. "So, thanks to all of you."