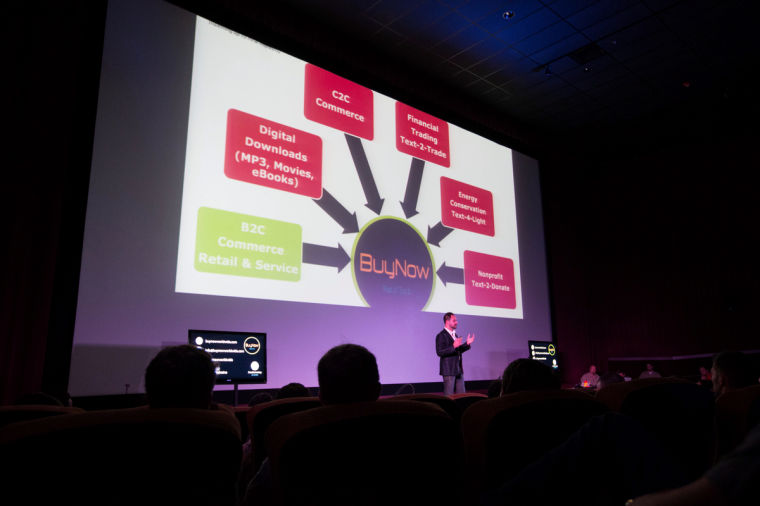 He stands on a stage on a Thursday in early October, underneath the hot lights, and readies himself for six minutes he thinks could change his life.
That sounds melodramatic, but then again Shaz Khan has done some fairly dramatic things to be standing here tonight at this event called the Straight Shot Demo Day.
He's done some dramatic things in order to be on this stage, pitching an audience of hundreds of Omahans — including dozens of potential investors — on a company called BuyNow that he's creating from scratch.
He has moved from Pakistan to New York to Omaha. He quit a great job. He jumped off the corporate ladder without a parachute, and then encouraged other people to jump with him.
He has done all this for one idea, a nugget of a thought he is trying to develop into a business. He has done this because he thinks he can actually change the way we use the advertisements we see on television and radio, in magazines and newspapers.
"We are going to revolutionize offline media," Shaz tells the audience.
He has done this because of...an ad in Men's Health magazine?
"Yes," Shaz tells me. "That's where this began."
Two years ago Shaz Khan was an up-and-comer with ACI Worldwide, an Omaha company that processes transactions for 18 of the world's 20 biggest banks.
Shaz, born and raised in Pakistan, moved to Omaha as a teenager in large part because his sister — now a First National Bank vice president — already lived here.
He graduated from Millard South, graduated from the Peter Kiewit Institute and by 32 had lived in Jakarta, Indonesia, and Singapore and Europe while working for ACI.
Except that on a night two years ago, he flipped through a Men's Health magazine. He wanted to buy something he saw in a photo. He went to his laptop. He looked for it online. He got frustrated.
And then Shaz had a potentially brilliant and also a potentially ruinous idea.
I can make it easier, he thought.
He started working at night — almost every night — on his new idea. He stayed up until 3 a.m. and sleepwalked through days.
Slowly he formed a plan. People should be able to buy products immediately after they see a TV ad or read a magazine ad.
They should be able to do so by texting a number, and then immediately receiving a photo of the product. Seconds later, they could click, "buy."
Simple enough, except you have to write the computer code to make this possible. Shaz hired an intern to do that, then an employee, and then a dozen employees.
You also have to make it seamless, legal and secure for people to pay you. Shaz eventually signed a deal with Amazon, allowing its established system to function as BuyNow's bank.
You have to make deals with the companies that actually make the products you would like to sell. And also deals with magazines and TV networks that sell the advertising.
Shaz struggled with this part, at least until he applied to Straight Shot, a "startup accelerator" recently founded by Dundee Venture Capital.
More than 300 wannabe entrepreneurs applied to be in Straight Shot's first class. Only seven companies were picked — receiving $20,000 and 90 days' worth of office space and startup expertise in exchange for the venture capital firm owning a small stake in their companies.
Shaz was one of the lucky seven.
Straight Shot began on July 8. On July 5, Shaz quit his job.
"It's exhilarating," he says of handing in his resignation. "I decided 'You gotta trust yourself.' "
During the next 90 days he walked through doors opened to him by the Omaha venture capital firm and its mentors.
He met with the bigwigs at Time Inc. He met with the higher-ups at advertising giant Interpublic Group, or IPG.
He says he made several partnership deals, though he declines to specify them. He also says he has secured the rights to BuyNow's text digits (289669) in Brazil and Mexico, two countries with big economies and booming rates of smartphone usage.
But he still needs to make customers as well as companies believe that people can and will buy shoes by seeing an ad, then texting, say, CONVERSE10 to 289669, and then hitting the "BuyNow" button.
He needs to make investors believe that he can do this.
Which brings us back to Straight Shot's Demo Day. It brings us back to Shaz Khan, and this audience, and a six-minute pitch that can push his company into the future.
Shaz starts with a video that jokingly promotes himself as the Most Interesting Man in the World. Then he lays out the company, step by step: This is how you will buy things using text messages. This is how I will change the world. As he finishes, the applause is loud and sustained.
But clapping and cheering don't talk — not in Shaz's world. Handshakes do.
Shaz steps off the stage and almost immediately begins to raise cash by the thousands. Tens of thousands. Hundreds of thousands. To date, he has raised $472,000 in startup capital.
And he walks off the stage and begins to firm up more partnerships. So far he has finalized deals with two small area magazines, deals that will allow him to use the BuyNow label on their advertising and allow people to text and immediately buy products they see. He is close to inking similar deals with two big media companies.
For the moment, at least, it looks like Shaz Khan's life is changing.
"I believe this will work," he tells me. "I believe this will continue to grow."