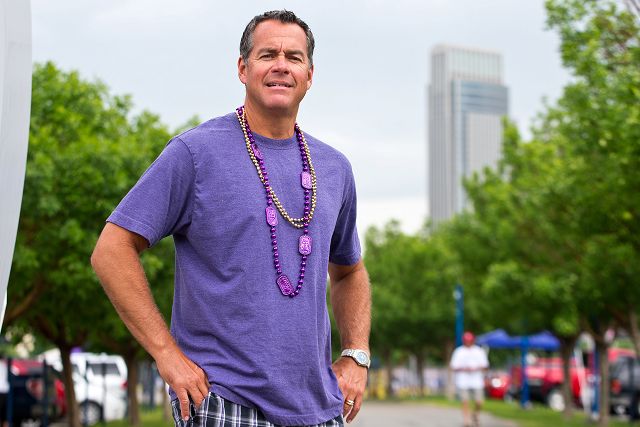 He stands in the middle of a massive parking lot, surrounded by strangers from across the United States who become friends for a week and a half every June.
It is pouring rain. Jeff Leach looks up at the dark sky and cracks a light beer.
It is 10 a.m. on a downtown Omaha weekday. Correction: It is 10 a.m. on a College World Series weekday. And during the College World Series, it doesn't much matter to Jeff whether it's 10 a.m. or 10 p.m. During the College World Series, it doesn't much matter whether it's 2013 or 1978.
"It will stop soon," he says hopefully. "It will be fine by game time."
Jeff Leach is a 49-year-old travel agent from Millard. He has attended the College World Series every year since he was 15. He has had CWS tickets longer than he has had a driver's license. He is here every single day, rain or shine.
He is not here for the baseball, not exactly.
"The first thing I remember is playing catch in the lot with my dad," Jeff says. "And these LSU fans started coming up and talking to us, and they seemed so friendly."
That happened when Jimmy Carter was president. It happened in 1978, when the College World Series seemed to Jeff to be a tiny, homey affair. It happened at Rosenblatt, obviously, long before anyone considered a downtown stadium or dreamt of an ESPN2.
It happened when Gene Leach, Jeff's dad, ran the tailgate.
Gene didn't miss a game, Jeff says. Heck, he didn't miss a single pitch.
Dad would be in his seat by the time the head coaches handed in their lineup cards. And if he wasn't, "he was not happy," Jeff says.
So much has changed. The move downtown, which Jeff first hated but now admits he likes. Jeff's high school sweetheart, Jeri, started coming with him, and then they got married, and now they have been hitched for 27 years. She comes to the CWS every day, too.
Gene's last College World Series was 2010, the last year they played it at Rosenblatt.