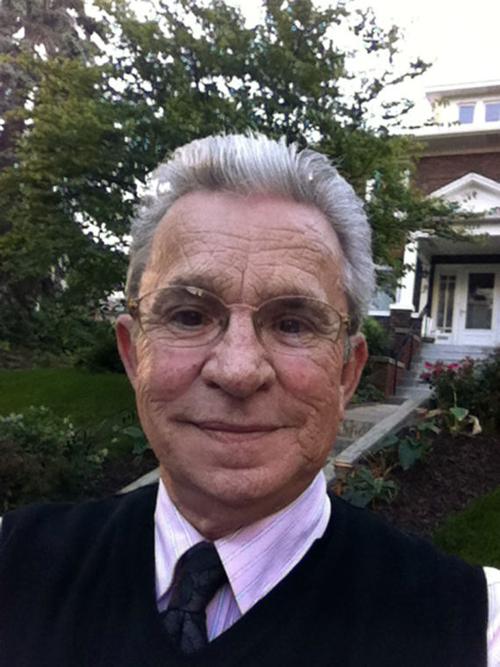 We cannot meet in his office, because he doesn't have an office.
I don't need to schedule an interview through his public relations person, because he doesn't have one of those, or an assistant, or any employees.
Instead, Jim McGee plops down beside me at a coffee shop, greets me with a pat on the back and hands me a homemade business card that says, "Nebraska Clean Cities Coalition."
McGee, a longtime Nebraska Department of Roads official, now runs a nonprofit devoted to weaning Nebraskans off gasoline-powered cars.
Only one tiny hurdle: Nearly every single Nebraskan, including McGee and yours truly, drives a gas-powered car.
"I am more encouraged than I ever thought I would be," McGee says. "The more I see, the more I sense that the glass is filling up."
So far as I can tell, Jim McGee is not delusional.
Rather, his is an exercise — a lesson, really — in looking at the marathon ahead and then simply deciding to put one foot in front of the other.
Here's a step: Omaha and Millard students are now transported to their schools by 434 propane-powered buses. It's the largest propane-powered fleet of its kind in the country.
Here's a step: A local plumbing company runs its service vans on compressed natural gas — an energy that, while not exactly clean, at least comes from inside the United States.
Here's a step: Nebraska truck stops are starting to explore truck electrification, which allows truck drivers to live in their semis without constantly idling their engines.
McGee just started his new job as the first paid director of Nebraska Clean Cities, a position paid for temporarily by a federal grant.
He isn't taking credit for any of these things.
He's simply pointing out that things are happening. Even in Nebraska. Even in the land of the automobile.
"These things are being done by people who see all the benefits," he says. "Who can see the future."
McGee's pitch to me, and to everyone else he meets, is three-pronged and designed to resonate with Omahans regardless of their political persuasion.
The first is environmental. Basically, he hopes everyone understands that pumping the equivalent of 15 trillion pounds of carbon monoxide into the air, as American automobiles did in 2011, is not a great idea.
The second prong is national security. Around 40 percent of the gasoline we burn in our cars is derived from foreign oil, according to the U.S. Department of Energy.
That percentage is going down, and is in fact at its lowest level since George H.W. Bush was president, a fact cheered by politicians of both parties.
And yet: Last year, we still imported 10.6 million barrels of foreign oil each day. More than 1.3 million barrels a day came from Saudi Arabia, nearly a million barrels per day from Venezuela and roughly a half-million barrels a day from Russia. Again, most of us can probably agree that hitching our gas tanks to the government of Venezuelan President Nicolas Maduro — who has suggested that the United States infected his deceased mentor Hugo Chavez with cancer — isn't a great idea, either.
The third prong may be the most important, and the most problematic. Jim McGee wants to sell Nebraska on the idea that driving vehicles powered by alternative energy makes business sense, too.
"Face it — not everyone believes in the environmental part of us. We have to make the business case," he says.
Remember those 434 propane-powered school buses? The fuel they use costs approximately 30 percent less than 434 gasoline-powered buses.
Remember the plumbing company? It is saving tens of thousands of dollars a year by going with compressed natural gas instead of oil.
And remember that truck electrification movement? The money a trucking company saves on fuel can pay for the electrified parking space, and the truck itself will last longer because its engine won't be running at night.
Of course, most of these projects only save money because they are partly funded by federal or private foundation grants. McGee argues that is as it should be — we need to spend money now on alternative fuels that will change behavior, spur innovation and ultimately save us money in the long run.
"Businesspeople tend to like incentives," McGee says.
From there, he gallops into a discussion about how improving weather and traffic alerts can reduce carbon emissions and save everyone time and money. Then he beelines for a conversation about hydrogen and how it may be the best alternative of all, so long as we can manufacture a cost-effective fuel cell.
Then he zags to a conversation about outdated laws that could prevent things like the construction of an Old Market charging station for electric cars.
"Do the current city ordinances allow us to do that? What about zoning? Those are the sort of things we as a city, as a government, need to look at."
These are the steps Jim McGee sees. These are the steps he thinks we can take together. These are the sort of steps that can allow us to walk from one reality to another.
FROM THE NOTEBOOK
Columnists Michael Kelly, Erin Grace and Matthew Hansen write about people, places and events around Omaha in their new blog, From the Notebook.