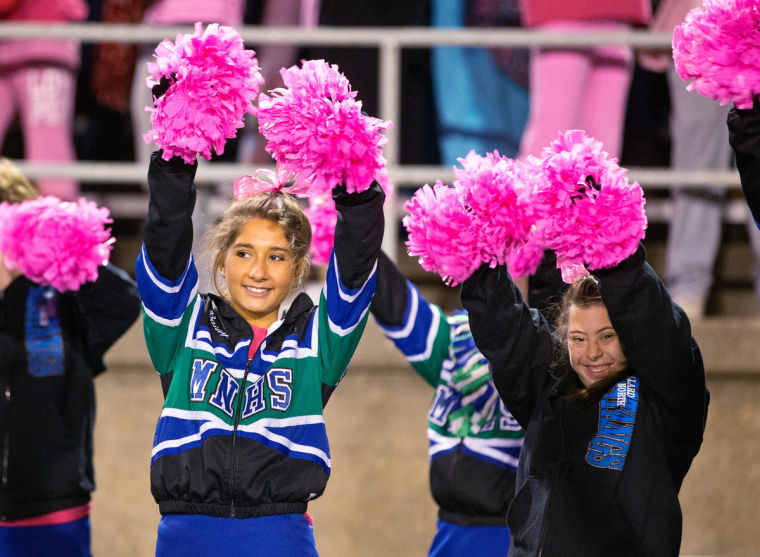 For one night, one cheer, you have a hard time telling them apart.
"When we say Sparkle, you say power!" Courtney and Madeline yell.
"Sparkle!" scream Sarah and Ashlee.
"Power!" roars the crowd.
It is minutes until Millard North kicks off a recent Thursday night football game against Omaha Westside. The rowdy Mustang student section is huddled together in exactly the way you remember high school. Cool boys in the front, sort-of-popular girls in the middle, slackers and have-nots in the back, newspaper kids taking photos. (I love you, newspaper kids.)
But something is happening down on the sideline tonight, something that takes the timeless teenage cliques and scissor-kicks them into submission.
See, Courtney and Madeline are senior cheerleaders. They hang out in the main hallway with the 14 other varsity cheerleaders and eat lunch with whomever they please. They know Millard North star quarterback Clay Fisher. They know everyone.
Sarah and Ashlee and three other girls on the sideline tonight are Millard North students who hang out in a separate hallway. They eat lunch at a separate table with the same dozen-or-so other Millard North students who are also classified as "special needs." They have never spoken to Clay Fisher. Their teacher says that for the longest time, they were "invisible."
But not tonight. Tonight, they are joking with Madeline and taking photos with Courtney. They are huddling with the other cheerleaders. They dance when the pep band plays and they help lead the student section in cheers.
Tonight they are Sparkle Girls.
"It's not a project anymore," Madeline says. "We're all together for real. A team."
Madeline and Courtney brainstormed the project, which they named "Everybody Counts," at the beginning of the school year. They dreamed of forming a special Sparkle cheerleading squad that includes students with disabilities, much like Omaha Westside, which has had such a program for years.
Both seniors grew attached to the idea for personal reasons: Madeline has a developmentally disabled brother. Courtney has baby-sat for a family with special-needs kids.
But it didn't become reality until Madeline mentioned it to Allison Goodman, Millard North's DECA adviser. "Why don't you really do it?" Allison asked. "Why not?" Madeline thought.
After much paperwork, they held the first practice a month or so ago.
The five Sparkle Girls who showed up huddled together shyly. Some wouldn't speak to the varsity cheerleaders in a voice above a whisper. Others were pretty sure they couldn't learn the cheers.
"Reaaaally nervous!" says Sarah Bryan-Banik, one of the Sparkle Girls, when I ask her about that first practice. "I didn't know what to do."
They weren't the only ones who were nervous. Two cheerleaders assigned to a Sparkle Girl who is epileptic worried that she could have a seizure on their watch. Others had never been around a special-needs student before. They didn't know how to teach the Sparkle Girls. They didn't even know how to start a conversation.
And then, after a half hour, Madeline Galdamez and Courtney Moreland had an idea.
Let's learn the basic moves. Let's learn them by playing Simon Says.
Simon says do a "high V" — after a minute, all the Sparkle Girls could hold their arms up and out in the classic cheerleader pose. Then Simon says do a "low V."
Simon says give me a T — the Sparkle Girls held their arms straight out from their sides. How about a "broken T" — uh oh, Simon didn't say that.
The Sparkle Girls took home packets describing all the basic moves. They practiced in front of their mirrors. They practiced in front of the other kids in their special-needs class.
By the second official practice in the hallway, they had their V's and T's and even their broken T's down cold.
The varsity cheerleaders taught the Sparkle Girls the basic cheers. The calls of "Musstttang!" and "Powwerrr!" rang through the hallway.
By the third practice, the Sparkle Girls could do jumps and toe touches. They could leap and pull their knees into their chests, a move the varsity cheerleaders call tuck jumps. By the fourth practice, they had memorized two different eight-count dances to perform while the pep band played.
That's not all that changed.
For years, the small number of special-needs students at Millard North has been segregated into a special hallway and special classroom. They don't interact much with the rest of the student body.
For example, Kristen Kuwitzky and Sarah Bryan-Banik had never met before Kristen, a senior cheerleader, was paired with Sarah, a fellow senior and Sparkle Girl.
But now the Sparkle Girls talk to the varsity cheerleaders in loud voices. Now they laugh and roll their eyes when Madeline encourages them to shake their hips. Now they swoon over Millard North quarterback Clay Fisher and look forward to the night when they can cheer for a Clay Fisher touchdown.
Now the cheerleaders say hello to the Sparkle Girls in the halls. They see each other in the cafeteria. They draw posters together. They friend one another on Facebook and they pose for group photos at homecoming. When Kristen sees Sarah across the cafeteria now, they wave.
The popular and the invisible have become friends.
"I think it has opened everyone's eyes," Courtney says. "We're all seeing a whole new world."
In the dwindling hours before the game, the cheerleaders — varsity and Sparkle — run through their final rehearsal and tie bows into one another's hair.
The Sparkle Girls show off their new cheerleader moves and their new dances and even their new jumps. They follow Madeline and Courtney's lead into chants of "Mustang Power!" and "Go Big Blue!" Clay Fisher scores six – six! — touchdowns, and the Sparkle Girls scream every time he rumbles into the end zone.
And at halftime, they gather with the Westside cheerleading team, line up on the track and lead the home crowd in their special cheer.
"When we say Sparkle, you say power!"
"Sparkle!" "Power!" "Sparkle!" "Power!"
It is just one cheer, lasting maybe a minute, but Courtney and Madeline hope it is much more.
They want to continue the Sparkle practices into basketball season. Sarah, for one, plans to stick with it. "I need to get better at jumps," she says.
They want to show that the idea can spread to other activities besides cheerleading. Why can't there be a Sparkle dance team? A Sparkle theater team? Why can't a male student with special needs be down on the field helping the football coaches or waving the Mustang flag?
It is just one cheer. But it's a cheer that reminds us not to focus only on what's nasty about high school, not to dwell solely on clique-forming or cyber-bullying. It reminds us that we can also peer into a Millard North hallway, glimpse a popular girl teaching an autistic classmate how to do a tuck jump, and see something oh-so-right in the world.
It is just one cheer, but not to the father standing in the fifth row. He's snapping photos with his smartphone. He's sobbing.
One cheer. But before the sound fades into the Millard night sky, you look down at the field, and the cheerleaders and the Sparkle Girls are bunched together so tight, like friends. Teammates.
"Sparkle!" "Power!" "Sparkle!" "Power!"
It's just one cheer, but for one glorious moment, you cannot tell who is who.