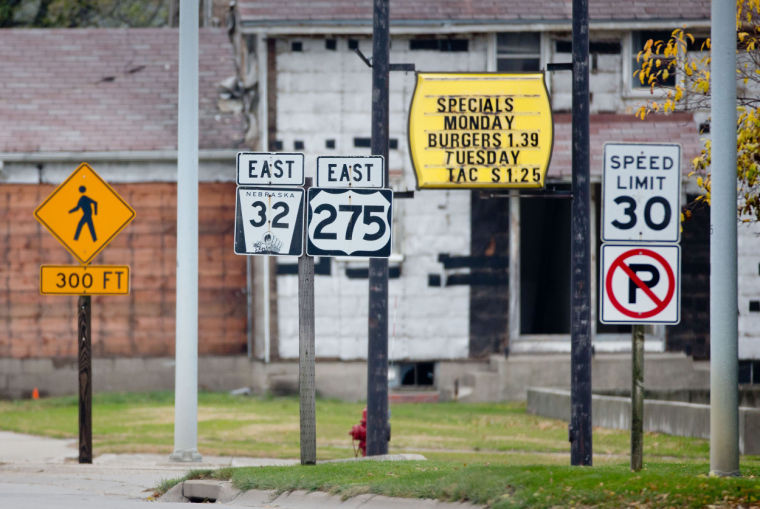 The road to Omaha isn't just the focus of college baseball players.
It's also the aim of thousands of northeast Nebraskans who travel between Omaha and Norfolk on a four-lane expressway interrupted by a long leg of two-lane highway.
After years of waiting, several community leaders along the route are teaming to tweak a plan to make the entire route an expressway.
Instead of routing the divided highway around their towns, they are pitching for funneling the four lanes directly through their communities to speed up the process by making it less costly.
West Point Mayor Marlene Johnson, said she has one goal: Better roads connecting northeast Nebraska communities to the state's two largest cities, Omaha and Lincoln.
"We just want to talk about it," she said. "We're not a big city. Maybe we can look at doing things in ways that work for rural areas."
Heading west from Omaha, the U.S. Highway 275 expressway bypasses the communities of Waterloo, Valley, Fremont and Hooper on its way to Norfolk. About midway in that 110-mile route, the expressway reverts to two lanes and routes traffic through the small towns of Scribner, West Point, Beemer and Wisner.
In the 1980s, the Nebraska Legislature launched a goal of serving all — or virtually all — cities of at least 10,000 people that are not on Interstate 80 with multilane, divided-highway expressways.
The expressways have been delayed by cost. Completed projects include the Lincoln-Beatrice link in the southeast, Columbus-Norfolk and Omaha-Fremont in the east and Kimball-Scottsbluff in the west.
Among the expressway gaps across the state is a 45-mile stretch of Highway 275 from a point in the countryside near Hooper to the Stanton turnoff east of Norfolk. The southern stretch of the expressway bypassed Hooper in 2009 and stopped. At the north end, the last completed work was an 11-mile span east of Norfolk in 2003.
"It should have been done by now," Johnson said of the Omaha-Norfolk expressway.
Officials from the Highway 275 communities and other regional towns plan to meet in Norfolk in late November with David Copple, a member of the State Highway Commission.
The organizational meeting could be the first of many if the communities unify behind a plan to present to the Nebraska Roads Department for accelerating and completing work to transform all of Highway 275 into a four-lane, divided roadway, said Norfolk City Administrator Shane Weidner.
Weidner said trucking companies probably would prefer development of an expressway system that bypasses small towns.
"But the traveling public would probably be OK with a four-lane highway that goes through towns,'' he said. "We're open to any and all suggestions.''
Whatever plan the communities craft, it's not on any Roads Department drawing board.
Expressway construction between Omaha and Norfolk stopped because of lack of money, said Mary Jo Oie, a department spokeswoman.
"It's not on our radar,'' she said.
Transforming the rest of Highway 275 into a four-lane, divided route — whether an expressway or a simpler roadway — is not yet in the department's five-year plan. It's also not a Build Nebraska Act project.
Beginning last summer, Build Nebraska Act projects tap a quarter-cent of the state's 5-cent sales tax for state highways.
The law requires 25 percent of the new funds to be used for the expressway system and federally designated high-priority corridors. That means about $17 million would be available annually for expressways. The cost to finish planned expressways is estimated to be at least $870 million. Because the Highway 275 project isn't on the drawing board, the state has no estimate on what it would cost to finish it.
The first funded Build Nebraska Act projects include Nebraska Highway 133 between Omaha and Blair, a U.S. Highway 77 bypass around Wahoo, a new railroad viaduct on a Kearney bypass and projects to ease traffic congestion in Omaha's Interstate system.
Weidner said he hopes a simplified four-lane project to plug the Highway 275 gap can be slipped into the Build Nebraska Act's second 10-year priority list.
West Point City Administrator Tom Goulette said it would be cheaper for the state to widen the current Highway 275 roadbed in the gap communities to four lanes than go around the towns. Land acquisition, overpass and construction costs would be substantial, especially at West Point, which sits between Elkhorn River lowlands on the west and hills on the east, he said.
Leo Klein, chairman of the Madison County Board, said most Norfolk and Madison County residents he's spoken to want Highway 275 completed before any other projects in the area.
"Most people would rather have four lanes and drive through a few towns rather than not having it completed in their lifetime," he said.
Weidner, the Norfolk city administrator, said the highway is invaluable to northeast Nebraskans.
"For much of our commerce and the traveling public,'' he said, "all roads end in Omaha.''
This report includes material from the Norfolk Daily News.