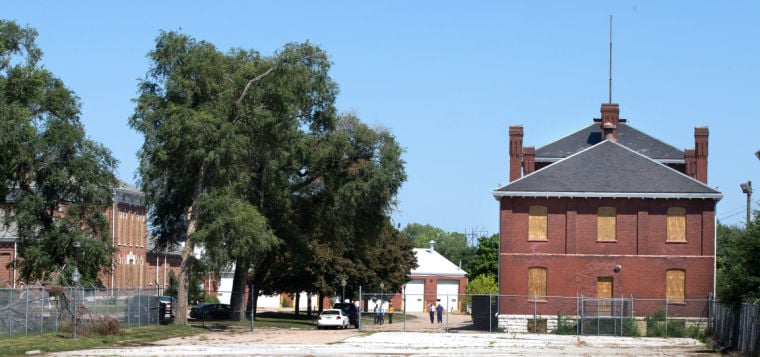 The fate of Omaha's historic "Old Corral" is now up to the auctioneer.
The General Services Administration has listed the 130-year-old Omaha Quartermaster Depot on its auction website, Realestatesales.gov.
The depot comprises nine buildings totaling 86,000 square feet on a walled, 7¼ -acre triangle of land at 22nd Street and Woolworth Avenue, just southwest of downtown Omaha.
It served as the headquarters for the Army Reserve until 2010.
"The buildings have been very well-maintained," said Jeff Barnes, an Omaha historical writer who is the author of "Forts of the Northern Plains."
Gen. William Tecumseh Sherman ordered the depot built beginning in 1881. It replaced a smaller one built right after the Civil War on what is now the site of TD Ameritrade Park.
The depot's heaviest use came during the late 19th century, when the U.S. Army's Department of the Platte supplied the forts of the upper Midwest from the railhead.
Barnes said the government tried unsuccessfully to sell the property in 1927 and in 1932.
Workers from the Depression-era Civilian Conservation Corps lived there. So did Italian prisoners of war during World War II.
The National Guard and the Reserve later used the property, which has been on the National Register of Historic Places since 1979.
The government's General Services Administration has sought a buyer for the property for several months, said Angela Brees, a spokeswoman for the GSA in Kansas City.
Under federal law, excess property must first be offered to other government agencies, or for homeless housing. There were no takers, Brees said.
Now the property is being sold to the highest bidder.
While there is no minimum bid, bidders must put down a $45,000 deposit. The winning bidder may apply that money toward the purchase price.
The National Historic Register listing means the building facades must remain intact, but interior renovation is permitted.
Brees won't say what happens if no bidders emerge.
Barnes would like to see it used as a regional historical center for the study of the Indian wars, a topic close to his heart.
"If it were in my means, I'd be very interested," he said.