After decades of being confined to Las Vegas or underground betting parlors, Omaha-area sports betting enthusiasts for the first time could place wagers legally Thursday — at least on the Iowa side of the Missouri River.
Ameristar Casino Council Bluffs was one of six Iowa casinos that began accepting sports bets on-site the first day it was legal, said Brian Ohorilko, administrator of the Iowa Racing and Gaming Commission, and two others are on the verge of final approval. He said nearly all the 19 state-regulated casinos are expected to follow suit, most in the next few weeks.
Harrah's and Horseshoe casinos, also on the Council Bluffs waterfront, have scheduled the opening of their sportsbooks for 4 p.m. Aug. 23. Heisman Trophy-winning Nebraska quarterback Eric Crouch and WBO welterweight boxing champion Terence "Bud" Crawford are scheduled to appear.
Former Iowa Hawkeye Tim Dwight, a 10-year NFL veteran, snipped a ceremonial red ribbon at the newly renovated Amerisports Bar & Grill. Then he placed the first bet: $100 on the Chicago Bears to win the Super Bowl, at 20-1 odds.
Ameristar spent $750,000 on renovations, said General Manager Paul Czak, boosting the number of large-screen televisions in the sports bar from 35 to 55, installing kiosks and betting windows in a former seating area and walling off a music and dance floor as a VIP betting area. About 200 invited guests packed that area for a special buffet party during the grand opening.
Sign up for The World-Herald's afternoon updates
Receive a summary of the day's popular and trending stories from Omaha.com.
"This is much busier than we would have been on any other Thursday," Czak said. "I think it's a great start."
Nearby Harrah's Council Bluffs and Horseshoe Council Bluffs — which are owned and operated by the same company — also have renovated parts of their facilities for sportsbooks, said Jill Beasley, vice president of marketing for the two casinos. At Harrah's, the former Tag Lounge is being renamed "The Book," and four betting windows have been added.
At Horseshoe, sports betting will be added in the existing space for viewing video horse and dog racing. And the Horseshoe Whiskey Roadhouse is being renovated for a new sportsbook and bar.
Mobile betting using a cellphone app also is legal under the Iowa law, but bettors first will have to set up an account in person at the casino of their choice. Because the app will be geofenced within Iowa's borders, out-of-state bettors will have to cross into Iowa to place a bet.
Beasley said Harrah's and Horseshoe expect to have their mobile app running by mid-September. Czak said Ameristar's app is still in development, and mobile betting likely won't be available until the summer of 2020.
Iowa is the 11th state to allow sports betting following a Supreme Court decision in May 2018 overturning a law that limited legal sportsbooks to Nevada. It is the first Midwestern state to do so, though Indiana is set to start next month. Illinois has approved it but could be several months away from startup because rules are still being drafted.
Nebraska has rejected attempts to expand gambling beyond existing horseracing tracks and the state lottery. Gov. Pete Ricketts is a strong opponent of expanded gaming in the state.
That means sports betting enthusiasts are likely to travel to Iowa casinos. Czak said he expects a significant number of Cornhusker fans to cross the Missouri River and place bets.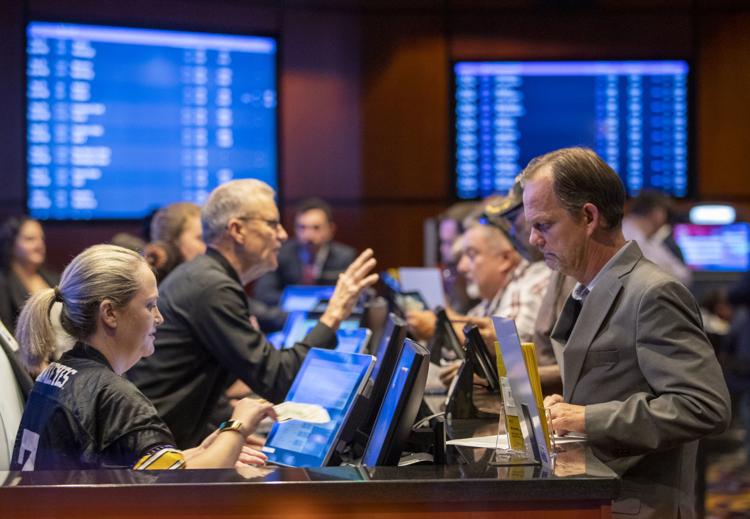 "(Nebraska was) 12-to-1 to win the Big 10 and 66-to-1 to win the national championship," he said. "So I would guess there will be a lot of futures bets being placed tonight and this weekend."
Plenty of Nebraskans stopped by to check out Ameristar's grand opening.
Craig Foster, 37, of Omaha said he bet $200 on the Huskers to win the Big Ten Western Division, at 4-1 odds.
"I've always bet. You just bet underground," Foster said. "I wish we could do it in Nebraska."
Long Tran, 66, of Omaha said he has been coming to Ameristar for 20 years. He said many of his friends gamble underground.
"I want to tell them you can bet legal," Tran said. "It's very safe. You don't feel bad. Under the table, they're afraid. You don't enjoy it at all."
Lincoln native Bob Eastwood wore his red Nebraska cap while he and his wife, Cathy, feasted on ribs at the Amerisports Bar & Grill and watched the other bettors. They said they moved to Underwood, Iowa, when they retired several years ago because of lower taxes. They sometimes play the slots, and they like seeing Nebraskans come to the Bluffs casinos.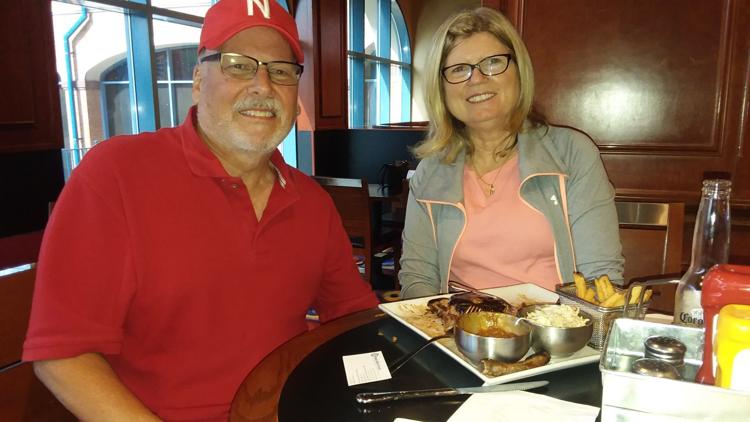 "We're supporters of Gov. Ricketts. But they're lagging behind on gambling," Eastwood said. "Look at the parking lot. Most of the cars out there are from Nebraska. They're paying our taxes."
Over the years, they've enjoyed dining at Ameristar's sports bars. Now they'll also wager on their favorite team.
"There's a lot of excitement in Council Bluffs about the casinos," he said. "It's nice to come out here, eat some good food — and bet on Nebraska."
This report includes material from the Associated Press.
Our best photos, July 2019