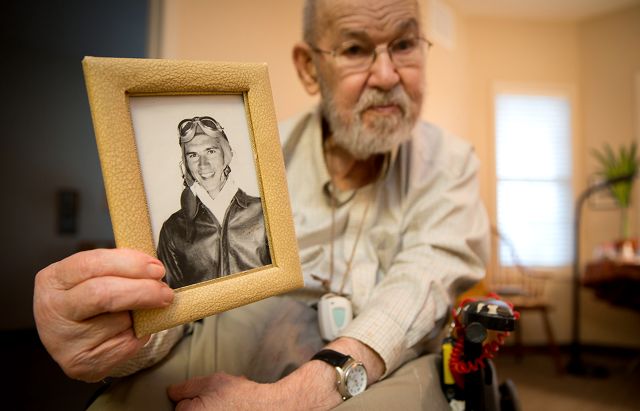 Cold War pilot Dan Bulli of Omaha has rarely spoken about his survival from a B-52 crash.
On a Strategic Air Command training run 50 years ago, the big plane shook so hard from turbulence that he couldn't read his dials or interpret radar.
At an altitude of only 500 feet, he heard a loud bang — which he later learned was the plane's 40-foot vertical stabilizer breaking off. At that moment, the aircraft with a 185-foot wingspan was no longer a flying machine.
"It seems like yesterday," said Bulli of Omaha. "It happened immediately. I just lost it — there was no separation from being in control to out of control. The airplane went nose down, and everything I tried to do to regain control was fruitless."
With only seconds left, he activated the "abandon ship" alarm. Three men — Bulli, a co-pilot and navigator Gerald Adler — ejected. But six crew members didn't get out before the Stratofortress crashed into Elephant Mountain in the wilderness of Maine. All perished.
The co-pilot also died, when he crashed hard into a tree.
Bulli and Adler suffered serious injuries and survived overnight in temperatures lower than 20 below zero. It took 20 hours for rescuers to reach them.
The crash on Jan. 24, 1963, became known as more than a Cold War tragedy. Significantly, the structural weakness that led the stabilizer to break off was revealed and corrected, leading to safer flights.
"That's the only thing that was good about the whole affair," said Bulli, a retired Air Force colonel who has thought often over the years about the seven crew members who died.
The B-52 remains one of the longest-serving military aircraft in U.S. history, including recent missions in Iraq and Afghanistan. After recovering from his injuries, Bulli flew B-52s in Vietnam.
On another tour of Vietnam, he served in Air Force intelligence and later became chief of intelligence for the 8th Air Force. He then was assigned to Offutt Air Force Base, where he retired in 1972.
He and wife Evelyn and their two children had settled in Papillion, and the couple decided to stay in the Omaha area. For a few years, he taught school and sold real estate.
"This was my last duty station, and I like to hunt and fish," he explained. "I saw no reason to move. There was nothing more attractive."
Click here for a closer look at how the tragedy was covered in The World-Herald.
He achieved a lot in his 30-year military career, including ferrying planes to combat units overseas in World War II. Col. Bulli, who flew more than 9,000 hours in his career, received the Legion of Merit three times, the Air Medal, the Bronze Star and other awards.
But it was that hour on an afternoon 50 years ago that is hardest to forget.
Flying out of Westover Air Force Base in Massachusetts, the mission was to fly low and simulate penetration of enemy airspace, learning to deal with the newest Soviet air defense radar systems.
As the plane descended low over Maine, turbulence rattled the ship and broke off the stabilizer.
"The B-52 had been designed as a high-altitude bomber," he said. "It was not designed for the stress you encounter at low altitude."
After ordering evacuation, Bulli looked out the windshield and saw the peril of the fast-approaching landscape.
FROM THE NOTEBOOK
Columnists Michael Kelly, Erin Grace and Matthew Hansen write about people, places and events around Omaha in their new blog, From the Notebook.
He immediately ejected — badly injuring a foot on the way out — but his parachute "must have opened almost instantly." He wound up in a tree, 30 feet above the ground.
"I eventually undid the straps on my parachute, which was very difficult because it was so cold my hands were numb," he said. "In addition, a couple of twigs had punctured my left hand."
He dropped his parachute and survival kit to the deep snow below and was able to lower himself.
Adler, meanwhile, survived although his chute hadn't deployed. He landed in very deep snow, suffering a fractured skull, three broken ribs and other injuries.
Eighty rescuers from various agencies set out to find them, following snowplows. Helicopters finally reached them the next day.
A two-minute film on the Internet shows Bulli and Adler being transferred on stretchers from the rescue chopper to an ambulance at Dow Air Force Base in Maine.
Adler spent 14 months in hospitals and had a leg amputated before leaving the Air Force as a captain. He became a lawyer and a city councilman and mayor in Davis, Calif.
Bulli underwent foot surgeries, including the amputation of some toes, but climbed back into B-52s.
At 90, retired Col. Dante E. "Dan" Bulli resides in an assisted-living home in northwest Omaha. He and Adler still talk once or twice a year.
After the Associated Press ran an article about the 50th anniversary of the crash, Col. Bulli received a nice surprise: a phone call from the helicopter paramedic who had loaded him into a litter for rescue.
Fifty years later, he laments the tragedy — but is proud that the legendary B-52 is still flying.