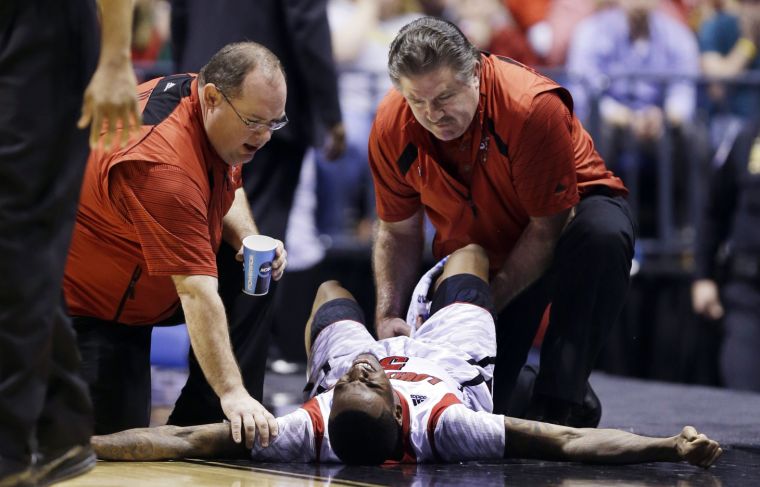 When a college basketball player suffered a horrifying compound fracture Sunday on national TV, millions winced.
Denise Fandel of Omaha was among those watching. But she wasn't focused on Kevin Ware, the Louisville Cardinal whose fracture left 6 inches of bone sticking through his skin.
"I was watching to see what the medical staff was doing," she said, "and they did everything they were supposed to do."
Fandel is executive director of the Board of Certification for the Athletic Trainer, housed in a renovated, 105-year-old building at 1415 Harney St.
She is proud that athletic trainer Fred Hina of the University of Louisville, a seasoned pro, responded like a pro. Hina, once the head athletic trainer of the New York Mets, is one of about 42,000 athletic trainers certified by the Omaha-based organization.
The board administers a four-hour, 175-question computerized test for entry-level athletic trainers and ensures continuing education and discipline for veterans. In addition, the board attempts to educate athletes, parents and coaches at all levels.
So how did Omaha become home to the only accredited certification program for athletic trainers in America?
Denise, former head athletic trainer at the University of Nebraska at Omaha, was hired as executive director in 1997, when the nonprofit board was planning for its first full-time national headquarters.
"When I accepted, we didn't have any staff," she said. "We looked at Chicago, Washington, D.C., and Indianapolis. But Omaha is centrally located and it's a great city, so we said, 'Let's get started.' "
Athletic training is a booming field. The number of ATs, as athletic trainers are called, has more than tripled from the 12,000 who were certified at the end of 1997.
The number of college-level AT education programs, Fandel said, has tripled to about 300, and the board's Omaha staff works with them to help provide measurements of students' progress.
Denise Fandel
Nearly all states now require licensure and, Fandel said, "We are the agency that gives the licensing exam."
The increased numbers of athletic trainers and education programs, she said, are a reflection of the greater emphasis on sports medicine and athletic activity, including the boom in youth sports.
The staff in Omaha now numbers 15. Besides the exams, staffers work on a variety of matters, including discipline and consumer information.
The group's national governing board — with members from across the country — decided five years ago to make Omaha the Board of Certification's permanent home.
About $1.2 million was spent to acquire and renovate the building. (The board's income is largely from testing fees.)
Athletic trainers work not only in traditional pro, college, high school and youth sports. Denise said they also help with the military, the Rockettes at Radio City Music Hall, NASCAR drivers, the staff at Kennedy Space Center and acrobats from Cirque du Soleil.
And while athletic trainers respond to emergencies, she said, that's not the main function.
"A huge part of the job is injury prevention," she said. "ATs are the guardian angels who have your kids' backs."
Their backs and the rest of their bodies, that is, including their precious noggins. Concussions are getting much greater attention, from the National Football League on down to youth sports.
"We know that youth brains are still growing, still forming," Denise said. "We're trying to help everybody understand the importance of youth sports safety and raise the level of awareness."
Heart- and heat-related problems also are high on the list of athletic trainers' emphasis in youth sports.
On the federal level, the Board of Certification and the National Athletic Trainers' Association support a pending House resolution called the Secondary School Student-Athletes' Bill of Rights.
Among other things, it states that high school athletes have the right to be coached by people well-trained in safety and to be monitored by a health care team.
The resolution insists on safe equipment and playing surfaces as well as emergency-action plans. It calls unacceptable a culture of "playing through pain."
Rusty McKune
In Nebraska, board member Rusty McKune of Omaha, who also serves as president of the Nebraska Athletic Trainers Association, testified in favor of Legislative Bill 260, the Nebraska Concussion Awareness Act.
» Education for coaches in recognizing symptoms of a concussion and actions to take when one appears to have occurred.
» Mandatory removal of an athlete "reasonably suspected" of having had a concussion.
» Written and signed clearance by a licensed health care professional before an athlete returns to play.
It's estimated that 58 percent of high schools nationally do not have ATs, though McKune said most large schools in eastern Nebraska do.
Although it was difficult to watch the gruesome-looking injury to the Louisville player Sunday on national TV, it may have a positive effect. It reinforced the benefits of quick emergency response and getting the injured player to physicians — in this case, orthopedic surgeons.
Certification of athletic trainers began in 1969. Fandel said George Sullivan, the former head athletic trainer at the University of Nebraska-Lincoln, was "one of the fathers of AT."
Much of athletic trainers' work, she said, is behind the scenes and certainly not glamorous.
"It might mean walking around the outfield before a baseball game to make sure a gopher didn't dig another hole the night before," she said. "We don't necessarily care about the score, but we want to make sure the student-athletes are healthy."