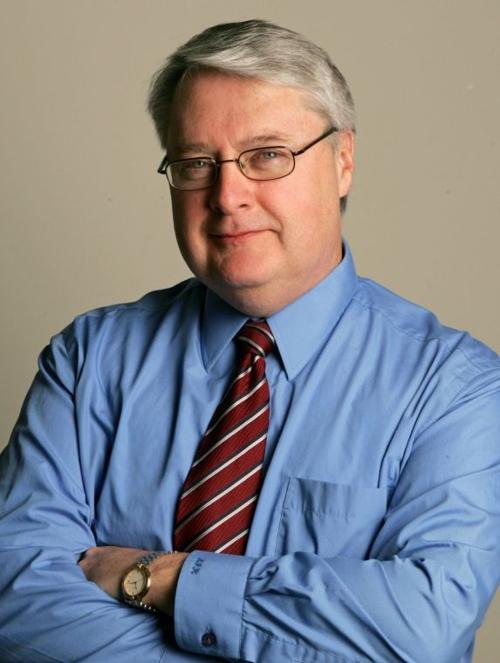 » With Tom Osborne retiring this week as University of Nebraska athletic director, one of my favorite T.O. memories came to mind — his 1988 first meeting with legendary horse trainer Jack Van Berg.
Jack was at the peak of his fame, having taken Alysheba to the brink of the 1987 Triple Crown before losing in the Belmont Stakes. Tom had made close runs at national championships.
They shook hands as Jack quipped, "Both of us got beat in the big one."
In the lobby of the old Peony Park ballroom before a banquet, I interjected that they were about the same age and came from good Nebraska towns — Osborne from Hastings, Van Berg from Columbus (about 90 miles apart.) They concluded that they must have played high school football against each other, and they spoke admiringly of each other's later careers.
Jack was 51, and Tom would turn 51 in a month. "Each is in the prime of life," I wrote, "his best years probably ahead."
Jack Van Berg during his visit to Omaha in July of last year. He was reunited with Laurie Bale, after whom he named a horse who won several races. Berg, who is still breeding and training horses, now in California, was the longtime leading trainer at the old Ak-Sar-Ben track. MIKE PATTERSON/THE WORLD-HERALD
Jack, now 76, the first trainer to amass 5,000 wins, is still breeding and training horses, based in California. Last summer he visited Omaha, where he had been the longtime leading trainer at the old Ak-Sar-Ben track.
Tom, who turns 76 next month, went on to win three national championships, serve in Congress and return as NU athletic director.
Osborne, of course, is more closely linked in Nebraska history with Bob Devaney, a predecessor as Husker coach and A.D. So it was fun to come across a Dec. 31, 1958, World-Herald sports section — years before their fame — with articles about each, right next to each other on an inside page.
Tom was hailed as a three-sport athlete at Hastings College, and Bob was preparing to coach Wyoming in the Sun Bowl. In 1962, Devaney became the coach at Nebraska, Osborne was hired as a graduate assistant and an era had dawned.
» A big Husker fan who is the son of a long-ago Nebraska coach knows whom he'll root for in Monday night's championship game — Notre Dame.
Jack Dawson, 82, is the son of Fred Dawson, whose Huskers beat coach Knute Rockne and Notre Dame's "Four Horsemen" in 1922 and 1923. So why is Jack pulling for the Irish?
His father had endured health problems and was out of work when he sought Rockne's help. The ND coach wrote in January 1931: "Dear Fred: Feel free to use my name as I will recommend you to the skies, particularly as the man who beat me two years in a row."
That helped him get the job at the University of Virginia. Two months after Rockne wrote the letter, he died in a plane crash.
Jack is a retired insurance agent in Omaha. He and his wife, Ginny, have five children and 10 grandchildren.
A Notre Dame win would keep Alabama from tying Nebraska's record of three national titles in four seasons.
» Northwestern's bowl victory this week has a small Omaha connection to the school's last bowl win in 1949.
Harl A. Dalstrom, University of Nebraska at Omaha emeritus professor of history, was researching the blizzards of 1948 and 1949 when he came across a World-Herald article about Northwestern students and band members at Omaha's Union Station.
Returning from victory in the Rose Bowl, they had been stranded since Jan. 3, 1949, in Cheyenne, Wyo. The train reached Omaha late on Jan. 6 and they spilled into the station to celebrate.
"This episode is but one of the memorable moments associated with Union Station," Dalstrom said, "and it speaks to the exuberance and flexibility of young people, whatever the time period."
» Speaking of the old Union Station, now the beautifully restored Durham Museum: In voting by the public, the museum's "Simply Magical" window display at Midtown Crossing was named the best among those by 14 cultural arts organizations. The museum's display, depicting a small-scale re-creation of a Union Station Christmas, won a $3,000 prize.
» Follow-up: Gary Fuller retired this week as the longest-serving current mail carrier in the Omaha-based region, but a postal clerk will retire Jan. 31 with an even longer tenure.
Peter Zarp, 79, was hired in 1961. Gary, 70, started in 1963.
"I just decided to work as long as I could," said Peter, who says he now will help Loretta, his wife of 54 years, with projects at home. An Army veteran, he spent 51 years and eight months as a postal worker.