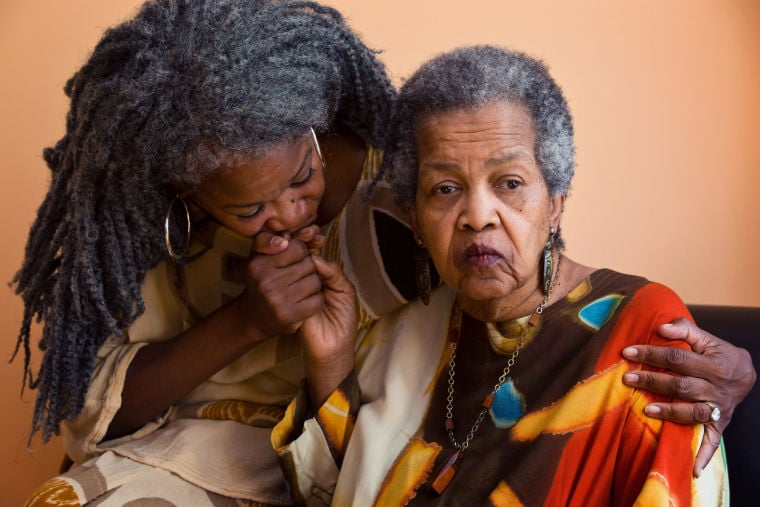 Omaha native Carol Rogers has enjoyed a singing career that made her mother proud — and maybe, in a loving way, a little envious.
Carol, who grew up hearing her mom sing and play jazz piano, traveled the world for 25 years with Brazilian musician Sergio Mendes and his band.
Jeanne Rogers, who sang and played for years at Omaha clubs, parties and community events, would have loved a career like that.
"My mom was a teacher by day, but by night she was always a singer," Carol said. "All over the city, people love her and remember her."
Carol, 59, moved back from Los Angeles about a month ago to be near her mother, 79, who has Alzheimer's disease.
And the daughter has taken up the cause against Alzheimer's, which her father died from last year and which is now taking her mother away from her.
The annual "Walk to End Alzheimer's," a fundraiser for the Alzheimer's Association Midlands Chapter, starts at noon Sunday at Turner Park at Midtown Crossing. Besides speaking out, Carol is offering her mother's CD, "The Late Show," to the first 50 people who donate $50. (Go to www.alz.org\midlands or register in person starting at 10:30 a.m. Sunday.)
Walking in honor of her mother and others, Carol figures, is the least she can do.
"She saw me take my first steps," she said. "She called me 'Lady Bug.' "
As one of three lead vocalists when she toured with Sergio Mendes, Carol recalls the thrill of standing in front of 3,000 people in the Philippines. She sang his hit song, "Bridges," which she had sung on a CD.
"It was so popular that I didn't have to sing it," she said. "They were singing along with me. I was dumbfounded."
There's a bridge to tomorrow.
There's a bridge to the past.
There's a bridge made of sorrow
That I pray will not last.
It's a love song about a "bridge made of love." But those lyrics seem appropriate for family members and other caregivers of people with Alzheimer's.
Getting diagnosed means crossing a bridge of sorrow that, unfortunately, does last. For now, at least, there is no cure — and no way even to slow the disease's progression.
"A lot of research is going on to get to a cure," said Viv Ewing of Omaha, executive director of the local Alzheimer's association. "Funding was just approved for testing that will go a long way toward better treatment."
The National Institutes of Health last week announced a $33 million grant to test an Alzheimer's drug on healthy people at risk for the disease. That's far from the only research underway, but some say a greater overall effort is needed, noting that the NIH this year is spending nearly seven times as much on HIV/AIDS as it does on Alzheimer's, though there are five times as many people with Alzheimer's.
About 5 million Americans suffer from Alzheimer's, and the numbers are expected to increase as baby boomers age.
OWH Columnists
Columnists Michael Kelly, Erin Grace and Matthew Hansen write about people, places and events around Omaha. Read more of their work here.
"It's very heartbreaking," Ewing said, "because you watch individuals basically deteriorate in front of your eyes. It's a long goodbye, literally."
To help lessen the chance of the disease, she said, it's important to exercise regularly and eat low-fat foods, including fruits and vegetables that are dark in color.
Jeanne Killion Rogers, whom Ewing called a legend in Omaha music, might have pursued a national or international career like her daughter's but put her family first.
She had five children in three years, including two sets of twins. She and her husband divorced when the youngest were 3.
Jeanne went back to school, earned a degree in 1963 from Omaha University (now UNO), and became a teacher and a principal. She continued to perform around town.
Carol and her twin, Keith, often performed as children in the summer Show Wagon in city parks. At Central High, where she graduated in 1972, Carol took part in the annual Road Show. She also traveled and sang with the Omaha Can Do Ambassadors in Greenland, Iceland and Canada.
She attended the University of Nebraska-Lincoln for a year and a half, studied vocal music and was named Miss Black Collegiate of Nebraska. She left school to pursue her career.
Carol sang with Chip Davis on C.W. McCall tours, including backups on "Convoy," but saw disappointments, too. "Lady Bug," as her mother called her, drove her VW bug to Los Angeles to audition for Stevie Wonder but merely sang into a recording machine and wasn't hired.
A friend had suggested that she audition for Sergio Mendes. She now says with a smile that she confused him with Trini Lopez and wasn't motivated.
Discouraged, she returned to Omaha. But she was lying in bed at home on a Sunday morning "when I was supposed to be in church" and felt that she heard God's voice in her head saying, "Go to California."
So she returned and tried out for Mendes. On July 4, 1976, the nation's bicentennial, he called and said the job was hers, adding: "Do you have a passport?"
"There were enough fireworks in my head," she said, "that I'm surprised I didn't burst a vein."
Soon she was traveling overseas, enjoying red-carpet treatment, giving interviews. She appeared on television with Mendes in other countries and in the U.S. She sang at the White House for a Brazilian state visit on May 12, 1982, and excitedly called relatives in Omaha.
In her years with Sergio Mendes, 1976 to 2001, she took time away to have four babies but was always welcomed back.
She sang for King Hussein of Jordan and at a fundraiser for the Hong Kong Royal Ballet, as well as on TV for Johnny Carson, Dick Cavett and Mike Douglas. And she remembers when Stevie Wonder recorded with the group and liked her voice, saying to Sergio, "I'm going to steal her."
Carol, who was under contract to Sergio, recalled that he replied to Stevie: "Only if you have a good lawyer."
Now a grandmother of two girls, she has taught vocal technique for years at the Musicians Institute in Los Angeles, and she hopes to teach in Omaha. On two recent Monday nights at the Ozone Lounge in Anthony's Restaurant, she wowed crowds while singing with Mike Gurciullo's big band.
She visits her mother daily at the Douglas County Health Center and said she receives excellent care.
Carol recalls her house in Omaha being a hub for visiting musicians. But that pleasant memory is a bridge to the past.
As in the song, there's a bridge of sorrow that she prays will not last. For her mother and millions of others with Alzheimer's, though, there is no cure.