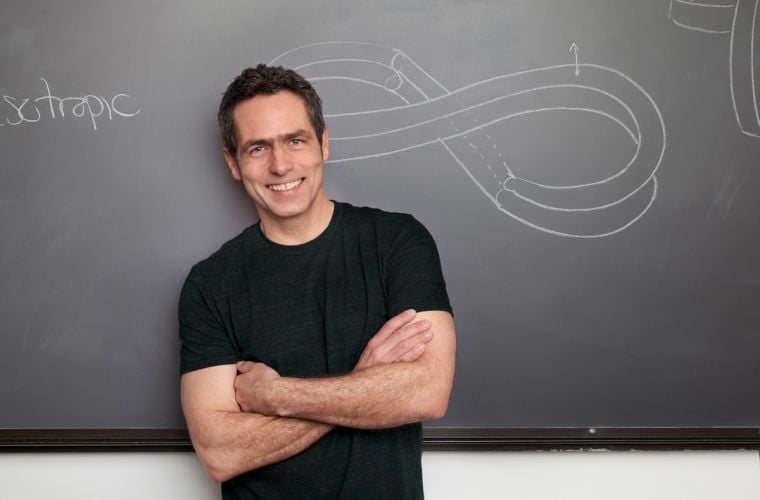 On his way to becoming a Rhodes Scholar, Mike Hopkins of Omaha drove a delivery truck over all kinds of roads.
Today, he's a Harvard University math professor and recipient of a prestigious National Academy of Sciences award. But in the summer of 1976, after graduating from Omaha Westside High, he tried various ways to make sure he didn't fall asleep at the wheel.
"I tried yelling at cows in the fields," he said, "just trying to get a reaction from them."
They didn't react. And yelling "Hey!" every time he saw a bale of hay got old soon.
So instead, he began solving advanced mathematical problems in his head.
As he picked up and delivered products in three cities — Fremont, Lincoln and Council Bluffs — he silently worked out the numeric proofs of problems from a college textbook. If it was tough enough that it took him all three legs of his delivery route to figure it out, he called it a "three-legged theorem."
Now, professor Michael J. Hopkins is back in Nebraska to deliver something else — an "interactive" public lecture on mathematical invariants that he says laypeople can understand. It's at 4:30 p.m. Thursday at the Nebraska Union at the University of Nebraska-Lincoln.
"Mike is amazing," said Judy Walker, chairwoman of the UNL Department of Mathematics. "He's witty and kind. I could listen to him lecture for hours."
UNL is experiencing a boomlet in math majors — 190 students, the most in at least a decade.
Walker said that's partly because the department has convinced more students that math is a great "second major," enhancing skills that apply to almost any profession.
A recent study of 23 developed countries reported that American adults lag well behind in mathematical and technical skills. Some people suffer from math anxiety, finding numbers numbing and believing they just weren't born with a math gene.
Hopkins, who has lectured around the world, acknowledges that mathematics is easier for some people.
"Some look at the world in terms of how things work, and others look at it in terms of the story of what happens," he said. "The how-things-work people do tend to have an easier time with mathematics. But I don't think people should fear math."
For the people who love it, math is beautiful, magical, almost mystical. UNL's Walker teaches a course called "The Joy of Numbers."
Math, she noted, long has been called "the queen of sciences." Now, in the high-tech age, number theory plays a large role in our daily lives.
"It's exactly what makes possible all the things we do with computers," Walker said. "It's what makes it possible to use credit cards on the Internet. There are all kinds of daily applications."
On Nov. 21, UNL will host about 1,400 high school students from across Nebraska at the university's annual Math Day. They will compete on written exams in the morning, and the top 50 will advance to a second round to compete for scholarships.
Math Day includes a "Quiz Bowl format," with three-person teams of students hitting buzzers to answer questions first.
Walker, in her 17th year at UNL, said she is impressed that the students are intellectually curious and "want to be challenged to improve their ability."
OWH Columnists
Columnists Michael Kelly, Erin Grace and Matthew Hansen write about people, places and events around Omaha. Read more of their work here.
She said that there's no reason to fear math and that people aren't born with such negativity. "If you talk to little kids, they're not afraid of math."
Hopkins, not surprisingly, always liked math. "As a really small child, I'd lie in bed counting as high as I could."
During high school, he played guitar in a rock band and wore a long ponytail. He said he always had good teachers, such as Al Gloor, now retired from Westside, who revealed the beauty of math.
Said the professor: "There's a lot of art within mathematics."
Hopkins graduated and earned his Ph.D. from Northwestern University and received a doctor of philosophy degree from the University of Oxford on the Rhodes Scholarship.
He has lectured in China, Japan, Germany, Switzerland, Norway, Mexico and elsewhere. Before joining the faculty at Harvard in 2005, he spent 15 years as a professor at MIT.
Besides his public lecture Thursday in Lincoln, Hopkins is spending a week giving a workshop to graduate students and faculty members. He also is visiting his parents, Jerome and Martha Hopkins of Omaha, and his sister, Anne Twedt.
Mike and his wife, Randi Hopkins, associate director of the Boston Center for the Arts, have a daughter, Rose, a senior in college.
He said he enjoys returning to Nebraska and working with students as well as "a lot of really good mathematicians on the faculty."
Hopkins, who has taught a course called "The Magic of Numbers," won the National Academy of Sciences mathematics award last year in part for his role in helping to settle a 45-year-old problem called the "Kervaire invariant."
At age 55 and counting, Mike Hopkins long ago stopped yelling at cows. But he'll gladly shout about the joy and importance of math.
The nation needs to score better in math, and more students should study it fearlessly. As mathematicians know, there is strength in numbers.