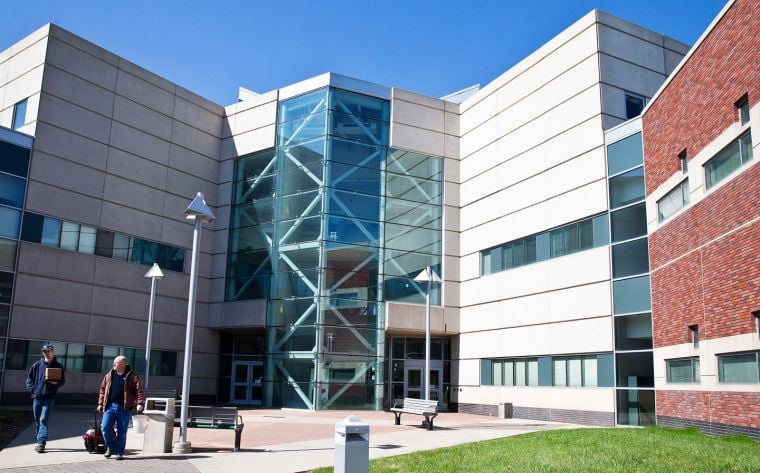 When the new plan for a stronger and more cooperative Peter Kiewit Institute comes to fruition, students asked administrators Monday, what will change for them?
The answer they heard during an open meeting with the institute's leadership team: not a whole lot.
More than 80 students and faculty members connected to the Omaha engineering institute met with leaders from the University of Nebraska at Omaha and the University of Nebraska-Lincoln to learn more about the new plan for the Kiewit Institute.
Many students voiced concerns about how changes, including the proposed merger of two departments and the sharing of some faculty members between campuses, would affect them.
Senior vice chancellors from each of the campuses said the changes will have a greater impact on future students than those currently taking classes at the institute at UNO.
"It's important to both campuses to reassure our students that their curriculum isn't going to change," said Ellen Weissinger, senior vice chancellor at UNL. "The faculty they value so much will still be there, and we'll be adding new services."
A consultant's report in July found that the institute was being held back by "dysfunctionalities" in its structure and operations. Its leaders were not working together and its resources were depleted by its problematic history, leading to distrust and disappointment, the consultants said.
In response, the University of Nebraska Board of Regents approved a plan this month that requires leaders at the Lincoln and Omaha campuses to share responsibility for the success of the institute. Its executive director and deans of the college of engineering and information science and technology will work together under the senior vice chancellors at UNO and UNL.
Plans also call for doubling annual research funding within five years while increasing the number of students in Kiewit Institute programs to 3,600 in the next five years. Fifty new faculty members will be hired — 30 in Omaha and 20 in Lincoln — and 35,000 to 40,000 square feet of classroom and office space will be needed to house them.
Funding for the changes has not yet been finalized.
To free up resources to expand course offerings, Weissinger and B.J. Reed, UNO senior vice chancellor, said they're looking at lower-level courses where faculty could use "tele- presence" technology to teach at both campuses simultaneously. Those professors also would divide their time between Omaha and Lincoln to keep office hours and teach classes.
That worried several students who were concerned they would lose the help and attention of their professors.
Sara Doghman, a junior computer engineering major, said she is pleased with what and how she is learning. The low student-teacher ratio is a big part of why she is satisfied, she said.
Doghman doubts that the faculty changes, or anything else discussed, will actually give current students a better experience.
"This doesn't make sense to me," Doghman said after the meeting. "What I heard was a lot of misdirection, long speeches and fallacies."
Timothy Wei, dean of the college of engineering at UNL, said changes will be difficult, but he hopes students understand that their voices are being heard.
"We cannot accept that the standard delivery of curriculum, the way it was done in the past, can continue indefinitely into the future," Wei said.