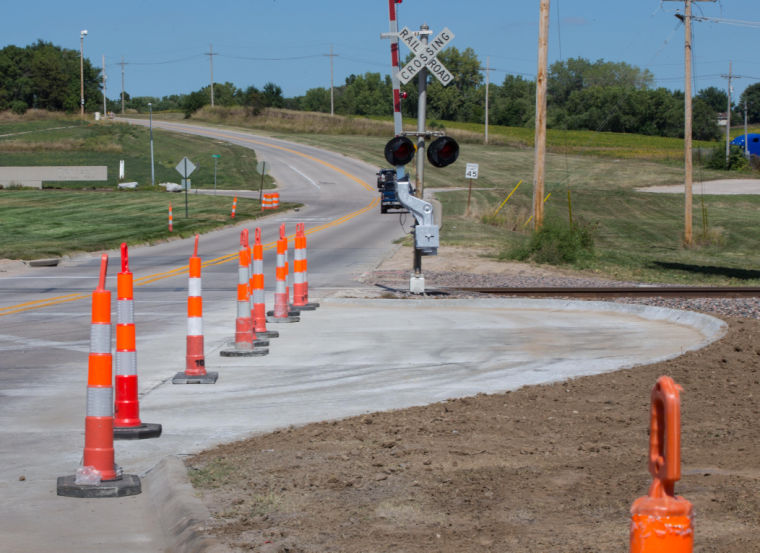 Work has begun in La Vista to improve safety at three railroad crossings near the Southport West development and turn them into "quiet zones" where trains will refrain from blowing their horns.
Work crews are installing raised 100-foot-long medians at the railroad crossings — at 126th Street, West Giles Road and 132nd Street — to thwart drivers from skirting railroad crossing gates that lower when a train is approaching, said La Vista's city engineer, John Kottmann.
Four-foot-tall wands with reflective tape will rise from the tops of the medians, and the crossing arms will remain to deter drivers from inching out into the path of an oncoming train.
If BNSF Railway approves of the increased safety measures, its conductors will stop sounding their horns as trains approach crossings, except in cases of emergencies, such as a pedestrian on the tracks.
The work is expected to take about one month and will include some daily lane restrictions from 8:30 a.m. to 4 p.m. The $150,000 cost of the project is shared between the City of LaVista and Sarpy County Public Works.
While the area is mostly zoned industrial, with few residential neighborhoods, the city has been working with BNSF for years to develop a quiet zone.
Southport West developer Dean Hokanson said the blaring train whistles could scare away some development opportunities.
Companies looking to locate an office there, or owners trying to open a store, might be turned off by the periodic blasts of noise. The whistles can be heard faintly at the nearby Embassy Suites Conference Center, he said.
"It's a long and a loud sound, and it'll be a tremendous benefit to the area once the quiet zone is installed," Hokanson said.
Federal rules established in 2005 require trains to sound their horns for 15 to 20 seconds ahead of a public crossing, using a pattern of two long, one short and one long blast. The sound must be between 96 and 110 decibels — equivalent to the noise produced by a lawn mower or a power saw.
Under the same regulations, communities can apply to make crossings horn-free. There are seven established quiet zones in Nebraska and 10 in Iowa, according to Federal Railroad Administration records.
Some, including Union Pacific, think that quieting horns may lead to more accidents at crossings.
"Union Pacific believes quiet zones compromise the safety of railroad employees, customers, and the general public," the railroad's website says. "While the railroad does not endorse quiet zones, it does comply with provisions outlined in the federal law."