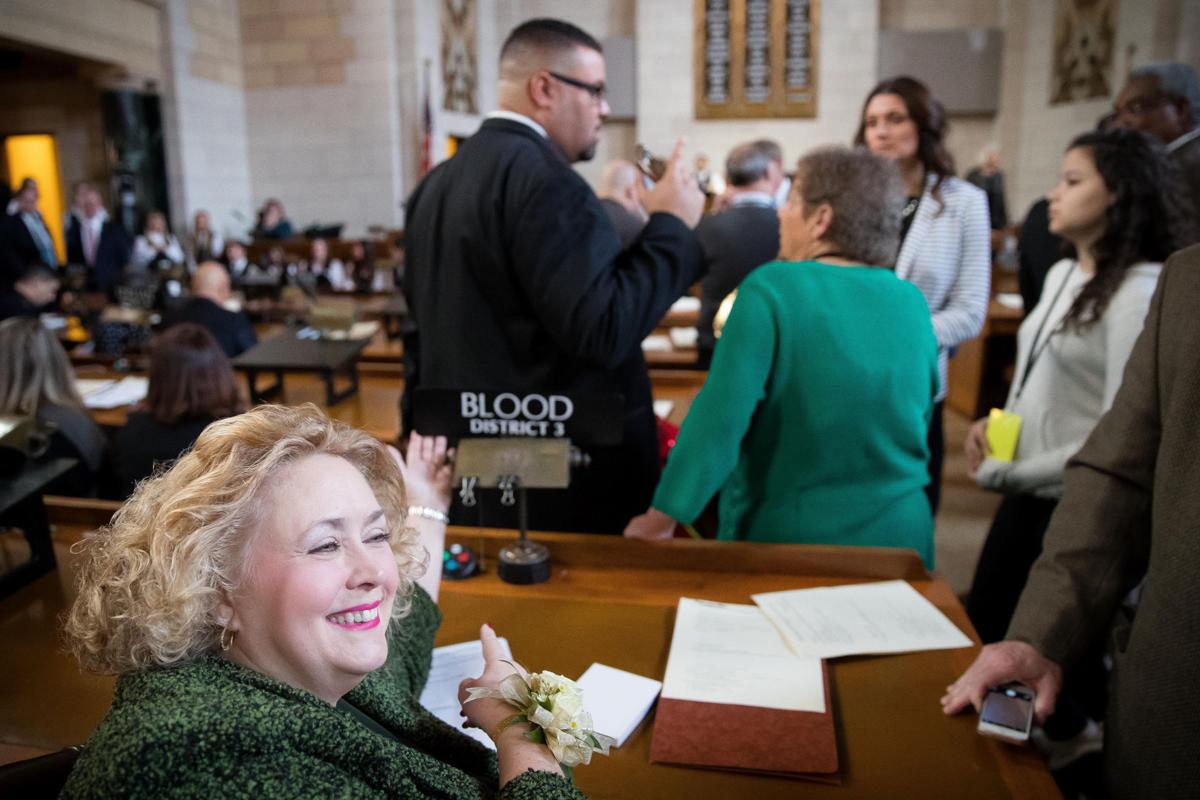 People with outstanding civil penalties from the Nebraska Accountability and Disclosure Commission would be ineligible to run for elected office if a new bill in the Nebraska Legislature is passed.
Introduced by Sen. Carol Blood of Bellevue, Legislative Bill 85 also would prohibit anyone from being appointed to an elective office until the civil penalties and interest are paid.
The commission administers and enforces the state's campaign finance laws, lobbying laws and conflict of interest laws.
Currently there are six people and one organization with outstanding civil penalties totaling $42,550.
The penalties are for different things and such fines are rare, said Frank Daley, executive director of the commission.
He said most civil penalties are paid pretty quickly.
Bellevue City Councilman Pat Shannon, elected in November, owes the largest outstanding fine at $16,832.88, plus interest. It stems from a fine levied after a violation of campaign laws in 2004.
Shannon's name was never mentioned during Wednesday's committee hearing on the bill, but he holds the at-large seat on the Bellevue City Council that Blood left to run for the Legislature.
Blood said the bill was not influenced by Shannon but it was an issue mentioned to her by constituents when she campaigned door to door.
"We're not out to hunt anybody," Blood said. "This isn't about any one person. This is about what's right and what's wrong."
After Shannon was elected, the commission sought to revive the judgment against him so it could garnish his $11,000 a year City Council salary. After hearing arguments last week, a Sarpy County District Court judge took the matter under advisement.
Shannon said Wednesday that he has problems with how the commission handles cases like his and that soon the truth about what happened to him and why the fine was never paid will be publicized.
During Shannon's 2004 race for the Legislature, an anonymous flier titled "Domestic Abuse is on the Ballot" was sent to voters in Bellevue. It alleged domestic abuse by Shannon's opponent.
Shannon said his business was hired to do the work, but he has long denied authoring the letter, which was signed "Nebraskans for Decency."
A former judge presided over a hearing on the matter and determined Shannon acted alone.
After the hearing, the commission voted 8-0 to fine Shannon for eight campaign disclosure violations.
No one testified against the bill on Wednesday, but four people spoke in favor of it.
Daley told the committee there were two main reasons to support the bill.
First, it gives the commission another tool to collect civil penalties as anyone wishing to have a political career would have to pay before filing for office.
And second, it answers the question of how someone who owes a civil penalty to the commission can run for office, which Daley said he's been asked frequently over the past several months.
"My response over the last few months has been well, they can do it because there's nothing that prohibits it," Daley said. "It would seem to me that LB 85 would be a better response to that question."
Bill O'Donnell of Bellevue supported the bill, telling the committee that voters may consider an elected official a wise leader or an idiot, but they should not have reason to question a candidates' ethics, willingness to obey the law or honorable intent.
"If you're going to be responsible for making laws and ordinances, it's hypocritical to selectively thumb your nose at a law or ruling because you don't like it or agree with it," O'Donnell said.
The committee did not vote on the bill on Wednesday. Committee Chair Sen. John Murante said there was broad support for the bill's concept, but there were still some things that needed to be worked out.
Before the hearing, Shannon said the bill was political.
"Carol Blood is a coward, afraid that I will run against her next election," he said. "Because if I did decide to run against her, I would win big-time."
Blood said she didn't care to respond to Shannon's "false accusations."
"I think it's curious that he feels he has to comment on it at all," Blood said. "My grandmother used to say usually the person who speaks the loudest is the person who has the most to hide. I prefer to speak softly and carry my big stick. Or in this instance my big bill."