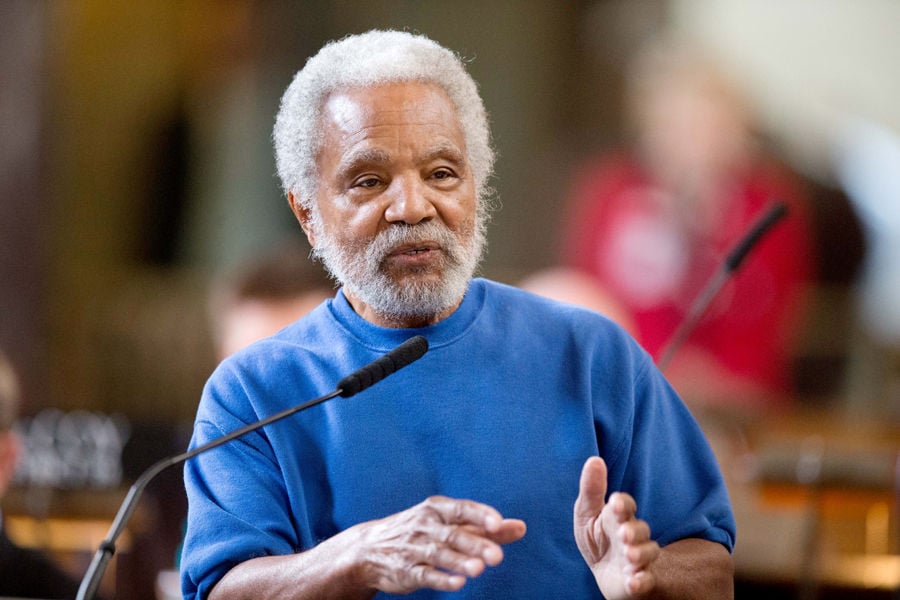 LINCOLN — Gun-rights supporters narrowly missed their mark this week in the Nebraska Legislature, but they succeeded in painting a target squarely on local handgun restrictions in the state's two largest cities.
Lawmakers voted 32-10 on a motion to cut off debate on a bill that would have replaced municipal handgun codes with less-stringent state regulations. Had one more senator voted to break the filibuster, the bill almost certainly would have gained the 25 votes it needed to advance to the second round of debate.
With the bill dead for the session, supporters will likely try again next year, said Sen. Laura Ebke of Crete, who sponsored the legislation.
"I suspect somebody, whether it's me or somebody else, will take another run at it," she said.
The six-hour debate on Legislative Bill 289 also raised questions about the constitutionality of local gun regulations that are more restrictive than state law. Ebke said she wouldn't be surprised if a lawsuit challenging the ordinances surfaces in coming months.
In the meantime, Omaha and Lincoln will be able to keep their gun regulations on the books. Police in both cities say the ordinances assist with the investigation of gun crimes and improve public safety.
Sen. Ernie Chambers of Omaha, who led the filibuster, took a parting shot at the National Rifle Association, which lobbied for the bill.
"The NRA was defeated today," he said.
Other senators, however, expressed disappointment that a compromise couldn't be worked out to balance the concerns of lawful gun owners with the public safety needs in Omaha and Lincoln. Key senators in the debate held a meeting Tuesday that included an Omaha police officer.
Sens. Heath Mello of Omaha and Adam Morfeld of Lincoln offered amendments that would have allowed their respective cities to keep their long-standing handgun requirements.
Sen. Nicole Fox of Omaha, who supported the bill, proposed an amendment that would have allowed Omaha to keep the ordinance setting 21 as the minimum age for handgun possession.
"It's just a disappointment in the process that cooler heads couldn't meet in the middle," Mello said after the vote.
It's unclear whether a compromise could have been amended into the bill even if it had been reached. Chambers said he would have used priority motions to block any changes designed to win broader support for the measure.
Nebraska is one of just eight states where local governments can pass gun-related ordinances. In other states, including Iowa, state law supersedes municipal handgun codes.
Supporters of LB 289 said the bill would have repealed legally flawed local regulations and made gun rules less confusing and cumbersome across the state. Opponents argued that the bill would have hampered efforts by local elected officials to address gun violence in their communities.
John Wells, president of the Omaha Police Officers Association, said the city's ordinances help protect both the public and police. The handgun registry and the ban on handgun possession for those under 21 are tools officers use to combat gang activity and investigate gun crimes, he said.
Lincoln Mayor Chris Beutler and a majority of the Omaha City Council also weighed in against the bill. But Omaha Mayor Jean Stothert backed the legislation, saying she doubts the local laws reduce gun violence.
Amanda Gailey, president of Nebraskans Against Gun Violence, said Wednesday's outcome represented a victory for local control.
"We don't have a problem with gun rights being infringed in Nebraska," she said. "We do have a problem with gun violence in Omaha."
Over the last few days, the bill prompted spirited debate on the Legislature floor.
"Like it or not, we are gun-loving, law-abiding, red-blooded Americans," said Sen. Tommy Garrett of Bellevue, a supporter of the measure.
Mello reminded his colleagues how many of them displayed "support blue" signs last year after controversy erupted over a critical remark Chambers made about the police. He urged them to show the same support for law enforcement on this issue.
"When law enforcement says this is bad policy, I just don't see how we can turn our back on that," he said.
Sen. Bill Kintner of Papillion said police supported the death penalty last year, but that didn't prevent Mello from "kicking them in the teeth" when he voted to repeal capital punishment.
The Nebraska Firearm Owners Association sent out a press release naming the senators who did not vote to end the debate. Rodney Moeller, the group's president, said the ordinances allow local authorities to deny handgun ownership to anyone convicted of an assortment of misdemeanor offenses and infractions.
"Both Lincoln and Omaha have gun control laws so oppressive it would be absolutely absurd if applied similarly to any other issue," he said.
Additional information on the Legislature