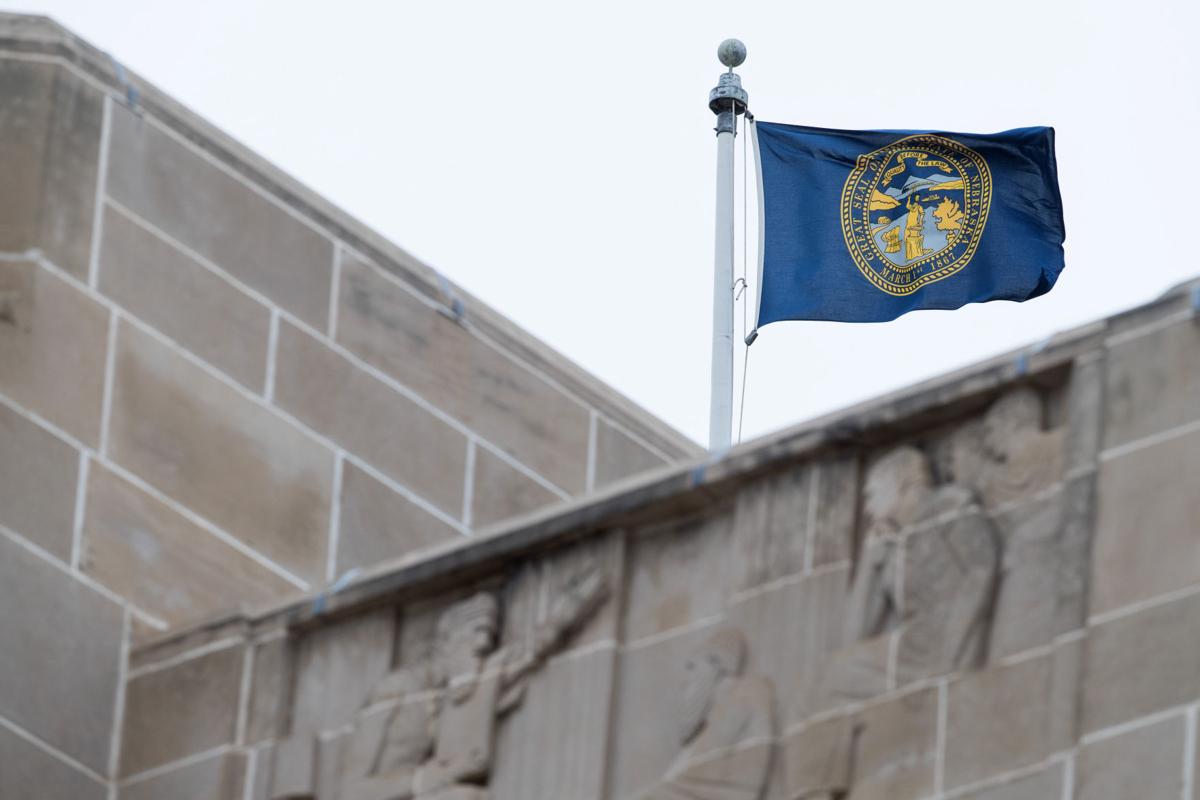 LINCOLN — How unremarkable is Nebraska's state flag?
For 10 days, the state flag, which is hoisted over the State Capitol's west side when lawmakers are in session, flew upside down.
"Nobody noticed it," State Sen. Burke Harr told members of the Legislature's Executive Board. "It took someone drawing it to my attention before it was changed."
The Omaha senator used the anecdote Monday to help make his pitch for why lawmakers should consider creating a task force that would decide whether the state should design a new flag.
If so, the committee would submit recommendations to the full Legislature for approval.
The sponsor of Legislative Resolution 3, Harr said the current flag doesn't stand out, and features elements that don't represent what the state is known for today.
The current flag is blue, gold and silver and features the state seal, which shows a steamboat in the Missouri River, a train heading toward the Rocky Mountains, and a smith with a hammer and an anvil.
The seal also shows a settler's cabin, sheaves of wheat and the state's motto, "Equality Before the Law."
"That's fine for a state seal," Harr said, "but a flag needs to be instantly identifiable."
Critics agree the seal is hard to read, and that the overall design is similar to numerous other official state flags that use state seals on blue backgrounds.
Nebraska's design ranks among the five worst flags of the 50 states, according to a survey by the North American Vexillological Association, a group that studies flags.
Nebraska's flag design should be so simple a child can draw it from memory and use two or three basic colors, said Ron Sack, head of design for Bailey Lauerman, a Nebraska-based marketing and advertising agency. He testified in support of creating the task force.
Sack also said the flag should have meaningful symbolism. He designed the logo for the state's 150th anniversary this year. It shows a stylized ear of corn that incorporates art elements found in the State Capitol; the color of the state flower, the goldenrod; and a blue background like the flag.
He pointed to Colorado's simple flag with three white and blue horizontal stripes and a red "C" filled with the color gold. White represents snow on mountains, while gold is for Colorado's sunshine, red is for the state's red soil and blue is for its clear blue skies.
Suzanne Wise, the executive director of the Nebraska Arts Council who has an extensive arts background, said that states with poorly designed flags fly them far less than states with better designs. And states with iconic flags have seen professional sports teams incorporate them into their brands, she said.
As a Nebraskan, Wise said she's proud of state's unicameral Legislature and unique State Capitol.
"It's galling our state flag doesn't embody that uniqueness," she said. "I think our sesquicentennial year is an ideal year to do this."
Minnesota, Wisconsin and Michigan are also looking to change their flags, Harr said.
Harr first thought about the flag as a fourth-grader in Mrs. Patterson's class at Omaha's Catlin Elementary, he said, recalling that his former teacher, who's now deceased, did not like it.
Under an amended version of his resolution, Nebraska's task force would have five members, all senators: one member from each congressional district and two at-large members.
The resolution heard no opponents, and the committee did not take immediate action.
An effort in 2002 to develop a new flag design with the public's help, however, died after critics called it a blow to the state's heritage.
Harr brushed off criticism from earlier this month that the state has more pressing issues to deal with, saying that the lawmakers can take a look at the state flag while addressing the looming budget deficit, the troubled Department of Correctional Services and other areas of concern.
"We can walk and chew gum at the same time," he said.
Kids submit Nebraska state flag redesign ideas
State Sen. Burke Harr of Omaha believes Nebraska's flag could be improved to better promote the state. Harr has put forth Legislative Resolution 3, which would establish a task force to design a new state flag. Whether or not that happens, The World-Herald asked Nebraska children to submit their designs for a new state flag. More than 175 kids responded.