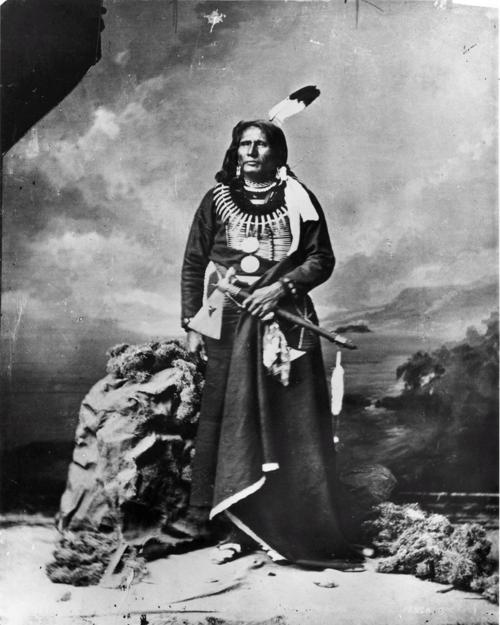 LINCOLN — To Larry Wright Jr., Chief Standing Bear's legacy is worthy of celebration, especially as Nebraska marks its 150th anniversary of statehood.
After being exiled from Nebraska, the Ponca Tribe chief and 29 others trekked hundreds of miles back to bury the body of Standing Bear's teenage son, whose dying wish was to be laid to rest in his beloved homeland.
Standing Bear's subsequent arrest and trailblazing civil rights trial made history when a federal judge in Omaha ruled that American Indians were people under the law.
"That's the story of Nebraska," Wright, chairman of the Ponca Tribe of Nebraska, said Thursday. "It doesn't matter what color of skin you are, what shape you are. That's a story that resonates with any parent. That's Nebraska."
Wright was among the supporters of a proposal that originally set out to replace Columbus Day with Chief Standing Bear and Indigenous Leaders' Day.
Under an amended version, the measure would not do away with Columbus Day. Instead, the official state holiday on the second Monday of October would become Columbus, Standing Bear and Indigenous Leaders' Day.
Some proponents voiced tepid support for Legislative Bill 485 during Thursday's hearing before the Legislature's Government, Military and Veterans Affairs Committee.
The measure's lone opponent argued that the historic figures deserve separate days of recognition.
State Sen. Patty Pansing Brooks of Lincoln, the bill's sponsor, said she offered the amendment as a compromise so that a fight didn't ensue over the value of the Italian explorer versus the value of indigenous peoples.
Columbus Day was declared a federal holiday in 1937, though Nebraska is among a minority of states that observe it, Pansing Brooks said.
"I don't believe it goes far enough," she said of her reworked proposal. "I know some of our Native brothers and sisters would've wanted it to go farther, but I felt like it starts a dialogue."
Judi gaiashkibos, director of the Nebraska Commission on Indian Affairs, said a number of tribal constituents are less than pleased with the idea of sharing a holiday with Christopher Columbus, whose legacy of coming to the Americas is mixed.
But Native people have had to share a continent with immigrants for hundreds of years, often under hostile circumstances, she said.
"We could use this shared holiday that, as awkward as it might seem and despite our lingering differences and animosities, can represent our ability to grow beyond what we were," she said. "Despite our many differences, we are much more the same, as was so eloquently stated by Chief Standing Bear."
The Ponca tribe was at peace with the U.S. government in 1877 when they were forced to march 550 miles south.
Standing Bear led 700 Ponca members from their home along the Niobrara River to north-central Oklahoma. There, they clustered around creeks swarming with mosquitoes that plagued them with disease and death, said Joe Starita, author of "I Am a Man," a historical account of the chief's journey.
When Standing Bear's son was dying, he begged to be returned to the chalk bluffs along the Missouri River.
In 1879, Standing Bear and his group set out for Nebraska with the boy's remains.
It was then Standing Bear unwittingly found himself arrested and caught in the cross-hairs of a historic civil rights trial in which U.S. District Judge Elmer Dundy ultimately ruled in favor of the Ponca chief.
Some testifiers at Thursday's hearing said that history ought to be honored, but suggested making another day — such as May 12, the day Dundy rendered his decision — the state holiday honoring chief Standing Bear.
George Matuella with the Sons of Italy's Nebraska chapter said Standing Bear and Columbus deserve their own days.
"This great icon, in my opinion and in the opinion of a lot of Italian Americans, should be honored. Period," he said, referring to Standing Bear. "But we're saying, have his own day."
Pansing Brooks said adding a paid state holiday would carry a huge cost to cover overtime for employees of state agencies that operate around the clock.
The committee took no immediate action on the bill, which does not carry a priority. Even if advanced, it's not likely to be heard by the full Legislature during the 90-day session, which is more than halfway over.