An Omaha developer wants to recreate the walkable neighborhood feel of an older area like Dundee. But he wants to build it from scratch. In a cornfield. In Papillion.
His $100 million plan just got the green light from the city.
"What's really different about this is it's a multi-family housing project, but we've designed it as a neighborhood," developer Jerry Reimer told the Papillion City Council at its Jan. 2 meeting.
Reimer, of Urban Village Development, says he aims to build that type of community on about 50 acres near 132nd Street and Lincoln Road. Plans call for more than 500 units, which will be small and large duplexes, three-plexes, four-plexes, six-plexes, apartments, townhouses and retail space. Public streets and open spaces — including a swimming pool, greenhouse and community garden plots — will be linked by trails and shaded sidewalks. The whole site neighbors Prairie Queen Recreation Area.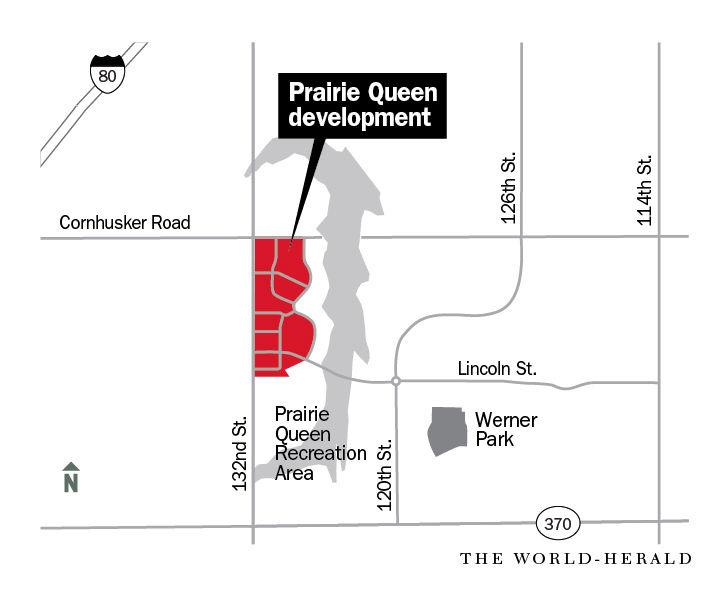 The Papillion City Council passed a slew of final approvals for the project at its last council meeting.
"We've done a lot of projects in the midtown (Omaha) area, where they built buildings in the 1900s and it was more of a neighborhood," Reimer said to the council. "We really tried to leverage the lessons we learned from rehabbing and doing projects in that community."
That means no big buildings or parking lots. Instead, Reimer's vision features smaller buildings — the biggest in the 123-unit, 25-building first phase will hold just eight units. And they'll come with nearby or attached garages, driveways and on-street parking. At a planning commission meeting in April, Reimer said he wants the development to look and feel "stately."
And it's meant to attract "higher-end" residents, Reimer told the commission. Rents will range from about $900 to $2,200 per month.
He said the project could span six total phases, with work on the first starting this spring. He didn't answer a council member's question as to when the project would wrap up, but he said one factor that could slow the project down is soaring lumber prices. If lumber prices stay as high as they are, he said, "I reserve the right to throttle back a little bit."
Reimer said in an interview that he plans to begin grading in the spring and constructing buildings this summer or fall, with the first ready to move into in the spring of 2019.
The first two phases come with a combined cost estimate of $34 million.
The development will be privately funded. But the city will reimburse Reimer for up to $1.5 million of infrastructure improvements that will come with "anticipated benefits to the public," according to a construction and reimbursement agreement.
It's possible that the city may also share the cost of traffic signals at 132nd and Lincoln Road and 132nd and Cornhusker Road, but the portion the city would contribute hasn't been determined, said Trenton Albers, Papillion's spokesman.
"It's a very interesting, walkable concept and fills a unique gap in our housing market," Albers said.
The development — two years in the making — will be a significant "bookend" to Lincoln Road, Albers said. One day, as the city grows west, Lincoln Road will become a main boulevard, he said.
"I think it will be a really exciting project," Reimer told the council, "when it comes out of the dirt."
Get local news delivered to your inbox!
Subscribe to our Daily Headlines newsletter.