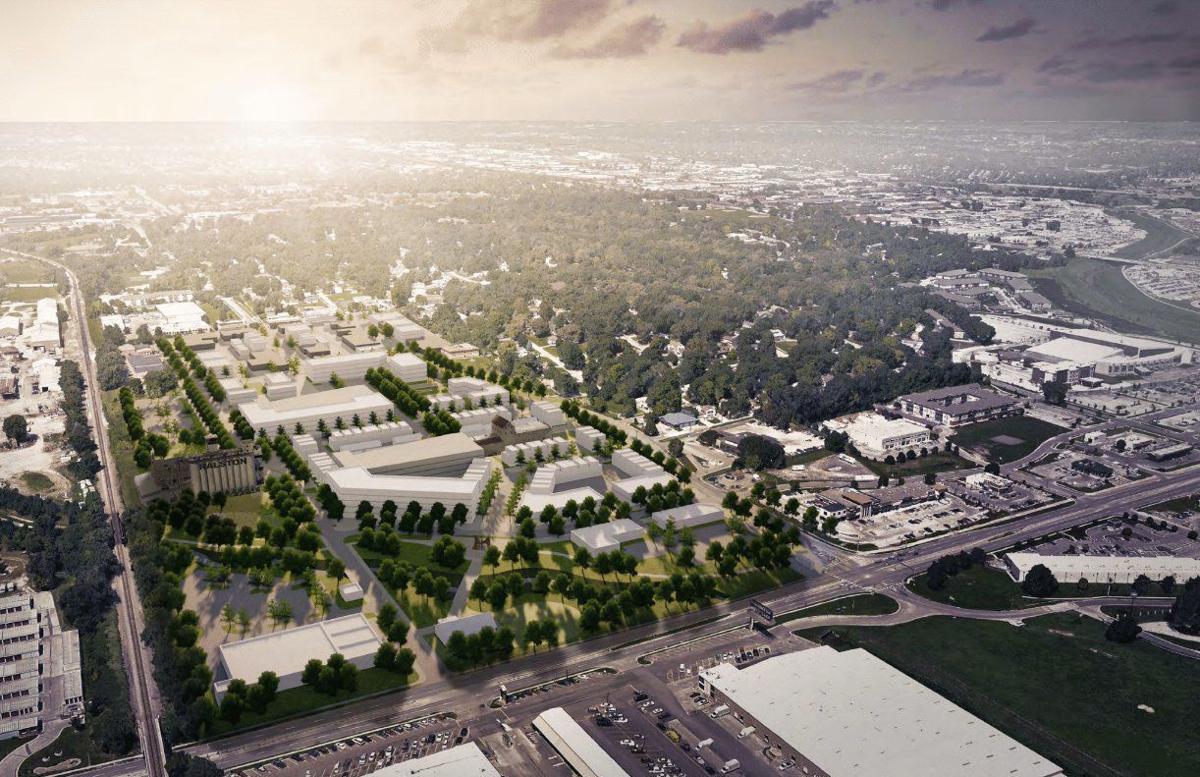 An Omaha entrepreneur plans to bring retail businesses, townhouses, a green space and a new business accelerator to downtown Ralston through a $14 million public-private partnership with the city.
Those plans by investor Gordon Whitten and his company I See It Ventures represent another key investment in Ralston's Hinge project, which aims to revitalize the downtown area and attract people from the Ralston Arena into the city itself to live, work and play.
Whitten, who founded Sojern, among other companies, joined Mayor Don Groesser and local business owners Wednesday to announce plans to renovate the historic Old Granary building, a roughly 7-acre property southeast of 75th and Main Streets where the redevelopment will occur.
"I really think the stars are aligning," Whitten said Wednesday at a press conference announcing the investment. "This is a great economic development opportunity for Ralston."
The building's first anchor tenant will be Out of the Box, a company that sells high-end furniture and home improvement accessories that have been reclaimed from home renovations and remodels. The company opened its first location in Lincoln in 2011.
Jody Strauch, who owns Out of the Box with her husband, Steen Lundberg, said Wednesday that the city's Hinge project was an attractive option as the couple sought an Omaha location for a second branch of the business, which will be in a 20,000-square-foot space expected to open in August.
A $2 million investment by Whitten and fellow investors will create a new business accelerator that will provide up-and-coming companies with guidance, support and capital investment. Whitten said the goal is to create 10 new businesses and 100 new jobs.
Whitten and company also plan to construct Granary Green, an outdoor green space on the site that will be near Bushwackers Dance Hall & Saloon. Rick Hoppe, Ralston's city administrator, said the space will function as a public park unless it's being used for outdoor events. The space will feature an event lawn, seating terraces and a large electronic screen, plans show.
Hoppe said the space will be privately owned and maintained, but the city and the public will have access to it for events.
The renovation also calls for a row of townhouses, which Whitten said will provide "missing middle housing" in Ralston. The homes, which will most likely begin as rental units, will open onto a shared courtyard.
Whitten's vision, he said, is to create "a live-work-and-play environment where we have entertainment, we have housing, and we have a vibrant new community of entrepreneurs being formed right here in Ralston."
The project is probably at least two years from completion, Whitten said. Some of the specifics may change as the plan develops.
The first project coming to Ralston under the Hinge project is Zehv's Place, a 36-unit apartment building downtown that the city estimates will be a $5.1 million investment. Construction is slated to begin in August.
In December, the city announced that LaDonna Johnson, a longtime Ralston piano teacher, had bequeathed $7.5 million to the city to be used for the Hinge project.
Wednesday's $14 million announcement includes a $2.5 million contribution from the city. That money will come from Johnson's gift.
Whitten said he and other investors want to continue investing in the area and are looking at putting $10 million more into the Hinge.
If that happens, the Hinge project will have secured $29 million to date.
"Today is only the beginning," Groesser said. "The momentum we create here today will lead (to) further investment and greater opportunity."
---
11 key developments around the Omaha metro area