The conflict was rooted in a contentious divide: cat people versus dog people.
But don't worry. This story doesn't contain any scratch wounds or bite marks.
For years, a pair of self-described "crazy cat ladies" have fed stray and feral feline colonies throughout Ralston. By providing food and water to the critters, trapping them and getting them spayed or neutered, Ali O'Connor and Deb Glazebrook say the colonies' numbers will dwindle.
Walking through Ralston Park one December day with his Labradors, Callie and Bailey, Terry Ryan saw cats and a raccoon eating from dishes of food under a pavilion. Concerned about attracting wild animals and disease, he tossed the food and continued his walk.
From there, things escalated.
For weeks, Ryan threw away the food whenever he saw it and scattered trash to make it appear as if the animals were dragging litter throughout the park. When he noticed paths had been dug under the park's fencing to provide the cats an access point, he filled the spaces with snow, poured water on the snow to ice it over, and sometimes hammered pieces of rebar into the ground along the fence line.
O'Connor and Glazebrook grew increasingly frustrated each time they returned to the park to find that their work had been undone.
"I came up with new cuss words," O'Connor later joked.
The game of cat and mouse culminated at a tense City Council meeting in early February. O'Connor said multiple times that she felt as if she was being stalked, at which point the city attorney told her to tone down the accusation.
Weeks later, that's all water under the bridge.
"You probably didn't expect to run into such tenacious broads," O'Connor said to Ryan one recent night over a round of drinks at the Village Bar in Ralston, drawing laughter from him and Glazebrook.
The trio laughed easily and often that night under the glow of the bar's neon signs. As it turns out, honest communication and a good mixed drink can go a long way in conflict resolution.
After the council meeting last month, Ryan, 58, emailed the City of Ralston in an attempt to contact O'Connor, 54, and Glazebrook, 66. He wanted to talk things over away from the spectacle of a public meeting.
Sign up for World-Herald news alerts
Be the first to know when news happens. Get the latest breaking headlines sent straight to your inbox.
Ryan started by being honest about his methods of interference with their work. He listened to them explain why they do what they do. He apologized.
"A lot of integrity on Terry's part to come forward," O'Connor said. "I think most people, even if they did have a change of heart, would have just kept that quiet."
"It takes a big person to do that," Glazebrook said.
Ryan went further to make amends. He gave the women $80 to help feed cats in the future — "Mostly for the stuff I had thrown away," Ryan said. Come springtime, he said he plans to pick up trash in Ralston Park.
"We're all residents of Ralston," O'Connor said. "I think on Terry's level, he was showing care and concern for his community and where he lives. Deb and I are showing care and concern for where we live. It was just on different levels."
City officials tried to have the two sides meet before last month's council meeting, but neither side was interested.
"More people should just communicate," Ryan said. "Because we could have solved a lot of problems a long time ago by just talking, but we didn't — well, I didn't — want to talk."
"We didn't want to talk either," Glazebrook said.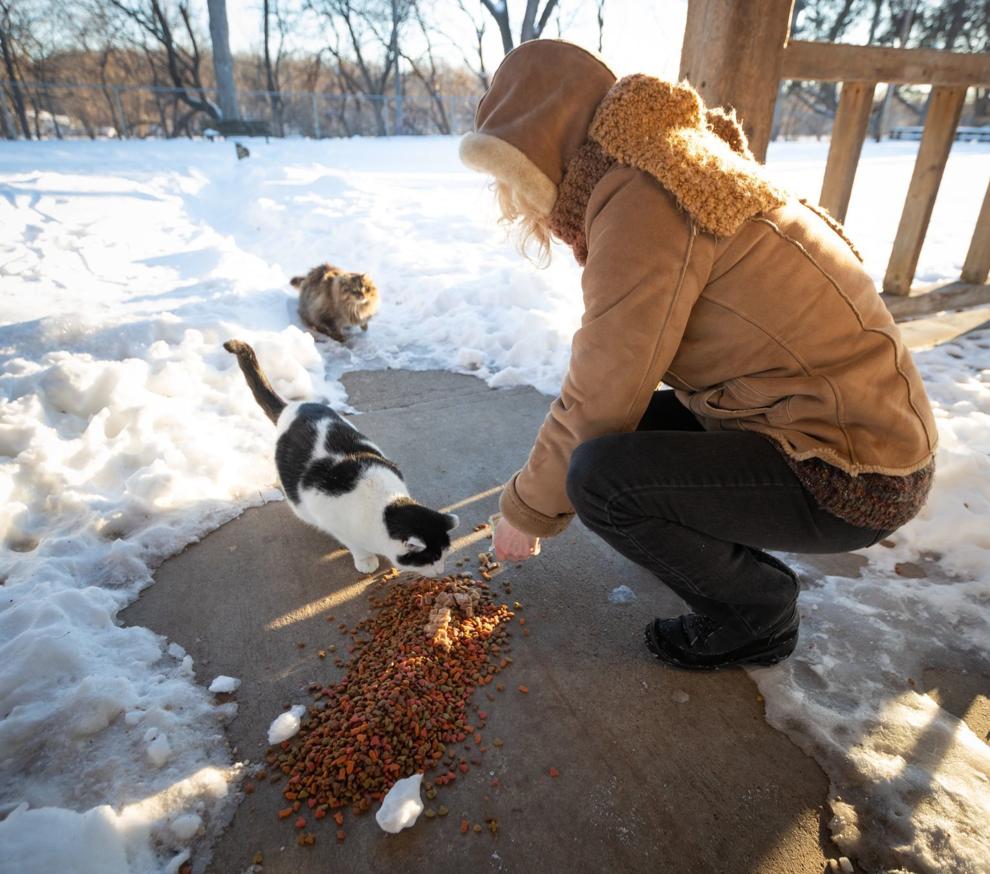 O'Connor and Glazebrook have been tending to Ralston's feral cats for a few years. The colonies are scattered throughout Ralston: in an alley downtown, at a spot near the Runza at 77th Avenue and L Street and not far from Glazebrook's own backyard.
The women had separately been taking care of the cats for about a year before they met up and became fast friends.
"I wish there were no (cat colonies) — that they all had homes and places to go," Glazebrook said. "But unfortunately they don't, so somebody has to do it."
Feeding feral cats in Ralston is a legal practice, according to the city attorney, though the issue isn't addressed by a city ordinance. Ralston officials are in the process of drafting a measure that could mirror the one in Omaha, which allows people to trap the animals, spay or neuter them and release them.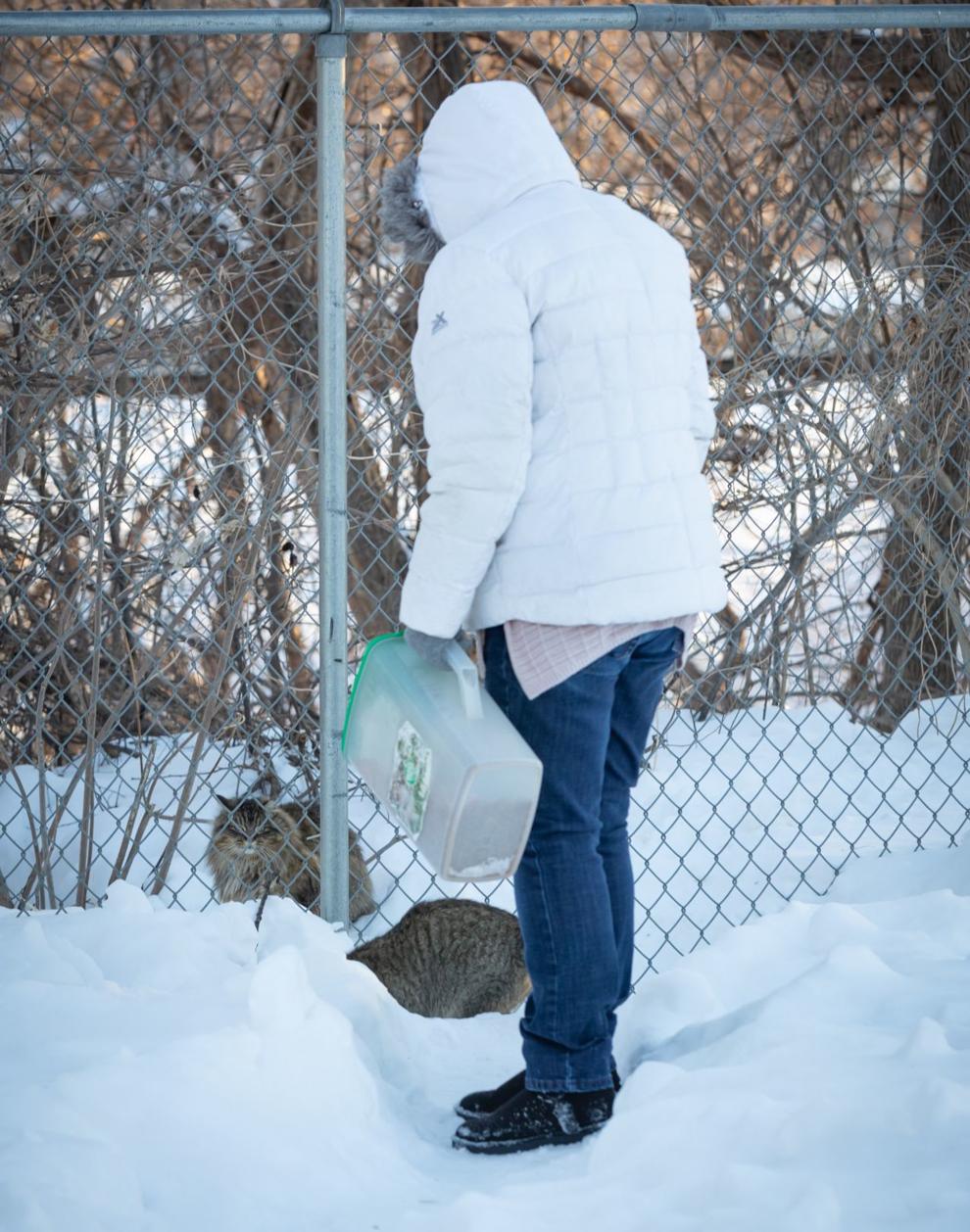 O'Connor said her Irish blood was boiling before the meet-up at the Village Bar, spurred by all the times she arrived at the park to find the food strewn, the paths iced shut.
But Ryan's sincerity calmed those feelings. O'Connor, who along with Glazebrook has embraced the "crazy cat lady" jokes, even devised plans to showcase Ryan's change of heart.
"I wanted to make a T-shirt — it was going to say 'Crazy cat dude,' and on the back it'd say, 'I've been converted.' I was going to make you wear it every time you were around us," O'Connor said to Ryan.
The word "converted" may be a step too far, said Ryan, who is allergic to cats.
"I haven't really changed my mind about feeding (cats) in the park, but ... I can see they have a good plan, and it seems to be a logical (one)," Ryan said.
"I'm just glad we got together," he said. "I don't know if we'll be friends, necessarily, but we get along."