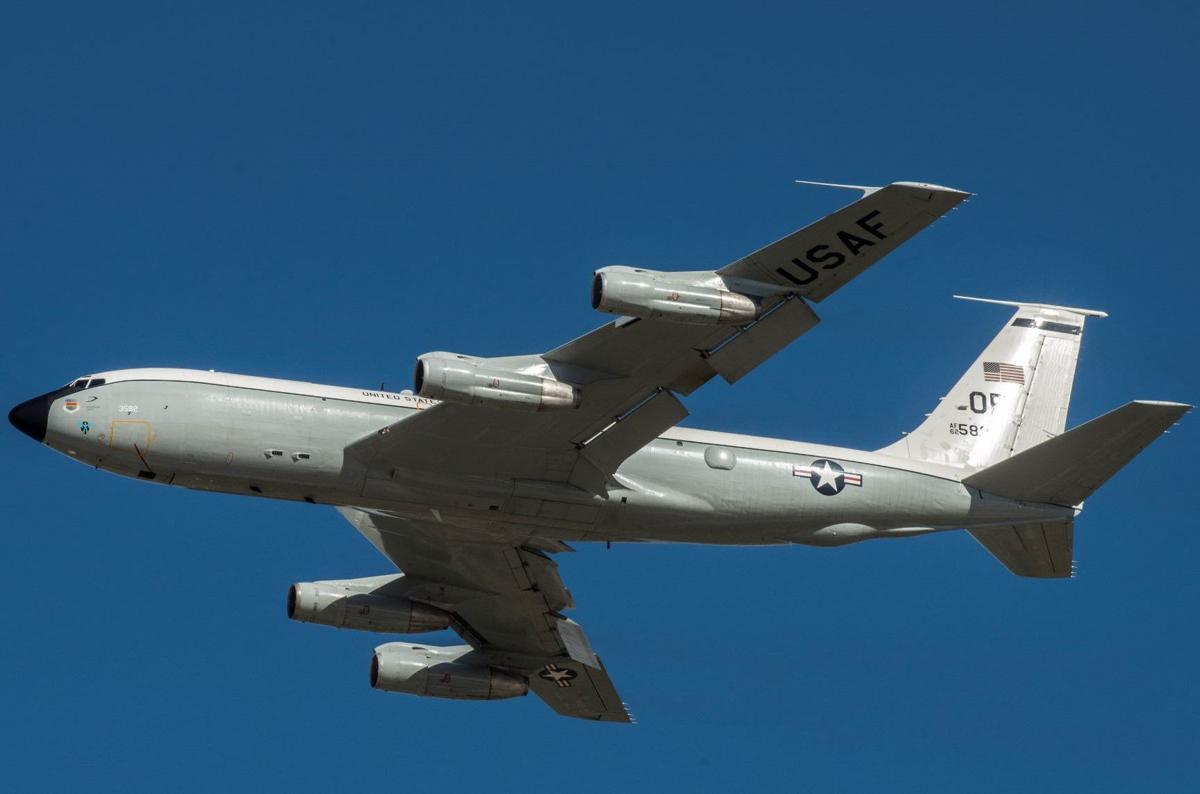 "Lucifer's Chariot" is bound for the boneyard.
Airmen from the 45th Reconnaissance Squadron bid a not-so-fond farewell Friday to Tail Number 582, a WC-135C "nuke sniffer" aircraft that has flown out of Offutt Air Force Base for most of its 56-year Air Force career. They gathered next to the plane at a retirement ceremony in an Offutt hangar.
Friday's ceremony turned into a tongue-in-cheek retirement roast for a cantankerous beast that has carried Offutt airmen to distant parts of the globe for decades — and, crew members say, frequently broke down and left them stranded.
"Five Eight Two, you're a real nasty lady," Capt. Will Markham, who flew the aircraft from 2015 to '19, joked in a video prepared for the ceremony. "I have some great memories, but most of them involve getting off the airplane and sprinting away from you."
Lt. Col. Robert "Handsome Bob" Umholtz, also appearing by video, said his first flight as a pilot with the 45th Squadron (in 2010) and his last (in 2017) took place aboard 582. Both ended with in-flight emergencies because of engine failure.
"Five Eight Two, you are the reason I drink. You are the reason I live to forget," Umholtz said, holding a large beer stein and quoting a line from the TV comedy "The Office."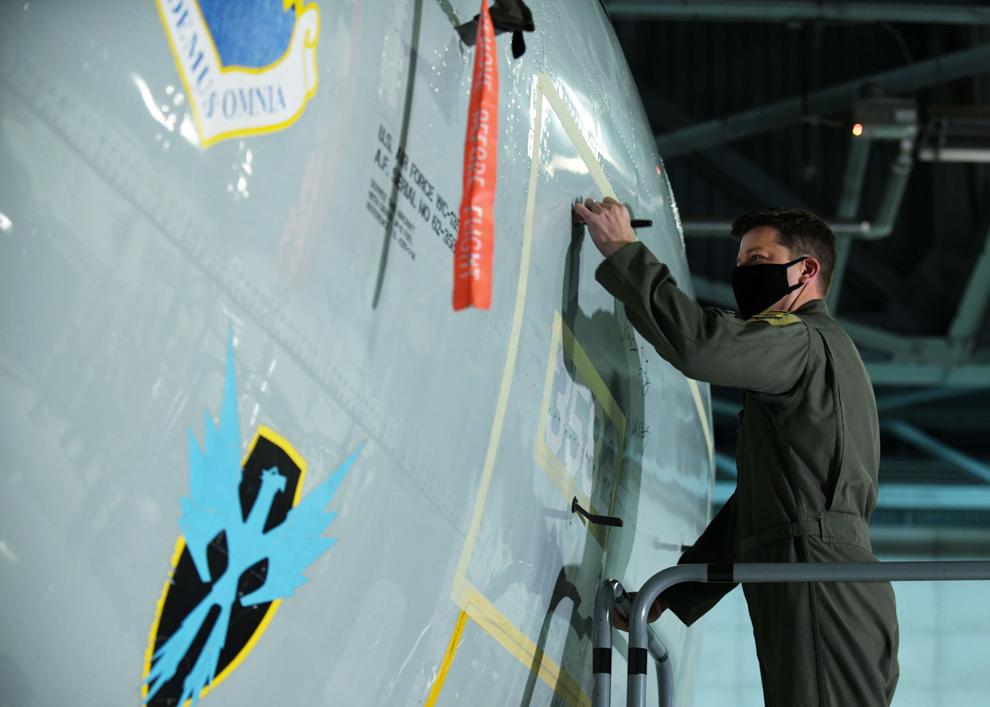 Kidding aside, the retirement is a historic event for the 55th Wing — the first time one of its planes has been retired since 1998.
"So this is obviously a rare occurrence," Col. Gavin Marks, the Wing commander, said on his command Facebook page.
The plane is one of two vintage jets based at Offutt that are equipped to detect and measure radiation in the atmosphere. The 55th Wing uses the planes to monitor other nations' compliance with the 1963 Nuclear Test Ban Treaty under a program called "Constant Phoenix."
In recent years, the planes have been sent to the Far East to check for atmospheric radiation after nuclear tests by North Korea.
The gallows humor during Friday's ceremony hints at the reality that the 55th Wing's fleet of 29 reconnaissance jets — all first-generation jet aircraft built in the early 1960s — are aged and prone to breakdowns.
In a 2018 investigative report called "In-Flight Emergency," The World-Herald documented hundreds of aborted missions and dozens of declared emergencies. Later, at the urging of members of Nebraska's legislative delegation, Congress approved funds to replace four of the 55th Wing's oldest and most breakdown-prone planes.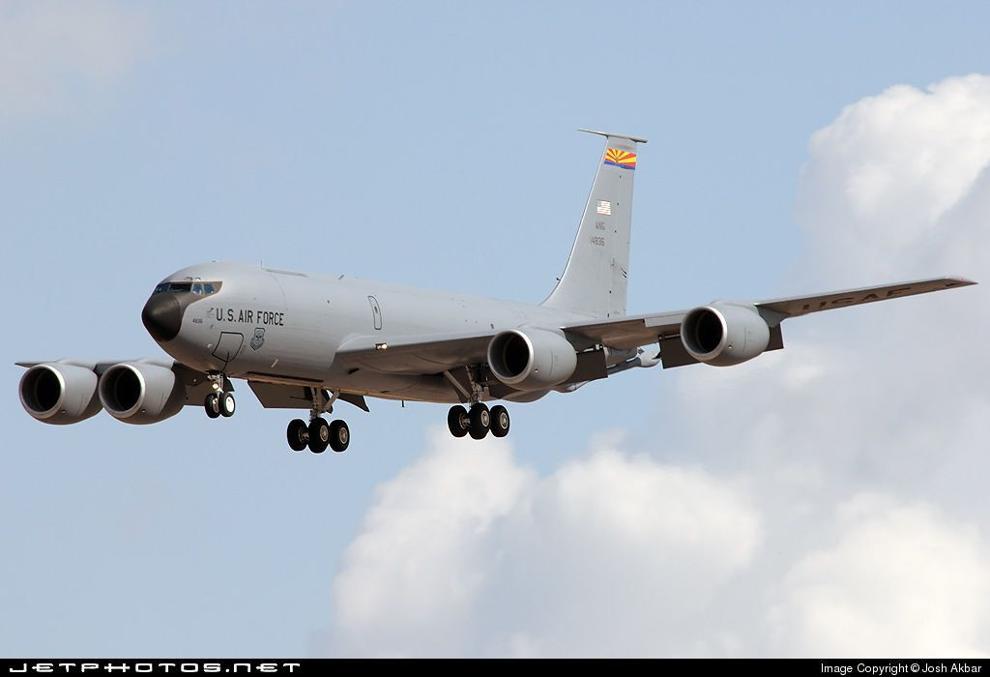 That includes the two Constant Phoenix jets, which are being replaced with three renovated KC-135R tankers that have been part of National Guard fleets, at a cost of $218 million.
The former Guard tankers are nearly as old as the planes they are replacing. But when they arrive at Offutt in 2022 and 2023, they will be equipped with new engines and new avionics that match the rest of the planes in the 55th Wing fleet.
"It's welcome that we're going to have newer jets," said Lt. Col. Andrew Maus, the 45th Reconnaissance Squadron's commander. "We'll have a lot more flexibility."
Maus said Tail 582 is being retired now because it was scheduled to go through a lengthy overhaul period at a maintenance facility in Greenville, Texas. The Air Force decided to retire the jet instead.
Tail 582 flew its last operational flight out of Offutt on Nov. 2. Upon landing, the plane received a water cannon salute with airport fire hoses, a traditional aviator's farewell.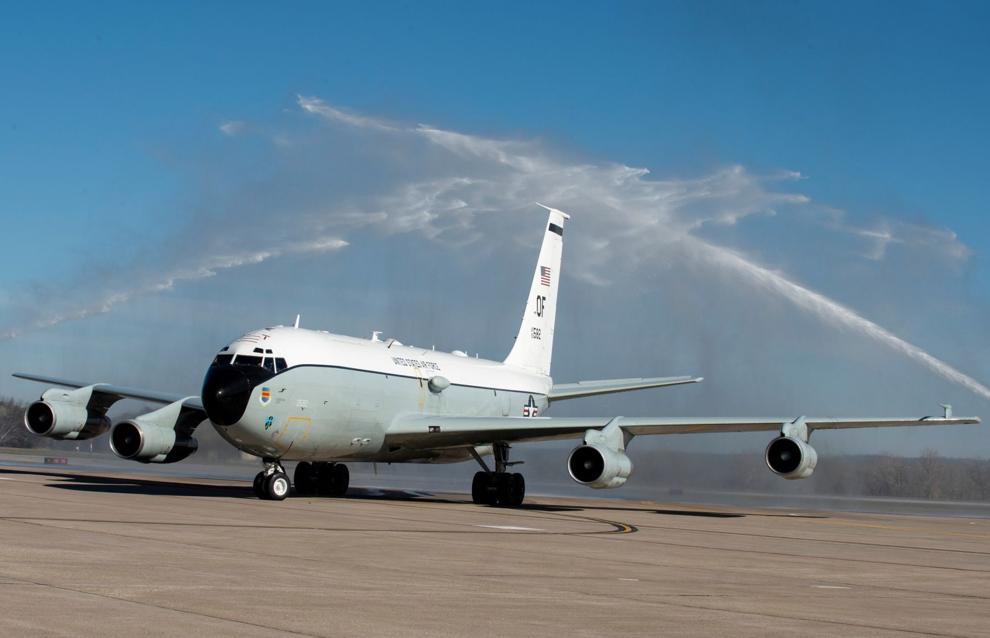 Built on a Boeing assembly line, the jet was delivered in 1964 to the Air Force as a fuel tanker. It arrived at Offutt in July 1965 after it had been converted into an EC-135C "Looking Glass" aircraft, one of which remained continuously airborne during the Cold War in order to provide redundant communications for the Strategic Air Command in case of a nuclear war. The EC-135C was outfitted for the Constant Phoenix mission in 1998.
The plane accumulated 29,680 flight hours and 72,251 landings.
Capt. Kyle Redfern and a 45th Reconnaissance Squadron flight crew will leave Offutt at 8 a.m. Monday to fly the plane to Greenville, where some parts will be stripped off for use on the replacement WC-135Rs. A few days later, it will be flown to the Davis-Monthan Air Force Base, Arizona, for permanent storage at the military's desert boneyard.
Redfern, 35, described his feelings as "bittersweet" over 582's retirement. He said he set his sights on becoming a Constant Phoenix pilot shortly after joining the Air Force 15 years ago because he was excited about the important radiation-detection mission.
"This is the reason I came to Offutt. It's the jet where I realized my dream," said Redfern, who grew up in Colorado Springs.
He compared flying the WC-135's old-fashioned flight controls to driving a classic car with a stick shift and no power steering or brakes.
"Without a doubt, the WCs are my favorite to fly," Redfern said. "It takes a lot more attention, but it's more of a pure flying experience."
At the same time, he acknowledged that Tail 582 taxed the patience of flight crews and maintenance crews with its infuriating breakdowns.
"These guys MacGyver stuff together to get us going, sometimes in some very austere places," Redfern said.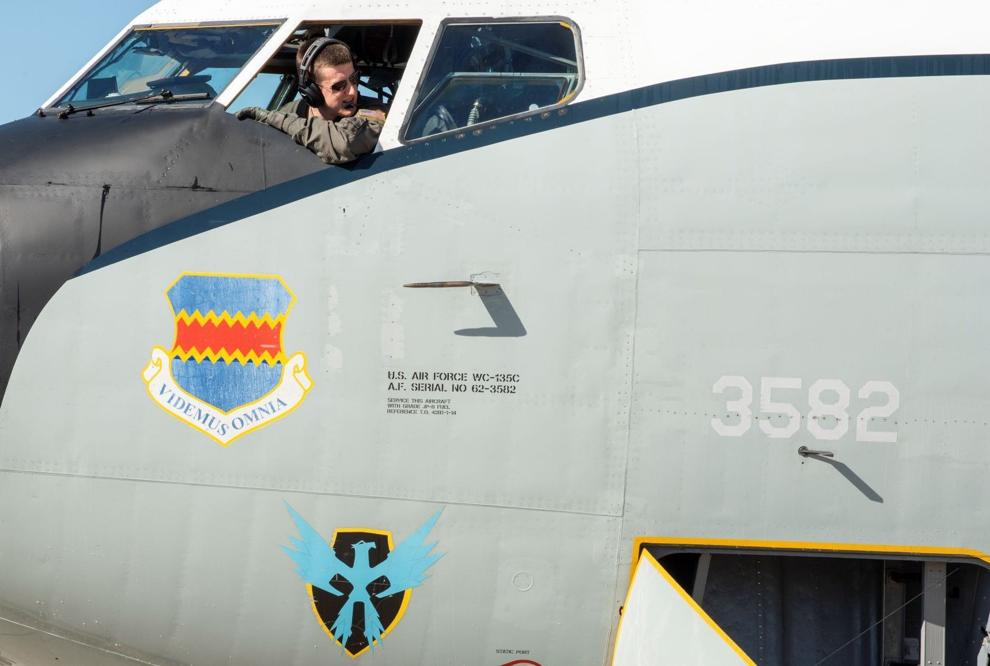 Crew members at Friday's retirement roast recounted times the 582 had stranded them. The most infamous was in March 2017, when the plane's right outboard engine caught fire at 31,000 feet over the Indian Ocean en route to Okinawa, Japan.
Trailing smoke and flames, the crew dumped fuel and headed for Banda Aceh, Indonesia. The hydraulic system failed, and the plane shook violently.
Will Markham, who was the pilot, somehow landed the plane safely. But the crew lacked passports and were forced to sleep on the plane. Crew members called it "Hotel 582," a riff on the Eagles 1970s hit song "Hotel California," because "You can check out any time you like, but you can never leave." And Offutt's maintenance team had to figure out how to get a replacement engine for an obsolete plane to the far side of the world.
"As hard as it is to get these parts stateside, it was harder to get them in Indonesia," Maus said. "It took about a month."
In the tribute video, Markham described piloting 582 on another harrowing mission out of RAF Mildenhall, England. The plane's electrical generators failed over the Black Sea, which borders Russia, Ukraine and their disputed territory, Crimea — because, he joked, "It's a terrible aircraft."
"We hand-flew the aircraft all the way across Europe, through thunderstorms, to RAF Mildenhall," Markham said. "THAT was an unpleasant experience."
Maj. Tami Moses, a flight navigator with the 45th, said you can sweet-talk some planes into flying nicely.
"Then there's Five Eight Two," she said. "Five Eight Two is pretty angry. And if you're angry with her, sometimes she will pull together and fly. Well ... sometimes."
But, Moses said, the plane's foibles kept flight crews on their toes.
"Every crew member had to bring their A game," she said. "We had to find new ways to fly an unsafe flight safely back to base."
So, who was it who called Tail 582 "Lucifer's Chariot?"
That would be the 45th Reconnaissance Squadron's chaplain, Capt. Douglas Tupper, in his tongue-in-cheek invocation at the beginning of the retirement ceremony.
"We pray for one last safe journey," he said, "but we fervently pray over the crew who has the honor of taking Lucifer's Chariot to its final resting place."
Tupper noted that Tail 582 had moved many crew members to prayer.
"It was through this plane that so many people forged a deeper connection to You, through its hardover rudders, landing-gear failures, loss of pressurization ... and occasional smoke and fumes," Tupper said. "Perhaps, You wanted to remind us just how precious our lives are."
The 55th Wing livestreamed Friday's ceremony over its Facebook page — or, at least, it tried. First, the video failed to feed. When it did come up, the sound was so choppy that it was mostly inaudible. (A clean copy later was posted to YouTube.)
Predictably, some commenters blamed the plane for the electronic glitches.
"It's the spirit of 582 haunting everything around it," wrote one commenter.
"Well played, 582. Well played," wrote another.
Tristin Redfern, whose husband, Kyle, will fly the jet's final trip, summed up the ceremony, gremlins and all, this way:
"This is definitely a very fitting send-off," she said, "for that stupid, wonderful, terrible jet."
---
Photos: Offutt Air Force Base through the years