One of Omaha's busiest intersections was shut down Friday evening as thousands of people took to the streets to protest the death of Minneapolis man George Floyd, who was held down by police as he pleaded that he could not breathe. The protest started peacefully but devolved as the night wore on, as police fired tear gas on protesters, and some vandals threw rocks at nearby businesses. 
At about 8 p.m., police used tear gas in an attempt to control a crowd that spilled onto Dodge Street. The chaotic scene included chants of, "I can't breathe," "We just want peace" and "(Expletive) the police."
Patricia Bridgeman's voice could be heard over the honking of cars that passed by 72nd and Dodge.
"No justice, no peace!" she shouted.
"I'm out here, I'm black and in my heart I know I'm supposed to be here, cheering with everyone else," Bridgeman said. "There's all different shades, sizes, colors, all beautiful people out here."
Deputy Chief Ken Kanger said about 9:45 p.m. that "for the most part," there was no violence and nobody had been hurt.
But as of 10:30 p.m., Lt. Sherie Thomas said, "The protest is no longer peaceful and arrests have been and will continue to be made for those who continue to break the law."
Thomas did not say how many arrests were made Friday night and said there would be a press conference Saturday afternoon. 
About 10:45 p.m., Kanger implored people to leave the area in order to stay safe and go home. He said that a small number of people were breaking the law and that officers were taking people into custody.
"Please comply. Represent the city of Omaha the way we want you to and help us make sure this is a safe event and everybody leaves so we don't have to make any additional arrests," he said.
By midnight, most of the crowd had dispersed, though some businesses in the 72nd and Dodge corridor were vandalized, including Target. 
More than 20 police officers stood in front of Target at 10:30 p.m. Graffiti was spray-painted on the building, one of the glass doors was broken, and a cart corral ended up in Dodge Street.
Police worked to clear protesters from the parking lot, taking down and handcuffing at least three people, and telling protesters to leave or be arrested.
One man entered the greenhouse area in the corner of the parking lot and began smashing clay pots. He was soon stopped by fellow protesters.
After midnight, a group of youths threw rocks through the window of Best Buy, and a man jumped out of a pickup and tossed a rock through the window of the former Sears Auto Store. Vandals spray-painted a car belonging to a KMTV news crew. Verizon, Hobby Lobby and Smitty's Garage also had broken windows. 
Those who lingered yelled at police, who fired pepper balls and confined the protesters to a single parking lot until they began to disperse.  
Just before 1 a.m., Omaha police said people were still in the area. "We respect the right for community members to peacefully protest but once that changed, enforcement action was taken. We are asking people to disperse the area. Several arrests have been made and arrests will continue to be made as people break the law."
The gathering began peacefully. 
For the first hour and a half of the protest, police only interfered to ask protesters to stay off the medians.
A protester placed a bouquet of flowers with a cardboard sign bearing George Floyd's name in the middle of the intersection just before 8 p.m. The flowers would be trampled minutes later as protesters quickly took to the street. At first they stood and kneeled in the intersection, then thousands marched along Dodge Street.
By 8:15 p.m., police lined Dodge Street in riot gear and used tear gas. At least two people were taken to the ground by officers, but according to officers, they were not arrested.
At one point Friday evening, a call to help an officer was dispatched, and officers deployed tear gas, Kanger said. But "once that happened," people complied with officers' orders, he said. Protesters surrounded police cruisers, and it appeared that some of them tried to release air from the tires.
Authorities also used pepper balls after some in the crowd surrounded a Nebraska State Patrol vehicle. There were also reports of rocks and water bottles being thrown at police officers.
Police were in contact with protest organizers all Friday afternoon, and the two groups communicated about how to keep protesters and the public safe. Kanger said the leaders of the protest worked to organize a peaceful event where people could express their opinions.
"They've had that opportunity to express their freedom of speech," Kanger said. "We'll maintain the proper enforcement measures to make sure that they're safe."
Kanger said officers, some of whom were in riot gear, wanted to use the least amount of force possible. Some videos from the scene showed officers using physical force to push away some protesters. Kanger said officers wanted to keep people safe by making sure that they stayed on the sidewalks and off the medians.
Julia Hughes, 16, said she was pushed to the ground as a line of officers moved to disperse the crowd.
"They just kept on moving. I didn't have time to move," she said.
Kanger reiterated that he and other officers stand by Chief Todd Schmaderer's Wednesday statement on Floyd's death.
"Although the incident did not happen here, it can damage the relationships between law enforcement and communities across the country," Schmaderer said. "As law enforcement officers, we hold ourselves to the higher standard and when those standards are not upheld, leaders must unite and support corrective measures."
The protest was set to end at 9 p.m., but the crowd showed no signs of thinning, and protesters put up a barricade of sorts made from wood pallets.
Authorities told Omahans to stay away from 72nd and Dodge and avoid the area between 60th and 84th Streets and Blondo and Pacific Streets.
Traffic in the area was abnormally high as many drivers tried to get a look at the protest. Kids were riding bikes; skateboarders and pedestrians were also nearby.
Security guards at Nebraska Furniture Mart used their vehicles to block all entrances to the store's parking lot.
Nicole Maxwell sat cross-legged in the median on Dodge Street before a fellow protester convinced her to get onto the sidewalk.
"It means a ton being here right now. And I refuse to stand silent," Maxwell said.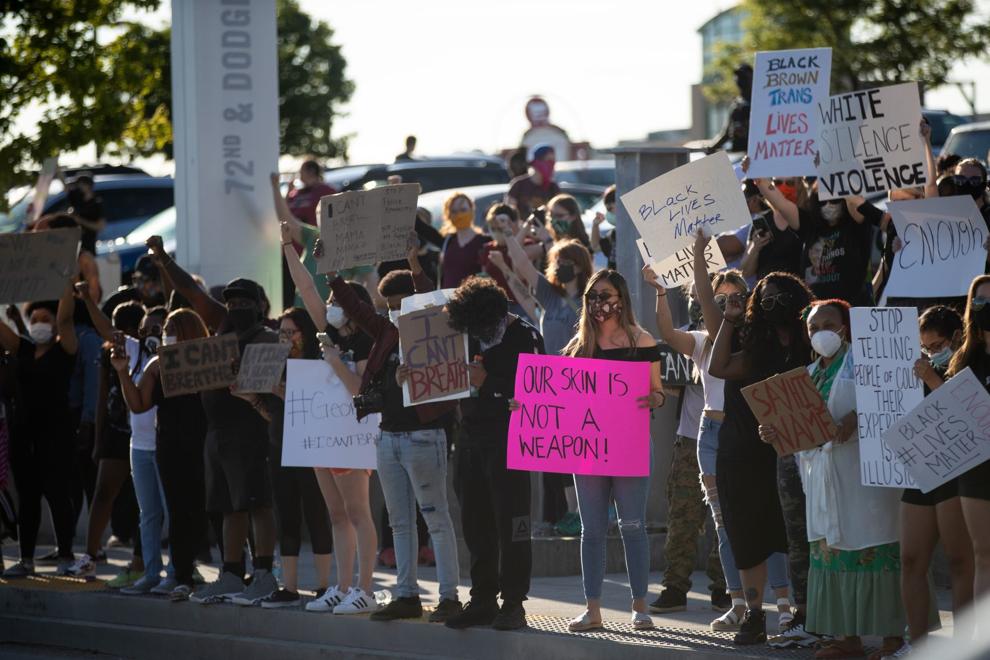 Protests spread across the U.S. on Friday after the Hennepin County attorney announced that the Minneapolis officer, Derek Chauvin, had been arrested and charged with third-degree murder and manslaughter. Floyd is black; Chauvin is white. The four Minneapolis officers who were at the scene have been fired. 
Earlier Friday, Gov. Pete Ricketts encouraged Nebraskans to act peacefully when exercising their First Amendment right to protest.
The Omaha protest organizers called for a peaceful gathering, and the 6 p.m. rally started out that way. Protesters, many wearing masks, held signs that said "Black Lives Matter," and "Our skin is not a weapon." Passing vehicles honked at the crowd.
The nearby Target closed its doors early. A sign announcing the store's temporary closure posted to the doors didn't mention the protests. A spokesperson told KMTV that the store was closed at 2 p.m. "out of concern for the safety of our team and guests." 
A number of Target stores in the Minneapolis-St. Paul area have been temporarily closed after riots this week in which retailers were looted and a police station was set on fire. Target is headquartered in Minneapolis.
In a Facebook post, one of the organizers of the Omaha protest asked participants to "stay away from Target" and to avoid parking on private property.
Ricketts called the incident leading to Floyd's death an "egregious violation of Mr. Floyd's rights."
Ricketts said he had not seen the video himself but was basing his reaction on news reports and the responses of law enforcement officials. He said the case reflects poorly on law enforcement and creates mistrust between law enforcement and communities of color.
"It's really just another terrible case here in the United States," he said.
Also on Friday, Lincoln Police Chief Jeff Bliemeister said in a statement that the events "fractured not only the relationship between Minneapolis residents and their police department, but potentially every police-community relationship in the country."
He said that he has reviewed video of the Minneapolis officers' actions and that their tactics are in "direct contrast" with the Lincoln Police Department's training and use-of-control policies.
A small group of protesters gathered on the State Capitol's north steps Friday, along with State Sen. Ernie Chambers of Omaha, holding signs calling for justice for Floyd and saying "White Silence Supports White Violence."
World-Herald staff writer Martha Stoddard contributed to this report.
---
Protest of George Floyd's killing draws thousands in Omaha